Clothing industry in South Africa and the implications of policy interventions
A stitch at a time saves nine in one of the biggest employer industries
After 1994 South Africa was keen to become part of the world fraternity after the isolation of the apartheid years. We embraced the new world order and the Washington Consensus policies. As with many things that get mammoth momentum, the downsides are often minimized.
So South Africa went on to open up its markets hoping for reciprocity, and reduced its import tariffs on its textile industry by about 50%; what happened next? Its textile industry was decimated and, as WoW reports, cheap clothing imports flooded the domestic market, with Chinese clothing imports soaring from 11 million articles of clothing in 1995 to 335 million in 2004.
A similar scenario was playing out in Mongolia, a much smaller country with even more visible negative consequences. In Mongolia it becomes difficult to attribute the situation to other factors given the size of the economy and the visibility of the drastic tariff reduction impact. The glaring consequences of such policy decisions was there for all to see.
The Mongolia story has been recorded in Cornell PhD, Erik Reiner's book. As a Harvard MBA, he participated in the 2000 parliamentary conference with international aid agencies in that country and is a first-hand source of valuable information for "learn from your mistakes". This story relates the events and the consequences of 1991 policy decisions on the standard of living and the devastating impact caused by uniform application of Washington Consensus policies.
During 50 years preceding 1991, the year it opened up to the world, Mongolia slowly built a diversified industrial sector reducing agriculture from 60% to 16% of GDP. In the 1991 to 1995, industry was annihilated and production was down by 90% in volumes, imports exceeded exports by 2 and real interest rates that had jumped to 35%. That led to labour being forced back into diminishing returns activities, which translated into going back to pastoralism. But such pastoral economy was not able to sustain the same population density as the industrial system. Mongolia deindustrialised, widespread unemployment followed and real wages collapsed.
The short and inescapable conclusion is that Mongolian people regressed badly in terms of wealth and standard of living, ineluctably attributable for most to the 1991 policy directives.
We do not claim to have the right answer and we do not cast aside positive and constructive prescripts out of the Washington Consensus theories. We just wish to state that if something is not working it should be changed and that multinational agencies should use those lessons to do better with their next interventions.
If South Africa, already suspicious of the World Bank and the IMF, had known about Mongolia, it perhaps would have tried a different approach that could have resulted in better outcomes.
The Department of Trade and Industry & Competition (DTIC) signed a Masterplan in November 2019 committing about R6.7 billion for new investments. The plan sought to grow the market for local Clothing, Textiles, Footwear and Leather (CTFL) products; increase local CTFL procurement; stem the flow of illegal imports; use tariffs and rebates strategically; extend the Competitiveness Improvement Programme (CIP) and the Production Incentive Programme (PIP) in an appropriate format for three years; align production capacity to sales cycles; and transform the value chain.

During the launch of this Masterplan industry players inquired how government was going to monitor labelling of products in order to stop illegal imports crossing South Africa's porous borders with illegal clothing; what steps were taken to ensure the protection of whistle-blowers and how would the Department ensure that companies were contributing something and not only enjoying tariffs and rebates.
It is heartening to see that today the government is trying to rebuild local manufacturing in the textile sector by adjusting some tariffs and incentivising manufacturing activities. It is disheartening to have to reckon that government itself falls short of properly monitoring and managing trade flows and concomitant tariff duties.
The legislative framework with all the promised incentives, if effectively implemented creates room for Small and micro textile enterprises to find one another to merge and gain scale if in the long run they want to become competitive against behemoths from big countries like China. Equity firms and financial advisors in SA should take up that challenge.
Contact us to access WOW's quality research on African industries and business
Contact Us
Related Articles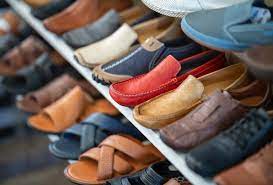 BlogCountries South AfricaTextiles, Clothing & Footwear
The Footwear Industry in South Africa – March 2022
With climate change and sustainability gaining momentum in boardroom strategic discussions, companies that design and manufacture footwear intentionally seek alternative environmentally friendly materials to replace leather and plastic in their...