Angola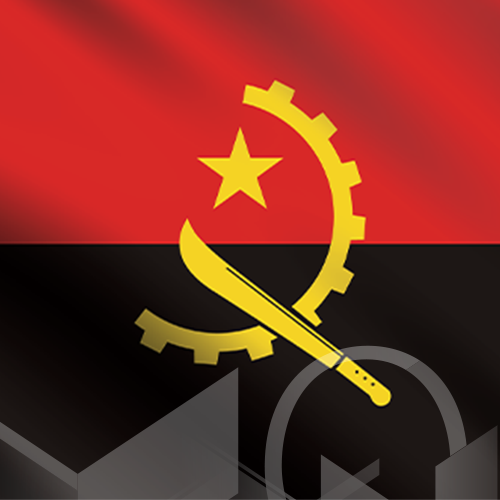 Country Economic Snapshot
2021-12-20
At US$70bn, Angola is the seventh-largest economy by GDP in Africa. Situated on the West African coast with 1,600km of coastline, it is bordered by Namibia to the south and the Democratic Republic of Congo to the north. It has a population of 34 million.
The country was a Portuguese colony until it gained independence in 1975. Independence led to a ruinous civil war from 1975 to 2002 between the ruling People's Movement for the Liberation of Angola (MPLA) and the rebel movement Unita, supported by the South African apartheid government and the US. Angola maintained political stability since 2002 under the corrupt administration of former president José Eduardo dos Santos who stepped down in 2017 after being in power for 38 years. He was succeeded by the former minister of defence João Lourenço who has fired some of Santos's allies and introduced key reforms, including a private investment law, an antitrust law and the creation of a competition authority, all aimed at attracting investment and enhancing competitiveness. It is also looking at fixing or selling state-owned companies and utilities of state oil company Sonangol.
The oil sector accounts for between 35% and 45% of GDP and more than 90% of exports, with the Cabinda province on the North coast accounting for about 60% of Angola's oil production, the bulk of which comes from offshore reserves.
The country is highly dependent on food imports, with only about 4.9 million hectares of land under cultivation out of 35 million hectares of arable land. Angola has the natural resources to become one of Africa's leading agricultural countries, as the diverse and fertile region is suited to a variety of crops. It also has an abundance of fresh water and arable land and international landmine clearing efforts have opened up extensive areas of land for farming.
Angola-South Africa Chamber of Commerce and Industry managing director Kilson Kalanda says initiatives were already underway before the pandemic to boost local production under the government's Programme to Support National Production, Export Diversification and Import Replacement. The major agricultural commodities produced include cassava (a root vegetable), bananas, potatoes, maize, sweet potatoes, citrus, and pineapples. Angola was one of the world's biggest coffee producers before the civil war. Rehabilitation of the plantations has been ongoing since 2000. Livestock also holds strong potential in Angola, with a vast natural habitat for grazing and water resources throughout the country.
While oil remains Angola's key export, oil production has been in decline since the oil price slump started in 2014, and since March 2020, when the country was hit hard by the pandemic, the outlook has worsened. Oil production in Angola has slumped by a third in the past decade to less than 1.4 million barrels a day, reflecting years of underinvestment in new projects. Despite being a leading oil producer in sub-Saharan Africa, Angola imports up to 80%, or US$4bn, of refined oil to fulfil the country's own energy needs. The government has plans to construct several national refineries to increase its refinery capacity.
Diversifying the economy, achieving sustainable growth, and supporting non-oil exports have become key policy goals.
Info
| | |
| --- | --- |
| Capital | Luanda |
| Currency (Name, Abbreviation, Symbol) | Kwanza , AOA , Kz |
| Area | 1,246,700 sq km |
| Type of Government | presidential republic |
| Languages | Portuguese (official), and other African languages |
| Natural Resources | petroleum, diamonds, iron ore, phosphates, copper, feldspar, gold, bauxite, uranium |
| Type of Industry | petroleum; diamonds, iron ore, phosphates, feldspar, bauxite, uranium, and gold; cement; basic metal products; fish processing; food processing, brewing, tobacco products, sugar; textiles; ship repair |
| Stock Exchange | Bolsa de Divida e Valores de Angola (BODIVA) |
| Stock Exchange Location | Luanda |
| Stock Exchange Founded | 2016 |
| Tax Rate: Corporate | 30% |
| Tax Rate: Individual | 17% |
| Natural Resources | petroleum, diamonds, iron ore, phosphates, copper, feldspar, gold, bauxite, uranium |
Latest available information as sourced from:
African Markets
Trading Economics
Economy Watch
The World Fact Book
Company Profile
There is no data available at the moment
Sector Research
| CompanyName | Stock Exchange | Listed Date | Ticker Code | Country | Status |
| --- | --- | --- | --- | --- | --- |
| Banco Angolano de Investimentos S.A. | Bolsa de Divida e Valores de Angola | 2015-04-22 | BAI | Angola | Active |
| Banco BIC S.A. | Bolsa de Divida e Valores de Angola | | | Angola | Active |
| Banco Caixa Geral Angola S.A. | Bolsa de Divida e Valores de Angola | | BCGA | Angola | Active |
| Banco de Comercio e Industria S.A. | Bolsa de Divida e Valores de Angola | | BCI | Angola | Active |
| Banco de Fomento Angola S.A. | Bolsa de Divida e Valores de Angola | 2015-02-03 | BFA | Angola | Active |
| Banco de Negocios International S.A. | Bolsa de Divida e Valores de Angola | 2015-07-22 | BNI | Angola | Active |
| Banco de Poupanca e Credito S.A. | Bolsa de Divida e Valores de Angola | | | Angola | Active |
| Banco Economico S.A. | Bolsa de Divida e Valores de Angola | | | Angola | Active |
| Banco Keve S.A. | Bolsa de Divida e Valores de Angola | | BRK | Angola | Active |
| Banco Prestigio S.A. | Bolsa de Divida e Valores de Angola | | BPG | Angola | Active |
| Banco Sol S.A. | Bolsa de Divida e Valores de Angola | | | Angola | Active |
| Standard Bank de Angola SA | Bolsa de Divida e Valores de Angola | 2015-07-07 | SBA | Angola | Active |
Top Angola Reports
Mining in Southern Africa (Excluding South Africa)
R 9 500.00(ZAR) estimated $ 586.15 (USD)*

Mining in Southern Africa (Excluding South Africa)
2021
The Clothing Industry in Angola
R 6 500.00(ZAR) estimated $ 401.05 (USD)*

The Clothing Industry in Angola
2020
The Angolan Petroleum Industry
R 6 500.00(ZAR) estimated $ 401.05 (USD)*

The Angolan Petroleum Industry
2020