Benin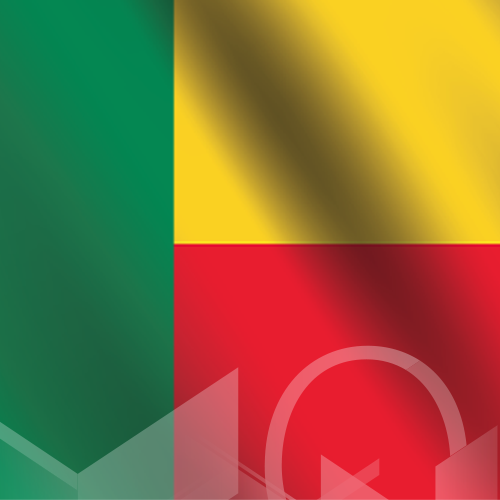 Country Economic Snapshot
2023-11-08
Benin has a land mass of 114,763km² and is bordered by Togo, Nigeria, Burkina Faso and Niger, and has a 121km-long coastline on the Gulf of Guinea. The country has a population of 13 million and a GDP of US$17.1bn.

Benin's artists were well known for working in many materials, particularly brass, wood, and ivory. They were famous for their bas-relief sculptures, particularly plaques, and life-size head sculptures. The plaques typically portrayed historical events, and the heads were often naturalistic and life size.

Real GDP growth was steady at 6% in 2022 following a remarkable 7.2% in 2021, led by the primary, secondary, and tertiary sectors. The economy has shown resilience to the effects of recent crises: the pandemic, Russia's invasion of Ukraine, and the security situation in northern parts of the country. Inflation rose to 2.5% in 2022 from 1.7% in 2021 due to the rising cost of basic necessities.

Real GDP growth is projected to remain steady at 6.2% in 2023 and 6.0% in 2024 due to momentum in the primary, secondary, and tertiary sectors. The main risks to the economy are unfavourable variations in global cotton and oil prices and the negative effects of climate change. Nigeria's economic situation and the worsening security situation in the northern areas could compromise the economic outlook. Inflation is projected to rise to 2.8% in 2023 and 2.3% in 2024 as global oil prices stabilise.

Mineral production consists of clay, gravel, limestone and sand, and small amounts of gold produced by artisanal miners. The mining and quarrying industry grew by 5.9% year-on-year and contributed 0.4% to the country's GDP in 2022.

To help address pressing financing needs and support the country's National Development Plan 2018-25 and catalyse donor support, Benin has accessed the international Monetary Fund's (IMF) extended fund facility and extended credit facility with a financial package of nearly US$650m, which is four times Benin's quota at the IMF.

Niger launched the Niger-Benin export pipeline project in September 2019, and in the same year, Total signed a gas supply agreement with Benin and its state utility, Société Béninoise d'Energie Electrique for the development of a 0.5Mtpa floating, storage and regasification unit, the first in West Africa.



Sources: Who Owns Whom sector reports, CIA Factbook, African Development Bank, World Bank, Trading Economics, African Statistical Yearbook and IMF.
Info
| | |
| --- | --- |
| Capital | Porto-Novo |
| Currency (Name, Abbreviation, Symbol) | West African CFA franc , XOF , BCEAO |
| Area | 112,622 sq km |
| Type of Government | presidential republic |
| Languages | French (official), Fon and Yoruba (most common vernaculars in south), tribal languages (at least six major ones in north) |
| Natural Resources | small offshore oil deposits, limestone, marble, timber |
| Type of Industry | textiles, food processing, construction materials, cement |
| Stock Exchange | Bourse Rgionale des Valeurs Mobilires |
| Stock Exchange Location | Abidjan, Cote d'Ivoire |
| Stock Exchange Founded | 1996 |
| Tax Rate: Corporate | |
| Tax Rate: Individual | |
| Natural Resources | small offshore oil deposits, limestone, marble, timber |
Latest available information as sourced from:
African Markets
Trading Economics
Economy Watch
The World Fact Book
Company Profile
There is no data available at the moment
Sector Research
There is no data available at the moment
Sector Research
There is no data available at the moment
Top Benin Reports
The Mining Sector in West Africa
R 20 000.00(ZAR) estimated $ 1072.96 (USD)*

The Mining Sector in West Africa
2023
The Mining Sector in West Africa
R 1 900.00(ZAR) estimated $ 101.93 (USD)*

The Mining Sector in West Africa
2020
The Gas Industry in West Africa
R 1 900.00(ZAR) estimated $ 101.93 (USD)*

The Gas Industry in West Africa
2020