Burkina Faso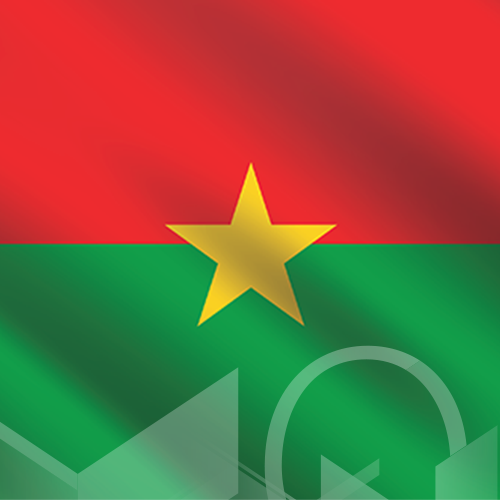 Country Economic Snapshot
2023-11-02
Burkina Faso is a landlocked country in West Africa with an area of 274,200km², bordered by Mali to the northwest, Niger to the northeast, Benin to the southeast, Togo and Ghana to the south, and Côte d'Ivoire to the southwest. As of 2021, the country had an estimated population of 22.1 million and a GDP of US$19.74bn.

Burkina Faso is a low-income Sahelian country with limited natural resources. Its economy is largely based on agriculture, although gold exports are increasing. More than 40% of the population lives below the poverty line.

After the 30 September 2022 coup that overthrew Paul Henri Damiba, Ibrahim Traoré was sworn in as the new transitional president on 21 October 2022. Under the Transition Charter, he will not be eligible to run in the next presidential elections.

After a strong recovery in 2021 with growth estimated at 6.9%, growth slowed to 2.5% in 2022, with growth driven by the primary and tertiary sectors, which grew by 5.1% and 5.6% respectively, thanks to the return of average rainfall. After strong growth in 2021, the secondary sector contracted by 4.9% in 2022 due to the closure of several mines for security reasons.

Exports, which are heavily dominated by gold, fell by 0.6% in 2022, while imports increased by 1.7%, driven mainly by the purchase of hydrocarbons. This has widened the current account deficit, estimated at 5.2% of GDP compared to 3.0% in 2021, as defence spending increased fuel imports.

Domestic supply shocks caused by a poor harvest at the end of 2021 and insecurity, coupled with congestion effects on global supply chains as a result of Russia's invasion of Ukraine, pushed inflation up to 14.1%, a 10-year record and the highest in the Sahel region.

Burkina Faso's human rights situation seriously deteriorated in 2022 as deadly attacks by Islamist armed groups against civilians surged, military forces and pro-government militias committed violations during counterterrorism operations, and political instability deepened as a result of two military coups. More than 2 million people have been forced to flee their homes, and nearly a quarter of the population now requires humanitarian aid.



Sources: Who Owns Whom sector reports, CIA Factbook, African Development Bank, World Bank, Trading Economics, African Statistical Yearbook and IMF.
Info
| | |
| --- | --- |
| Capital | Ouagadougou |
| Currency (Name, Abbreviation, Symbol) | West African CFA franc , XOF , BCEAO |
| Area | 274,200 sq km |
| Type of Government | parliamentary republic |
| Languages | French (official), native African languages belonging to Sudanic family spoken by 90% of the population |
| Natural Resources | manganese, limestone, marble; small deposits of gold, phosphates, pumice, salt |
| Type of Industry | cotton lint, beverages, agricultural processing, soap, cigarettes, textiles, gold |
| Stock Exchange | Bourse Rgionale des Valeurs Mobilires |
| Stock Exchange Location | Abidjan, Cote d'Ivoire |
| Stock Exchange Founded | 1996 |
| Tax Rate: Corporate | |
| Tax Rate: Individual | |
| Natural Resources | manganese, limestone, marble; small deposits of gold, phosphates, pumice, salt |
Latest available information as sourced from:
African Markets
Trading Economics
Economy Watch
The World Fact Book
Company Profile
There is no data available at the moment
Sector Research
There is no data available at the moment
Sector Research
There is no data available at the moment
Top Burkina Faso Reports
The Mining Sector in West Africa
R 20 000.00(ZAR) estimated $ 1057.67 (USD)*

The Mining Sector in West Africa
2023
The Mining Sector in West Africa
R 1 900.00(ZAR) estimated $ 100.48 (USD)*

The Mining Sector in West Africa
2020
The Gas Industry in West Africa
R 1 900.00(ZAR) estimated $ 100.48 (USD)*

The Gas Industry in West Africa
2020