Central African Republic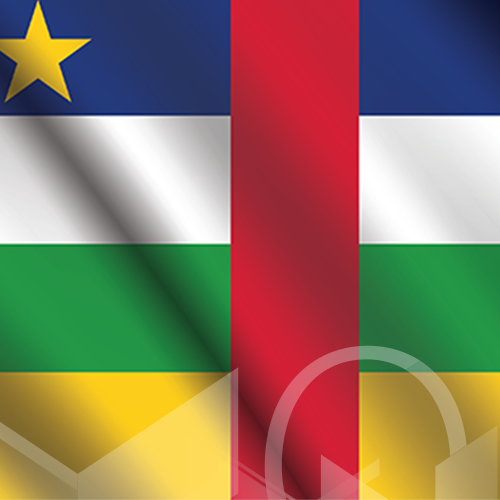 Country Economic Snapshot
2023-11-02
The Central African Republic is a landlocked country in Central Africa. It is bordered by Chad to the north, Sudan to the northeast, South Sudan to the southeast, the Democratic Republic of the Congo to the south, the Republic of the Congo to the southwest, and Cameroon to the west. It has a land mass of 623,000km², a population of 5.5 million and GDP of US$2.5bn.

Central African Republic is one the poorest and most fragile countries in the world despite its abundant natural resources with oil, gold and diamonds the most prolific. The country has unexploited deposits of chrome, cobalt, columbite-tantalite, copper, iron ore, manganese, nickel, uranium and zircon as well as gold and diamonds. More than 110,000 artisanal and small-scale miners are active in the country, mining mostly gold and diamonds.

On 24 March 2013, an alliance of rebel groups known as Seleka took control of the capital, Bangui, and most of the provinces after overthrowing President Francois Bozize.

Within days, Seleka fighters unleashed waves of violence against those they perceived to have been Bozizé's supporters, killing civilians in Bangui and across the country. The country has been in a state of civil war ever since. President Faustin-Archange Touadéra has been in power since 2016.

After two consecutive years of virtual stagnation, economic activity is estimated to have ground to a complete halt in 2022 owing to major flooding and fuel shortages. Real GDP growth is estimated at 0.0% in 2022, down from 1.0% in 2021. With per capita GDP growth declining by 2.2% in 2021, it is estimated that more than 3.5 million of its 5.7 million population are expected to continue living in extreme poverty between 2023 and 2025.


Sources: Who Owns Whom sector reports, CIA Factbook, African Development Bank, World Bank, Trading Economics, African Statistical Yearbook and IMF.
Info
| | |
| --- | --- |
| Capital | Bangui |
| Currency (Name, Abbreviation, Symbol) | CFA franc , XAF , BEAC |
| Area | 622,984 sq km |
| Type of Government | presidential republic |
| Languages | French (official), Sangho (lingua franca and national language), tribal languages |
| Natural Resources | diamonds, uranium, timber, gold, oil, hydropower |
| Type of Industry | gold and diamond mining, logging, brewing, sugar refining |
| Stock Exchange | Bourse Rgionale des Valeurs Mobilires d'Afrique Centrale |
| Stock Exchange Location | Libreville, Gabon. |
| Stock Exchange Founded | 1998 |
| Tax Rate: Corporate | |
| Tax Rate: Individual | |
| Natural Resources | diamonds, uranium, timber, gold, oil, hydropower |
Latest available information as sourced from:
African Markets
Trading Economics
Economy Watch
The World Fact Book
Company Profile
There is no data available at the moment
Sector Research
| CompanyName | Stock Exchange | Listed Date | Ticker Code | Country | Status |
| --- | --- | --- | --- | --- | --- |
Top Central African Republic Reports
The Mining Sector in Central Africa
R 6 500.00(ZAR) estimated $ 343.08 (USD)*

The Mining Sector in Central Africa
2021