Eritrea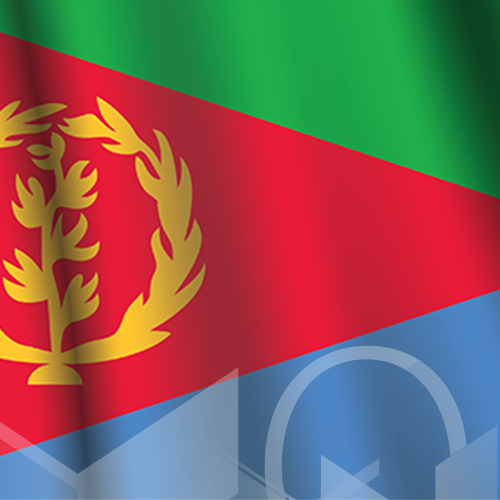 Country Economic Snapshot
2023-10-23
Eritrea has a land mass of 117,600km² and its coastline, forming the north-eastern edge of the country, extends for 1,720km from Cape Kasar in the north to the Strait of Mandeb, separating the Red Sea from the Gulf of Aden in the south.

The country borders Ethiopia which lost its coastline access following Eritrea's independence in May 1993, and is therefore completely landlocked, which created an armed conflict between the two countries. On 9 July 2018, Ethiopian and Eritrean leaders agreed to end hostilities and restore economic and diplomatic ties, and opened Ethiopia's access to the Eritrean port cities of Assab and Massawa.

Eritrea has a population of 3.6 million people and a GDP of US$6.9bn, and with a public debt to GDP ratio of 163.8%, it remains in debt distress.

Eritrea produces copper, gold, silver and zinc and has unexploited deposits of potash. The Bisha copper-zinc mine is situated in the Gash-Barka region, the Zara gold mine in the Anseba region, the Colluli potash project in the Northern Red Sea region, and the Asmara copper project in the Central region. In July 2020, Australian company Danakali started development of its Colluli potash mine. The first phase has a production capacity of 472,000t per year of sulphate of potash that could increase to more than 900,000t if the second phase is developed. Eritrea is Africa's largest zinc producer and third-largest silver producer.

GDP growth slowed to an estimated 2.3% in 2022 from 2.5% in 2021, partly due to the impact of Russia's invasion of Ukraine on energy, fertiliser, and food prices. Russia and Ukraine account for nearly all of Eritrea's wheat imports. GDP is projected to grow 2.6% in 2023 and 3.1% in 2024 due to higher international prices for metals, led by industry and services.



Sources: Who Owns Whom sector reports, CIA Factbook, African Development Bank, World Bank, Trading Economics, African Statistical Yearbook and IMF.
Info
| | |
| --- | --- |
| Capital | Asmara |
| Currency (Name, Abbreviation, Symbol) | Nakfa , ERN , Nfa |
| Area | 117,600 sq km |
| Type of Government | transitional government� |
| Languages | Tigrinya (official), Arabic (official), English (official), Tigre, Kunama, Afar, other Cushitic languages |
| Natural Resources | gold, potash, zinc, copper, salt, possibly oil and natural gas, fish |
| Type of Industry | food processing, beverages, clothing and textiles, light manufacturing, salt, cement |
| Stock Exchange | Eritrea has neither a stock exchange nor a stock market |
| Stock Exchange Location | - |
| Stock Exchange Founded | - |
| Tax Rate: Corporate | |
| Tax Rate: Individual | |
| Natural Resources | gold, potash, zinc, copper, salt, possibly oil and natural gas, fish |
Latest available information as sourced from:
African Markets
Trading Economics
Economy Watch
The World Fact Book
Company Profile
There is no data available at the moment
Sector Research
There is no data available at the moment
Sector Research
There is no data available at the moment
Top Eritrea Reports
The Mining Sector in East Africa
R 1 900.00(ZAR) estimated $ 100.97 (USD)*

The Mining Sector in East Africa
2020
The Mining Sector in East Africa
R 1 900.00(ZAR) estimated $ 100.97 (USD)*

The Mining Sector in East Africa
2018
The Printing Industry in East Africa
R 1 900.00(ZAR) estimated $ 100.97 (USD)*

The Printing Industry in East Africa
2018