Eswatini (formerly Swaziland)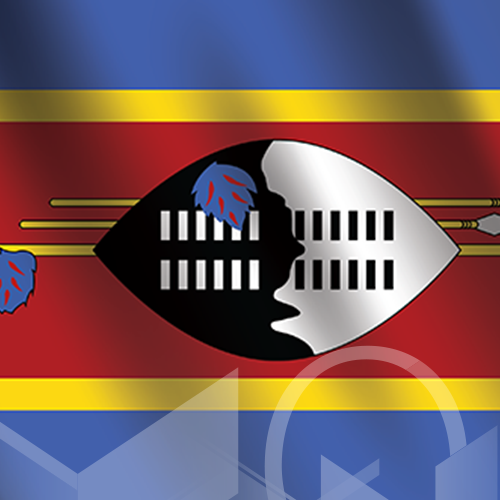 Country Economic Snapshot
2023-11-08
The Kingdom of Eswatini is a landlocked country in southern Africa bordering South Africa and Mozambique with a population of 1.19 million, a land mass of 17,364km² and a GDP of US$4.7bn.

It is a member of the South Africa Customs Union (SACU) and the Common Market for Eastern and Southern Africa (COMESA), Southern African Development Community (SADC), the African Union, Commonwealth of Nations, and the United Nations.

Historically SACU, which includes Botswana, Lesotho, Namibia, South Africa and Eswatini, was administered by South Africa through the 1910 and 1969 agreements. The customs union collected duties on local production and customs duties on members' imports from outside SACU, and the resulting revenue was allocated to member countries in quarterly instalments utilising a revenue-sharing formula. Members form a single customs territory in which tariffs and other barriers are eliminated on substantially all the trade between them for products originating in these countries, and there is a common external tariff that applies to non-members.

Eswatini is one of the world's last remaining absolute monarchies, and the prevailing King Mswati III rules by decree. Elections are held every five years to determine the House of Assembly and the Senate. The king appoints the prime minister from the legislature and appoints a minority of legislators to parliament.

The domestic currency, the lilangeni, is pegged to the South African rand, which is also legal tender in the country. The country has strong economic ties with South Africa, with over 60% of exports going to South Africa and over 80% of imports coming from South Africa.

GDP growth slowed to an estimated 0.4% in 2022 from 7.9% in 2021, partly reflecting the impact of pressures on domestic demand, weak performance in agriculture, and persistent domestic political and social uncertainties. The weak performance of the agriculture and agro-processing subsectors, mainly the sugar industry, reflects the impact of higher input costs, above-average rainfall, arson attacks and labour unrest.

Eswatini is Africa's fourth largest sugar producer and the 25th largest producer worldwide. Sugar is its main export commodity, accounts for over half of the country's agricultural output, and contributes about US$285m per year to the economy.


Sources: Who Owns Whom sector reports, CIA Factbook, African Development Bank, World Bank, Trading Economics, African Statistical Yearbook and IMF.
Info
| | |
| --- | --- |
| Capital | Mbabane |
| Currency (Name, Abbreviation, Symbol) | |
| Area | 17,364 sq km |
| Type of Government | monarchy |
| Languages | English (official, used for government business), siSwati (official) |
| Natural Resources | asbestos, coal, clay, cassiterite, hydropower, forests, small gold and diamond deposits, quarry stone, and talc |
| Type of Industry | coal, wood pulp, sugar, soft drink concentrates, textiles and apparel |
| Stock Exchange | Swaziland Stock Exchange |
| Stock Exchange Location | Mbabane |
| Stock Exchange Founded | 1990 |
| Tax Rate: Corporate | 27.5% |
| Tax Rate: Individual | 33% |
| Natural Resources | asbestos, coal, clay, cassiterite, hydropower, forests, small gold and diamond deposits, quarry stone, and talc |
Latest available information as sourced from:
African Markets
Trading Economics
Economy Watch
The World Fact Book
Company Profile
There is no data available at the moment
Sector Research
| CompanyName | Stock Exchange | Listed Date | Ticker Code | Country | Status |
| --- | --- | --- | --- | --- | --- |
| Greystone Partners Ltd | Eswatini Stock Exchange | 2010-11-00 | GREYSTONE | Eswatini (formerly Swaziland) | Active |
| Inala Capital Ltd | Eswatini Stock Exchange | 2019-03-18 | INALA | Eswatini (formerly Swaziland) | Active |
| Nedbank Eswatini Ltd | Eswatini Stock Exchange | 1990-00-00 | NEDBANK | Eswatini (formerly Swaziland) | Active |
| Royal Eswatini Sugar Corporation Ltd (The) | Eswatini Stock Exchange | 1999-00-00 | RSSC | Eswatini (formerly Swaziland) | Active |
| SBC Ltd | Eswatini Stock Exchange | | SBC | Eswatini (formerly Swaziland) | Active |
| Swazi Empowerment Ltd | Eswatini Stock Exchange | 2004-00-00 | SEL | Eswatini (formerly Swaziland) | Active |
| Swaziland Property Investments Ltd | Eswatini Stock Exchange | 1998-05-00 | SWAPROP | Eswatini (formerly Swaziland) | Active |
Top Eswatini (formerly Swaziland) Reports
The Sugar Industry Eswatini
R 9 500.00(ZAR) estimated $ 502.40 (USD)*

The Sugar Industry Eswatini
2022
The Generation of Electricity in Southern Africa
R 9 500.00(ZAR) estimated $ 502.40 (USD)*

The Generation of Electricity in Southern Africa
2022
The Mining Sector in Southern Africa
R 6 500.00(ZAR) estimated $ 343.74 (USD)*

The Mining Sector in Southern Africa
2021