Ethiopia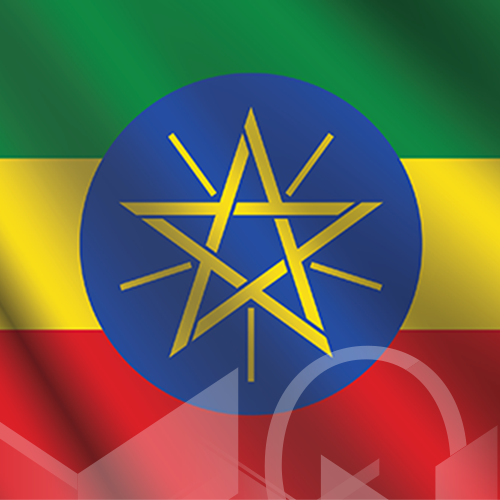 Country Economic Snapshot
2023-06-15
The Federal Democratic Republic of Ethiopia is a landlocked country covering 1,126,829km2 and is s located on the Horn of Africa. Under Ethiopia's constitution, all Ethiopian languages enjoy official state recognition which include Amharic, Afan Oromo, Afar, Somali and Tigrigna, while English is widely spoken. It has a population of 120m people and a GDP of US$111.3bn and the local currency is the Ethiopian Birr (ETB) It is bounded by Eritrea to the north, Djibouti to the northeast, Somalia to the east, Kenya to the south, and South Sudan and Sudan to the west.

Ethiopia's economy decelerated to 5.6% growth in 2021 from 6.1% in 2020, due to civil conflict and the effects of COVID-19 on transport and hospitality. GDP growth was projected to fall to 4.8% in 2022 but pickup to 5.7% in 2023, driven by industry and by private consumption and investment. A tourism rebound and liberalization of the telecoms sector are expected to boost the growth outlook.

Recently the government has opened up telecoms industry to the private sector, offering two telecom operator licences and indicating it will sell 40% of state owned Ethio Telecom. As of January 2021, internet users in Ethiopia reached 23.96 million and internet penetration stood 20.6%. The number of mobile connections in Ethiopia in January 2021 was equivalent to 38.5% of the total population.

In April 2020 Ethiopia relaxed rules for mobile banking and money transfers and opened the market to local businesses to encourage people to go cashless to control the spread of coronavirus. The move gave companies like Ethio the opportunity to compete with banks as previously only financial institutions could offer these services. In May 2021, Ethio launched a mobile money service, called Telebirr, which facilitates money transfers, deposits and withdrawals the payment of bills and remittances. It claimed to have 1 million users within weeks and a recent report indicated this had grown to 6 million users.

Ethiopian Airlines was established in 1946 and has grown to the largest airline in Africa with a fleet of approximately 140 it has become the de facto aviation hub of East Africa.
The involvement of foreign companies in the construction industry is dominated by Chinese companies and this industry was valued at US$41bn in revenue in 2021 and is projected to grow at an annual average growth rate of more than 8% from 2023 to 2026. The Ten Years Development Plan, which will run from 2020-2030 touches all aspects of development, including infrastructure development, and includes the objective of public-private partnerships.

Installed generation capacity in Ethiopia stands at 4,206MW and several power projects still to be completed include Gilgel Gibe IV hydroelectric, expected to generate 2,160MW 2022 and The Grand Ethiopia Renaissance Dam, with a projected installed capacity of 5,600MW.

As a landlocked country, Ethiopia relies heavily on the port of neighbouring Djibouti for the import and export of goods. Port Sudan in neighbouring Sudan and Port Berbera in neighbouring Somalia are used to a lesser degree. Ethiopia has built seven inland ports in Modjo, Kallity, Semera, Mekelle, Dire Dawa, Gelan and Kombolcha with an installed handling capacity of 22,000 containers.

Ethiopia's main exports are gold (21% of total exports) and coffee (19%), and other exports include live animals, oilseeds and flowers.


Sources: Who Owns Whom sector reports, CIA Factbook, African Development Bank, World Bank, Trading Economics, African Statistical Yearbook and IMF.
Info
| | |
| --- | --- |
| Capital | Addis Ababa |
| Currency (Name, Abbreviation, Symbol) | Ethiopian birr , ETB , Br |
| Area | 1,104,300 sq km |
| Type of Government | federal republic |
| Languages | Oromigna (official regional) 33.8%, Amarigna (Amharic) (official) 29.3%, Somaligna 6.2%, Tigrigna (official regional) 5.9%, Sidamigna 4%, Wolayitigna 2.2%, Guaragigna 2%, Affarigna 1.7%, Hadiyigna 1.7%, Gamogna 1.5%, other 11.7%, English (official) (major foreign language taught in schools), Arabic (official) (1994 census) |
| Natural Resources | small reserves of gold, platinum, copper, potash, natural gas, hydropower |
| Type of Industry | food processing, beverages, textiles, leather, chemicals, metals processing, cement |
| Stock Exchange | Ethiopia Commodity Exchange |
| Stock Exchange Location | Addis Ababa |
| Stock Exchange Founded | 2008 |
| Tax Rate: Corporate | 30% |
| Tax Rate: Individual | 35% |
| Natural Resources | small reserves of gold, platinum, copper, potash, natural gas, hydropower |
Latest available information as sourced from:
African Markets
Trading Economics
Economy Watch
The World Fact Book
Company Profile
There is no data available at the moment
Sector Research
| CompanyName | Stock Exchange | Listed Date | Ticker Code | Country | Status |
| --- | --- | --- | --- | --- | --- |
Top Ethiopia Reports
Lithium Mining in Africa
R 20 000.00(ZAR) estimated $ 1072.96 (USD)*

Lithium Mining in Africa
2023
The Construction Industry in Ethiopia
R 9 500.00(ZAR) estimated $ 509.66 (USD)*

The Construction Industry in Ethiopia
2022
The ICT and Telecommunications Industry in Ethiopia
R 6 500.00(ZAR) estimated $ 348.71 (USD)*

The ICT and Telecommunications Industry in Ethiopia
2021