Ethiopia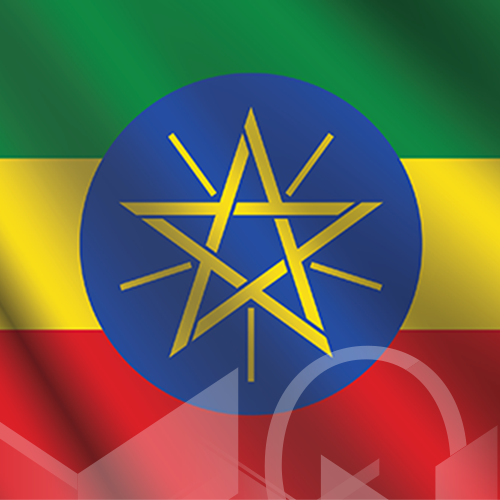 Country Economic Snapshot
2021-08-04
Ethiopia has the second largest population on the continent after Nigeria, of 155 million people.

Its economy grew by 6.1% in 2020, down from 8.4% in 2019, largely because of the pandemic. Growth was led by the services and industry sectors, but the hospitability, transport, and communications sectors were affected by the pandemic and related restrictions. Total public spending was stable and the country has a relatively low budget deficit of 2.7%. Inflation reached 20.6%, well above the 8% target, in 2020, due to supply chain disruptions and expansionary monetary policy as a result of the pandemic. Export revenues increased by 12% in 2020, largely from exports of gold, flowers, coffee, and chat, also widely known as khat, a plant-derived stimulant. Imports declined by 8.1%. This helped narrow the current account deficit to 4.4% in 2020 from 5.3% in 2019. Foreign direct investment fell 20% to 2.2% of GDP. GDP is forecast to grow by 8.7% in 2021/2022.
The Ethiopian government wants the mining sector to increase its contribution to GDP from less than 1% to 10% by 2030. In 2019, the government developed a draft policy document that proposed giving incentives to companies that produce construction minerals and minerals used in agriculture, such as potash. Most minerals are produced by artisanal miners, but the country wants to attract foreign mining companies to develop its mining sector. The government has reduced the royalty rate on precious metals from 8% to 7%, and is using organisations to assist it with the formalisation of the artisanal mining sector.

The mining sector is one of the five sectors identified in the Home-grown Economic Reform Agenda that was developed to transform Ethiopia into a lower-middle income country by not later than 2030. Plans to modernise the federal and regional mineral licensing systems, reform the sector's legal framework and improve mining policies are included in the agenda.

A material deterrent to future FDI is the launch of an offensive by the prime minister Abiy Ahmed against rebel forces in the northern Tigray region in 2020 which has led to led to thousands of deaths and displaced 1.7 million people.
Info
| | |
| --- | --- |
| Capital | Addis Ababa |
| Currency (Name, Abbreviation, Symbol) | Ethiopian birr , ETB , Br |
| Area | 1,104,300 sq km |
| Type of Government | federal republic |
| Languages | Oromigna (official regional) 33.8%, Amarigna (Amharic) (official) 29.3%, Somaligna 6.2%, Tigrigna (official regional) 5.9%, Sidamigna 4%, Wolayitigna 2.2%, Guaragigna 2%, Affarigna 1.7%, Hadiyigna 1.7%, Gamogna 1.5%, other 11.7%, English (official) (major foreign language taught in schools), Arabic (official) (1994 census) |
| Natural Resources | small reserves of gold, platinum, copper, potash, natural gas, hydropower |
| Type of Industry | food processing, beverages, textiles, leather, chemicals, metals processing, cement |
| Stock Exchange | Ethiopia Commodity Exchange |
| Stock Exchange Location | Addis Ababa |
| Stock Exchange Founded | 2008 |
| Tax Rate: Corporate | 30% |
| Tax Rate: Individual | 35% |
| Natural Resources | small reserves of gold, platinum, copper, potash, natural gas, hydropower |
Latest available information as sourced from:
African Markets
Trading Economics
Economy Watch
The World Fact Book
Company Profile
There is no data available at the moment
Sector Research
| CompanyName | Stock Exchange | Listed Date | Ticker Code | Country | Status |
| --- | --- | --- | --- | --- | --- |
Top Ethiopia Reports
ICT and Telecommunications in Ethiopia
R 8 400.00(ZAR) estimated $ 550.86 (USD)*

ICT and Telecommunications in Ethiopia
2021
Mining in East Africa
R 5 800.00(ZAR) estimated $ 380.35 (USD)*

Mining in East Africa
2020
The Agri-Business Sector in Ethiopia
R 1 700.00(ZAR) estimated $ 111.48 (USD)*

The Agri-Business Sector in Ethiopia
2019