Ghana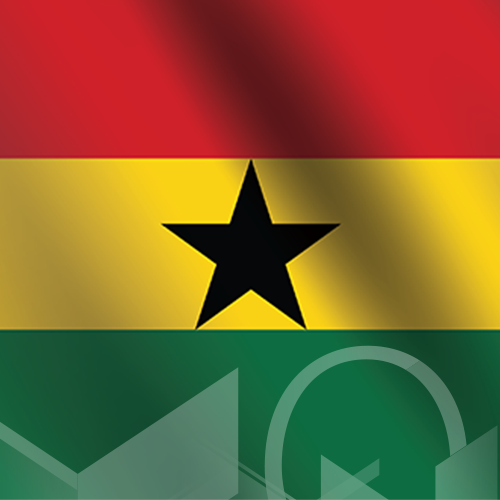 Country Economic Snapshot
2023-11-08
Ghana, officially the Republic of Ghana, in West Africa, has a land mass of 238,533km2. It abuts the Gulf of Guinea and the Atlantic Ocean to the south and shares borders with Côte d'Ivoire in the west, Burkina Faso in the north, and Togo in the east.

Ghana has a population of 32.8 million and a GDP of US$77.6bn. Its rapid GDP growth of 7% per annum from 2017 to 2019 was halted by the pandemic, with a sharp decline in commodity exports. After slowing to 0.5% in 2020, growth rebounded to 5.4% in 2021 on the back of agriculture and services sector growth. Recovery was relatively inclusive and labour intensive, with the extractive sector making only small contributions.

The country's mineral wealth includes gold, manganese, industrial diamonds and bauxite and unexploited deposits of columbite-tantalite, ilmenite, iron ore, limestone, lithium and rutile, while aggregates, bauxite, clay, diamonds, gemstones, gold, manganese, silica sand and silver are also produced. Gold is the most important mineral produced, and accounts for more than 90% of mineral revenues. There has also been a discovery of commercial quantities of oil and gas at the Jubilee Field off Cape Three Points, which has fast-tracked infrastructural development at the Port of Takoradi.

Other important industries are shipbuilding, light manufacturing, cement manufacturing, aluminium smelting, lumbering, cocoa and other food processing.

The Ghana Investment Promotion Centre reported that Ghana secured US$2.6bn of foreign direct investment in 2020, contributing to the registration of 279 projects made up of 129 new projects, 131 upstream development projects and 19 free zones activities across eight regions. These projects were expected to create around 27,110 jobs.

In the first quarter of 2022, GDP grew by 3.3% year-on-year, down from 3.6% in the same period in 2021. Non-oil growth slowed significantly to 3.7% from 5.3%, reflecting a slowdown in agriculture and services.

GDP growth is expected to slow to 3.5% in 2022 and average 3.3% from 2022 to 2024 as macroeconomic instability and corrective policy measures depress aggregate demand.
The fiscal deficit is projected to remain high in 2023 (9.2% of GDP) and beyond.


Sources: Who Owns Whom sector reports, CIA Factbook, African Development Bank, World Bank, Trading Economics, African Statistical Yearbook and IMF.
Info
| | |
| --- | --- |
| Capital | Accra |
| Currency (Name, Abbreviation, Symbol) | Ghanaian cedi , GHS , GHS |
| Area | 238,533 sq km |
| Type of Government | constitutional democracy |
| Languages | Asante 14.8%, Ewe 12.7%, Fante 9.9%, Boron (Brong) 4.6%, Dagomba 4.3%, Dangme 4.3%, Dagarte (Dagaba) 3.7%, Akyem 3.4%, Ga 3.4%, Akuapem 2.9%, other (includes English (official)) 36.1% (2000 census) |
| Natural Resources | gold, timber, industrial diamonds, bauxite, manganese, fish, rubber, hydropower, petroleum, silver, salt, limestone |
| Type of Industry | mining, lumbering, light manufacturing, aluminum smelting, food processing, cement, small commercial ship building |
| Stock Exchange | Ghana Stock Exchange |
| Stock Exchange Location | Accra |
| Stock Exchange Founded | 1990 |
| Tax Rate: Corporate | 25% |
| Tax Rate: Individual | 25% |
| Natural Resources | gold, timber, industrial diamonds, bauxite, manganese, fish, rubber, hydropower, petroleum, silver, salt, limestone |
Latest available information as sourced from:
African Markets
Trading Economics
Economy Watch
The World Fact Book
Company Profile
There is no data available at the moment
Sector Research
| CompanyName | Stock Exchange | Listed Date | Ticker Code | Country | Status |
| --- | --- | --- | --- | --- | --- |
| Access Bank (Ghana) PLC | Ghana Stock Exchange | 2016-11-25 | ACCESS | Ghana | Active |
| Agricultural Development Bank PLC | Ghana Stock Exchange | 2016-12-20 | ADB | Ghana | Active |
| Aluworks Ltd | Ghana Stock Exchange | 1996-11-29 | ALW | Ghana | Active |
| Benso Oil Palm Plantation PLC | Ghana Stock Exchange | 2004-04-16 | BOPP | Ghana | Active |
| CAL Bank Ltd | Ghana Stock Exchange | 2004-11-01 | CAL | Ghana | Active |
| Camelot Ghana Ltd | Ghana Stock Exchange | 1999-09-17 | CMLT | Ghana | Active |
| Clydestone Ghana Ltd | Ghana Stock Exchange | | CLYD | Ghana | Active |
| Cocoa Processing Company Ltd | Ghana Stock Exchange | 2003-02-14 | CPC | Ghana | Suspended |
| Dannex Ayrton Starwin PLC | Ghana Stock Exchange | 2020-01-15 | DASPHARMA | Ghana | Active |
| DigiCut Production and Advertising PLC | Ghana Stock Exchange | 2018-04-11 | DIGICUT | Ghana | Active |
| E.S.L.A. PLC | Ghana Stock Exchange | 2017-11-05 | ESLA | Ghana | Active |
| Ecobank Ghana Ltd | Ghana Stock Exchange | 2006-07-00 | EBG | Ghana | Active |
| Enterprise Group PLC | Ghana Stock Exchange | 1992-02-21 | EGL | Ghana | Active |
| Fan Milk PLC | Ghana Stock Exchange | 1991-10-18 | FML | Ghana | Active |
| GCB Bank Ltd | Ghana Stock Exchange | 1996-05-17 | GCB | Ghana | Active |
| GOIL PLC | Ghana Stock Exchange | 2007-11-16 | GOIL | Ghana | Active |
| Guinness Ghana Breweries PLC | Ghana Stock Exchange | 1991-08-23 | GGBL | Ghana | Active |
| HORDS PLC | Ghana Stock Exchange | 2015-08-10 | HORDS | Ghana | Active |
| Intravenous Infusions PLC | Ghana Stock Exchange | 2015-12-15 | IIL | Ghana | Active |
| Mega African Capital Ltd | Ghana Stock Exchange | 2014-04-23 | MAC | Ghana | Active |
| Meridian-Marshalls Holdings Company Ltd | Ghana Stock Exchange | 2015-04-22 | MMH | Ghana | Active |
| PBC Ltd | Ghana Stock Exchange | 2000-05-17 | PBC | Ghana | Suspended |
| Republic Bank (Ghana) PLC | Ghana Stock Exchange | 1995-05-07 | HFC | Ghana | Active |
| Sam-Woode Ltd | Ghana Stock Exchange | 2002-04-24 | SWL | Ghana | Suspended |
| Samba Foods Ltd | Ghana Stock Exchange | 2015-05-12 | SAMBA | Ghana | Active |
| Scancom PLC | Ghana Stock Exchange | 2018-09-05 | MTNGH | Ghana | Active |
| SIC Insurance Company Ltd | Ghana Stock Exchange | 2008-01-25 | SIC | Ghana | Active |
| Societe Generale Ghana Ltd | Ghana Stock Exchange | 1995-10-13 | SOGEGH | Ghana | Active |
| Standard Chartered Bank Ghana Ltd | Ghana Stock Exchange | 1990-11-12 | SCB | Ghana | Active |
| TotalEnergies Marketing Ghana PLC | Ghana Stock Exchange | 1991-07-19 | TOTAL | Ghana | Active |
| Trust Bank Ltd | Ghana Stock Exchange | 2002-11-15 | TBL | Ghana | Active |
| Unilever Ghana PLC | Ghana Stock Exchange | 1991-08-23 | UNIL | Ghana | Active |
Top Ghana Reports
Lithium Mining in Africa
R 20 000.00(ZAR) estimated $ 1057.67 (USD)*

Lithium Mining in Africa
2023
The Mining Sector in West Africa
R 20 000.00(ZAR) estimated $ 1057.67 (USD)*

The Mining Sector in West Africa
2023
The Beverages Industry in Ghana
R 20 000.00(ZAR) estimated $ 1057.67 (USD)*

The Beverages Industry in Ghana
2023