Guinea-Bissau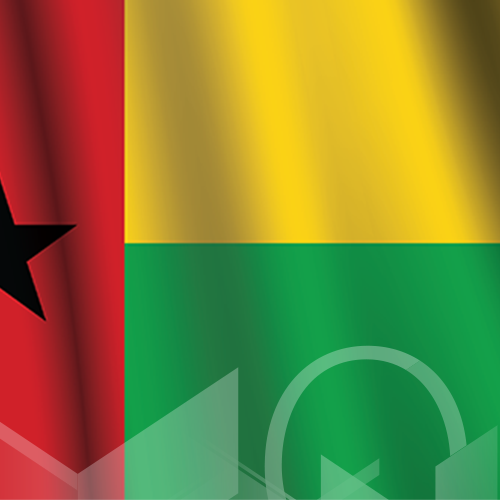 Country Economic Snapshot
2023-11-08
Guinea-Bissau is a country on the West African Atlantic coast with a land mass 36,130km² and a total coastline of 350km, and is bordered by Senegal to the north, Guinea to the east and south, and the Atlantic Ocean to the west. It includes the Bijagós (Bissagos) archipelago and other islands off the coast. It has population of 2.2 million people and a GDP of US$1.7bn.

Real GDP growth dropped to 3.7% in 2022 from 6.4% in 2021 due to inflationary pressures that limited private consumption on the demand side and lower manufacturing and primary sector on the supply side. Inflation rose to 7.9% in 2022 from 3.3% in 2021, driven by higher prices for imported food and oil. The budget deficit widened to 6.3% of GDP in 2022 from 5.6% in 2021 due to temporary measures to curb the effects of Russia's invasion of Ukraine and expenses linked to upcoming elections which were held in June 2023.

GDP is projected to grow 4.6% in 2023 and 5.1% in 2024 based on planned infrastructure investment and the health of agriculture and industry. Inflation is projected to reach its target of 3% in 2024 thanks to the central bank's tighter monetary policy.

Guinea-Bissau has a history of political and institutional fragility dating back to its independence from Portugal in 1974. The country is one of the most coup-prone and politically unstable countries in the world and there are frequent changes in government. Since independence, four successful coups have been recorded and another 16 coups attempted, plotted, or alleged.


Sources: Who Owns Whom sector reports, CIA Factbook, African Development Bank, World Bank, Trading Economics, African Statistical Yearbook and IMF.
Info
| | |
| --- | --- |
| Capital | Bissau |
| Currency (Name, Abbreviation, Symbol) | West African CFA franc , XOF , BCEAO |
| Area | 36,125 sq km |
| Type of Government | presidential republic |
| Languages | Portuguese (official), Crioulo, African languages |
| Natural Resources | fish, timber, phosphates, bauxite, clay, granite, limestone, unexploited deposits of petroleum |
| Type of Industry | agricultural products processing, beer, soft drinks |
| Stock Exchange | Bourse Rgionale des Valeurs Mobilires |
| Stock Exchange Location | Abidjan, Cote d'Ivoire |
| Stock Exchange Founded | 1996 |
| Tax Rate: Corporate | |
| Tax Rate: Individual | |
| Natural Resources | fish, timber, phosphates, bauxite, clay, granite, limestone, unexploited deposits of petroleum |
Latest available information as sourced from:
African Markets
Trading Economics
Economy Watch
The World Fact Book
Company Profile
There is no data available at the moment
Sector Research
There is no data available at the moment
Sector Research
There is no data available at the moment
Top Guinea-Bissau Reports
The Mining Sector in West Africa
R 20 000.00(ZAR) estimated $ 1062.84 (USD)*

The Mining Sector in West Africa
2023
The Mining Sector in West Africa
R 1 900.00(ZAR) estimated $ 100.97 (USD)*

The Mining Sector in West Africa
2020
The Gas Industry in West Africa
R 1 900.00(ZAR) estimated $ 100.97 (USD)*

The Gas Industry in West Africa
2020