Guinea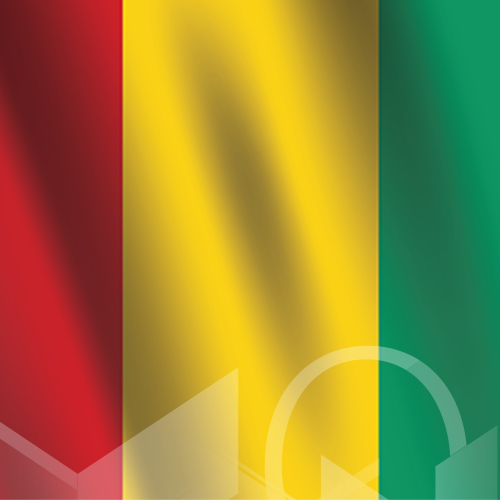 Country Economic Snapshot
2023-06-28
Guinea is bordered to the north by Guinea Bissau, Senegal, and Mali, and to the south by Sierra Leone, Liberia, and Cote d'Ivoire, and has a land mass of 245,857 km². It has a population of 13.53 million (2022) and a GDP of US$16.09bn (2021).

It is home to the largest bauxite reserve in the world, from which aluminium is extracted, and is also rich in other minerals such as gold, iron, and diamonds. Guinea's primary exports are gold and aluminum ore. It has also been identified as one of the African countries with high hydropower potential due to its many rivers.

As the country's largest employer, the agriculture sector plays a key role in poverty reduction and rural development, providing income for 57% of rural households, and employment for 52% of the labour force.

Real GDP grew an estimated 4.8% in 2022, up from 4.4% in 2021, driven by output in the mining sector. The sustained growth demonstrates the country's resilience to socio-political shocks, the pandemic, and Russia's invasion of Ukraine. Inflation dropped to 12.2% in 2022 from 12.6% in 2021. Imported inflation was partially offset by the appreciation of the Guinean franc. The budget deficit narrowed to an estimated 1.3% of GDP in 2022 from 1.7% in 2021. The economy was boosted by higher revenue from the mining sector, but constrained by rising electricity subsidies due to low tariffs for hydroelectric power. Public debt fell to 35.5% of GDP in 2022 from 40.4% in 2021.

More than 20 international mining companies have operations in Guinea, which remains largely underexplored.

Major companies mining bauxite in Guinea include Aluminum Corporation of China (Chalco), Rusal, Rio Tinto (a shareholder in Compagnie des Bauxites de Guinee) and Metalcorp, whose subsidiary Societe des Bauxites de Guinee is developing a US$1.4bn bauxite mine and an alumina refinery. In May 2018, Guinea approved a US$2.9bn development of a bauxite mine, port, railway and power station by China's TBEA. In Guinea's gold mining industry, AngloGold Ashanti is among the major gold miners.

The BBC reported that Guinea's mineral wealth makes it potentially one of Africa's richest countries, but its people are among the poorest in West Africa. The Guinean government's priority investment categories are the promotion of SMEs, development of non-traditional exports, processing of local natural resources and raw materials, and establishment of activities in less economically-developed regions, according to a US Bureau of Economic and Business Affairs report.

Sources: Who Owns Whom sector reports, CIA Factbook, African Development Bank, World Bank, Trading Economics, African Statistical Yearbook and IMF.
Info
| | |
| --- | --- |
| Capital | Conakry |
| Currency (Name, Abbreviation, Symbol) | Guinean franc , GNF , FG |
| Area | 245,857 sq km |
| Type of Government | presidential republic |
| Languages | French (official) note: each ethnic group has its own language |
| Natural Resources | bauxite, iron ore, diamonds, gold, uranium, hydropower, fish, salt |
| Type of Industry | bauxite, gold, diamonds, iron; alumina refining; light manufacturing, and agricultural processing |
| Stock Exchange | |
| Stock Exchange Location | - |
| Stock Exchange Founded | - |
| Tax Rate: Corporate | 35% |
| Tax Rate: Individual | 40% |
| Natural Resources | bauxite, iron ore, diamonds, gold, uranium, hydropower, fish, salt |
Latest available information as sourced from:
African Markets
Trading Economics
Economy Watch
The World Fact Book
Company Profile
There is no data available at the moment
Sector Research
There is no data available at the moment
Sector Research
There is no data available at the moment
Top Guinea Reports
The Mining Sector in West Africa
R 20 000.00(ZAR) estimated $ 1072.96 (USD)*

The Mining Sector in West Africa
2023
The Mining Sector in West Africa
R 1 900.00(ZAR) estimated $ 101.93 (USD)*

The Mining Sector in West Africa
2020
The Gas Industry in West Africa
R 1 900.00(ZAR) estimated $ 101.93 (USD)*

The Gas Industry in West Africa
2020