Ivory Coast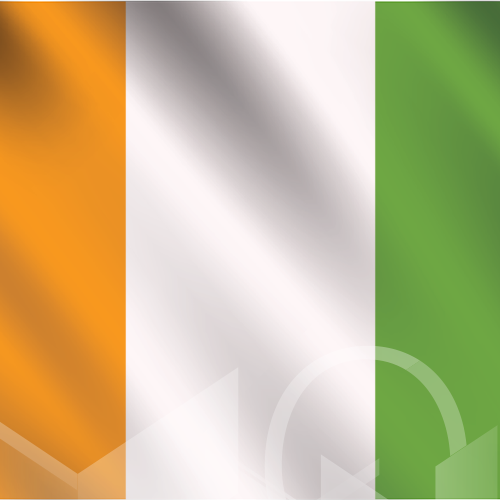 Country Economic Snapshot
2020-04-02
Ivory Coast continued to be one of the most buoyant economies in Africa in 2018 when GDP grew by 7.3% to US$43bn.

The country is the third-largest economy in West Africa, after Nigeria and Ghana, with the largest French-speaking population on the continent.

It is richly endowed with natural resources including petroleum and natural gas. Despite its growth, which the International Monetary Fund (IMF) predicted would average 7.4% between 2017 and 2020, an estimated 46% of the population still lives in poverty.

Much of the credit for this economic boom goes to Alassane Ouattara, a former economist who has been president since 2011 after a ten-year civil war. However, the approach of the October 2020 presidential election is giving rise to some uncertainty as Ouattara has not yet indicated whether he will seek a third term.

Two-thirds of the population are employed in the agricultural sector, which represents 25% of GDP and 70% of export earnings. This primary sector is composed of food crops (12% of GDP), export crops (11%), and animal husbandry and peaches (2%).

Ivory Coast is the world's largest producer of cocoa, which generated more than US$5bn in revenues in 2015, and approximately 6 million people are employed in the cocoa industry. Cocoa makes up 43% of total exports, and stakeholders aim to increase local processing from 30% to 50% by 2020. Although it is the world's largest exporter of cashew nuts, the country processes only about 6% of production. This is expected to change with government support in the form of four agro-industrial zones in four regions and funding to support programmes to modernise the sector.

The government adopted a National Development Plan 2016- 2020 to transform the country into a middle-income economy by 2020.

Ivory Coast has an advanced power sector compared to other West African countries and the price of electricity is relatively inexpensive. Coverage is at almost 60% and the country is a regular exporter to some neighbours. Government has committed to ending the monopoly of the national electricity company, ICE.

The country is bordered by Burkina Faso, Ghana, Guinea, Liberia and Mali with 515km of North Atlantic coastline. It has close political and economic ties with its West African neighbours, and it maintains close ties to the West, particularly France. The capital is Yamoussoukro, while the commercial and administrative centre is Abidjan, the largest city. According to UN estimates, 54.2% of the 25 million population is urbanised and 20% of the 5 million residents of Abidjan are considered middle class. There are an estimated 33m cellphone subscriptions among the country's 25 million inhabitants.
Info
| | |
| --- | --- |
| Capital | Yamoussoukro |
| Currency (Name, Abbreviation, Symbol) | West African CFA franc , XOF , BCEAO |
| Area | 322,463 sq km |
| Type of Government | republic; multiparty presidential regime established 1960 |
| Languages | French (official), 60 native dialects of which Dioula is the most widely spoken |
| Natural Resources | petroleum, natural gas, diamonds, manganese, iron ore, cobalt, bauxite, copper, gold, nickel, tantalum, silica sand, clay, cocoa beans, coffee, palm oil, hydropower |
| Type of Industry | foodstuffs, beverages; wood products, oil refining, gold mining, truck and bus assembly, textiles, fertilizer, building materials, electricity |
| Stock Exchange | Bourse Regionale des Valeurs Mobilires |
| Stock Exchange Location | Abidjan, Cote d'Ivoire |
| Stock Exchange Founded | 1996 |
| Tax Rate: Corporate | 25% |
| Tax Rate: Individual | 60% |
| Natural Resources | petroleum, natural gas, diamonds, manganese, iron ore, cobalt, bauxite, copper, gold, nickel, tantalum, silica sand, clay, cocoa beans, coffee, palm oil, hydropower |
Latest available information as sourced from:
African Markets
Trading Economics
Economy Watch
The World Fact Book
Company Profile
There is no data available at the moment
Sector Research
| CompanyName | Stock Exchange | Listed Date | Ticker Code | Country | Status |
| --- | --- | --- | --- | --- | --- |
| Air Liquide Cote d'Ivoire S.A. | Bourse Regionale des Valeurs Mobilieres | 1999-04-19 | SIVC | Ivory Coast | Active |
| Alios Finance Cote d'Ivoire S.A. | Bourse Regionale des Valeurs Mobilieres | 1998-09-16 | SAFC | Ivory Coast | Active |
| Bank of Africa - Benin | Bourse Regionale des Valeurs Mobilieres | 2000-11-17 | BOAB | Ivory Coast | Active |
| Bank of Africa - Burkina Faso | Bourse Regionale des Valeurs Mobilieres | 2010-12-30 | BOABF | Ivory Coast | Active |
| Bank of Africa - Cote d'Ivoire | Bourse Regionale des Valeurs Mobilieres | 2010-04-07 | BOAC | Ivory Coast | Active |
| Bank of Africa - Niger | Bourse Regionale des Valeurs Mobilieres | 2003-12-30 | BOAN | Ivory Coast | Active |
| Bank of Africa - Senegal | Bourse Regionale des Valeurs Mobilieres | 2014-12-09 | BOAS | Ivory Coast | Active |
| Banque Internationale pour le Commerce et l'Industrie de la Cote d'Ivoire | Bourse Regionale des Valeurs Mobilieres | 1998-09-16 | BICICI | Ivory Coast | Active |
| Bernabe Cote d'Ivoire SA | Bourse Regionale des Valeurs Mobilieres | 1998-09-16 | BNBC | Ivory Coast | Active |
| Bollore Transport & Logistics | Bourse Regionale des Valeurs Mobilieres | | SDSC | Ivory Coast | Active |
| Bollore Transport & Logistics Cote d'Ivoire (BTL CI) S.A. | Bourse Regionale des Valeurs Mobilieres | 1998-09-16 | SDSC | Ivory Coast | Active |
| CFAO Motors Cote d'Ivoire SA | Bourse Regionale des Valeurs Mobilieres | 1998-09-16 | CFAC | Ivory Coast | Active |
| Compagnie Ivoirienne d'Electricite SA | Bourse Regionale des Valeurs Mobilieres | 1998-09-16 | CIEC | Ivory Coast | Active |
| Crown Siem SA | Bourse Regionale des Valeurs Mobilieres | 1998-09-16 | SEMC | Ivory Coast | Active |
| Ecobank Transnational Inc | Bourse Regionale des Valeurs Mobilieres | 2006-09-11 | ETIT | Ivory Coast | Active |
| Filature Tissages Sacs SA | Bourse Regionale des Valeurs Mobilieres | 1998-09-16 | FTSC | Ivory Coast | Active |
| Movis Cote d'Ivoire | Bourse Regionale des Valeurs Mobilieres | 1998-09-16 | SVOC | Ivory Coast | Active |
| Nestle Cote d'Ivoire SA | Bourse Regionale des Valeurs Mobilieres | 1998-09-16 | NTLC | Ivory Coast | Active |
| Nouvelles Editions Ivoiriennes-Centre d'Edition et de Diffusion Africaines | Bourse Regionale des Valeurs Mobilieres | 2000-04-14 | NEIC | Ivory Coast | Active |
| Onatel-SA | Bourse Regionale des Valeurs Mobilieres | 2009-04-30 | ONTBF | Ivory Coast | Active |
| Palmci SA | Bourse Regionale des Valeurs Mobilieres | 1999-10-18 | PALC | Ivory Coast | Active |
| Servair Abidjan SA | Bourse Regionale des Valeurs Mobilieres | | ABJC | Ivory Coast | Active |
| Societe Africaine de Plantations d'Heveas SA | Bourse Regionale des Valeurs Mobilieres | 1998-09-16 | SAPH | Ivory Coast | Active |
| Societe d'Etudes et de Travaux pour l'Afrique de l'Ouest SA | Bourse Regionale des Valeurs Mobilieres | 1998-09-16 | STAC | Ivory Coast | Active |
| Societe de Distribution d'Eau de la Cote d'Ivoire S.A. | Bourse Regionale des Valeurs Mobilieres | 1998-09-16 | SDCC | Ivory Coast | Active |
| Societe de Limonaderies et Brasseries d'Afrique SA | Bourse Regionale des Valeurs Mobilieres | 1998-09-16 | SLBC | Ivory Coast | Active |
| Societe des Caoutchoucs de Grand-Bereby SA | Bourse Regionale des Valeurs Mobilieres | 1998-09-16 | SOGB | Ivory Coast | Active |
| Societe Generale de Banques en Cote d'Ivoire SA | Bourse Regionale des Valeurs Mobilieres | 1976-04-07 | SGBCI | Ivory Coast | Active |
| Societe Ivoirienne de Cables SA | Bourse Regionale des Valeurs Mobilieres | 1998-09-16 | CABC | Ivory Coast | Active |
| Societe Ivoirienne De Coco Rape S.A. | Bourse Regionale des Valeurs Mobilieres | 1998-09-16 | SICC | Ivory Coast | Active |
| Societe Ivoirienne des Tabacs S.A. | Bourse Regionale des Valeurs Mobilieres | 1998-09-16 | STBC | Ivory Coast | Active |
| Societe Multinationale de Bitumes SA | Bourse Regionale des Valeurs Mobilieres | 1998-09-16 | SMBCI | Ivory Coast | Active |
| Sonatel S.A. | Bourse Regionale des Valeurs Mobilieres | 1998-10-02 | SNTS | Ivory Coast | Active |
| Total Cote d'Ivoire S.A. | Bourse Regionale des Valeurs Mobilieres | 1998-09-16 | TTLC | Ivory Coast | Active |
| Total Senegal S.A. | Bourse Regionale des Valeurs Mobilieres | 2015-02-15 | TOTAL | Ivory Coast | Active |
| Tractafric Motors Cote d'Ivoire SA | Bourse Regionale des Valeurs Mobilieres | 1998-09-16 | TMCI | Ivory Coast | Active |
| Unilever Cote d'Ivoire SA | Bourse Regionale des Valeurs Mobilieres | 1998-09-16 | UNLC | Ivory Coast | Active |
| Uniwax S.A. | Bourse Regionale des Valeurs Mobilieres | 1998-09-16 | UNXC | Ivory Coast | Active |
| Vivo Energy Cote d'Ivoire S.A. | Bourse Regionale des Valeurs Mobilieres | 1998-09-16 | SHEC | Ivory Coast | Active |
Top Ivory Coast Reports
Mining in West Africa
R 6 500.00(ZAR) estimated $ 393.98 (USD)*

Mining in West Africa
2020
The Gas Industry in West Africa
R 6 500.00(ZAR) estimated $ 393.98 (USD)*

The Gas Industry in West Africa
2020
Mining in West Africa
R 1 900.00(ZAR) estimated $ 115.16 (USD)*

Mining in West Africa
2019