Libya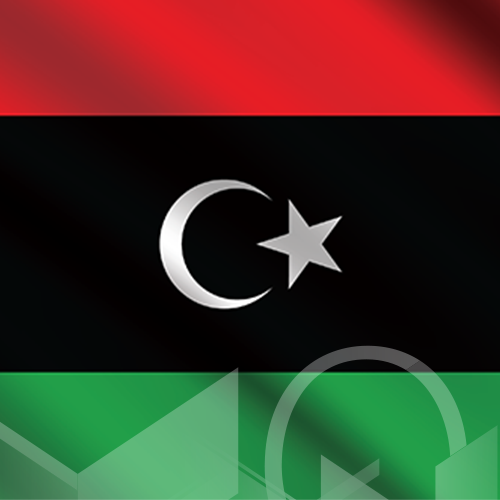 Country Economic Snapshot
2023-11-08
Libya, officially the State of Libya, is a country in the Maghreb region in North Africa bordered by the Mediterranean Sea to the north, Egypt to the east, Sudan to the southeast, Chad to the south, Niger to the southwest, Algeria to the west, and Tunisia to the northwest. It has a land mass of 1,759,540km² and a coastline of 1,770km, a population of 6.7 million and GDP of US$42.82bn (2021).
GDP is expected to reach US$45.82bn by the end of 2023, around US$47.56bn in 2024 and US$67.92bn in 2025.
Prolonged conflict, causing civilian casualties, the mass displacement of people and the destruction of key infrastructure, as well as the pandemic, led to economic decline in 2020. This further exposed vulnerable people in Libya, many of whom lost their livelihoods due to economic shocks, who now face prolonged food insecurity. The 2022 humanitarian response plan indicates that the number of people in need of assistance decreased from 1.5 million in 2021 to 803,000 in 2022, but Libya still struggles with food insecurity, malnutrition, poverty, income inequity and low agricultural production. There was a 50% decline in GDP per capita between 2011 and 2020.
Libya is a major global oil and gas producer, with capacity to contribute to European and African energy security. Historically, Libya has welcomed international companies and is now pushing for greater investment through partnerships. The country is entering a period of growth and opportunity, driven by energy, and it aims to increase oil production from 1.2 million barrels per day currently to 2 million. It needs solar energy and other power sources to provide power locally and for its neighbours.

The World Bank estimates a 1.2% GDP contraction in 2022, largely due to a decline in oil production in the first quarter. High unemployment rates of 19.6% persist, and over 85% of the working population works in the public and informal sectors. Inflation has been significantly driven by rising food, housing, and electricity prices.

UN-facilitated political talks involving 75 Libyan stakeholders in November 2020 culminated in the nomination of the Government of National Unity. The October 2020 ceasefire agreement between the former Government of National Accord and field marshal Belqasim Haftar's LAAF (the former Libyan National Army) stipulated the departure of all foreign fighters from the country but according to the UN mission in Libya, thousands of foreign fighters from Syria, Russia, Chad, and Sudan, including members of private military companies remain in Libya.

Landmines were introduced to Libya during the armed conflict in Tripoli and surroundings, reportedly by the Wagner Group, a Russian government-linked company. According to a report by the UN Panel of Experts on Libya, internationally-banned antipersonnel landmines manufactured in Russia were brought into the country in 2019 and early 2020.


Sources: Who Owns Whom sector reports, CIA Factbook, African Development Bank, World Bank, Trading Economics, African Statistical Yearbook and IMF.
Info
| | |
| --- | --- |
| Capital | Tripoli |
| Currency (Name, Abbreviation, Symbol) | Lybian Dinar , LYD , LD |
| Area | 1,759,540 sq km |
| Type of Government | operates under a transitional governmen |
| Languages | Arabic (official), Italian, English (all widely understood in the major cities); Berber (Nafusi, Ghadamis, Suknah, Awjilah, Tamasheq) |
| Natural Resources | petroleum, natural gas, gypsum |
| Type of Industry | petroleum, petrochemicals, aluminum, iron and steel, food processing, textiles, handicrafts, cement |
| Stock Exchange | Libyan Stock Market |
| Stock Exchange Location | Tripoli |
| Stock Exchange Founded | 2007 |
| Tax Rate: Corporate | 20% |
| Tax Rate: Individual | 10% |
| Natural Resources | petroleum, natural gas, gypsum |
Latest available information as sourced from:
African Markets
Trading Economics
Economy Watch
The World Fact Book
Company Profile
There is no data available at the moment
Sector Research
There is no data available at the moment
Sector Research
There is no data available at the moment