Mali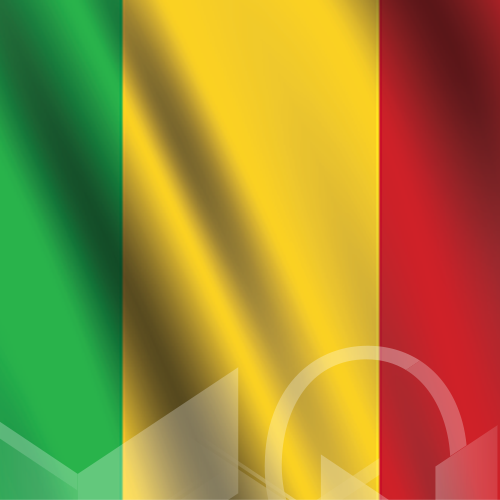 Country Economic Snapshot
2023-11-08
Mali is a landlocked country in West African lying mostly in the Sahara desert with a land mass of 1,240,190 km², a GDP of US$19.8bn and a population of 21.9 million.

The US Geological Survey estimated undiscovered, technically recoverable resources of 1,880 billion cubic feet (bcf) of conventional gas, and 6,395bcf of shale gas in the Taoudeni Basin which is unexploited due to war and unrest.

Real GDP grew 3.7% in 2022, up from 3.1% in 2021, driven by the primary and secondary sectors, particularly cereal production, which grew by 16.7% and industrial gold production (4.4%), and higher consumption by households and government agencies. Inflation rose to 9.7% in 2022 from 3.9% in 2021.

Real GDP is projected to grow 5.1% in 2023 and 5.3% in 2024, driven by a recovery in cotton production, extractive activities, including the discovery of lithium, and industrial gold production. Inflation is projected to moderate at 2.6% in 2023 and 2.4% in 2024 because of strong cereal production (which is expected to increase by 7.7% in 2023 and 5.1% in 2024), coupled with the temporary suspension of grain exports.

The human rights situation deteriorated dramatically in 2022 with a surge in attacks against civilians by Islamist armed groups and killings of suspects by pro-government forces during counterterrorism operations. The government increasingly cracked down on media and opposition voices. The mounting abuses occurred against a background of an ongoing political crisis and significant tension with Mali's diplomatic partners, anchored in Mali's decision to employ the Wagner Group, a private military security contractor with apparent links to the Russian government.


Sources: Who Owns Whom sector reports, CIA Factbook, African Development Bank, World Bank, Trading Economics, African Statistical Yearbook and IMF.
Info
| | |
| --- | --- |
| Capital | Bamako |
| Currency (Name, Abbreviation, Symbol) | West African CFA franc , XOF , BCEAO |
| Area | 1,240,192 sq km |
| Type of Government | presidential republic |
| Languages | French (official), Bambara 46.3%, Peul/foulfoulbe 9.4%, Dogon 7.2%, Maraka/soninke 6.4%, Malinke 5.6%, Sonrhai/djerma 5.6%, Minianka 4.3%, Tamacheq 3.5%, Senoufo 2.6%, unspecified 0.6%, other 8.5% |
| Natural Resources | gold, phosphates, kaolin, salt, limestone, uranium, gypsum, granite, hydropower note: bauxite, iron ore, manganese, tin, and copper deposits are known but not exploited |
| Type of Industry | food processing; construction; phosphate and gold mining |
| Stock Exchange | Bourse Rgionale des Valeurs Mobilires |
| Stock Exchange Location | Abidjan, Cote d'Ivoire |
| Stock Exchange Founded | 1996 |
| Tax Rate: Corporate | |
| Tax Rate: Individual | |
| Natural Resources | gold, phosphates, kaolin, salt, limestone, uranium, gypsum, granite, hydropower note: bauxite, iron ore, manganese, tin, and copper deposits are known but not exploited |
Latest available information as sourced from:
African Markets
Trading Economics
Economy Watch
The World Fact Book
Company Profile
There is no data available at the moment
Sector Research
There is no data available at the moment
Sector Research
There is no data available at the moment
Top Mali Reports
Lithium Mining in Africa
R 20 000.00(ZAR) estimated $ 1055.64 (USD)*

Lithium Mining in Africa
2023
The Mining Sector in West Africa
R 20 000.00(ZAR) estimated $ 1055.64 (USD)*

The Mining Sector in West Africa
2023
The Mining Sector in East Africa
R 1 900.00(ZAR) estimated $ 100.29 (USD)*

The Mining Sector in East Africa
2020