Mauritania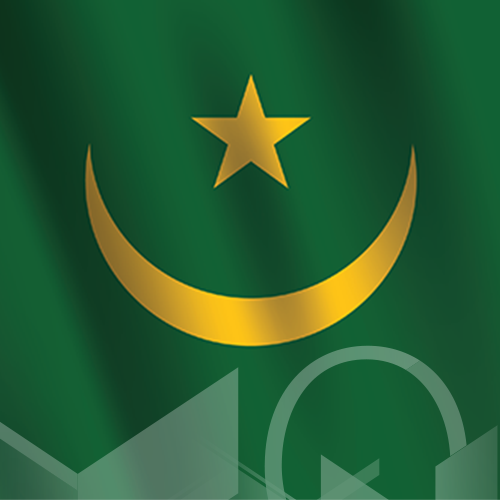 Country Economic Snapshot
2023-07-16
Mauritania, officially the Islamic Republic of Mauritania, is a country in northwest Africa. It is bordered by the Atlantic Ocean to the west, Western Sahara to the north and northwest, Algeria to the northeast, Mali to the east and southeast, and Senegal to the southwest. It has a land mass of 1,031,000km², a population of 4.6 million (2021) and had a GDP of US$10.38bn in 2022 according World Bank data.

It was ruled by a military junta after a coup in 2005, but had democratic elections in 2007 and is now a democracy under President Mohamed Ould Ghazouani. Mauritania is essentially a desert country, with vast expanses of pastoral land and only 0.5% of arable land.

Real GDP is projected to grow at 4.3% in 2023 and 5.9% in 2024, supported by the primary and extractive sectors and the expected benefits of gas development. Inflation is projected to rise to 10.4% in 2023 before dropping to 6.5% in 2024 with the central bank's restrictive monetary policy. Possible headwinds include security tensions in the Sahel region, high prices of imported food and energy products, price volatility of exported raw materials (mainly iron), and recurrent droughts and floods, which impact food security. In addition, the efficiency of public spending and debt management needs to improve.

The biggest find of natural gas in the region was on the maritime border of Senegal and Mauritania where the total recoverable gas resources are estimated to be around 15 trillion cubic feet (tcf). The US Geological Survey estimated undiscovered, technically recoverable resources of 1,880 billion cubic feet (bcf) of conventional gas, and 6,395bcf of shale gas in the Taoudeni Basin in Mali and Mauritania.



Sources: Who Owns Whom sector reports, CIA Factbook, African Development Bank, World Bank, Trading Economics, African Statistical Yearbook and IMF.
Info
| | |
| --- | --- |
| Capital | Nouakchott |
| Currency (Name, Abbreviation, Symbol) | Mauritanian ouguiya , MRO , UM |
| Area | 1,030,700 sq km |
| Type of Government | military junta |
| Languages | Arabic (official and national), Pulaar, Soninke, Wolof (all national languages), French, Hassaniya |
| Natural Resources | iron ore, gypsum, copper, phosphate, diamonds, gold, oil, fish |
| Type of Industry | fish processing, oil production, mining (iron ore, gold, and copper) note: gypsum deposits have never been exploited |
| Stock Exchange | NONE |
| Stock Exchange Location | - |
| Stock Exchange Founded | - |
| Tax Rate: Corporate | 25% |
| Tax Rate: Individual | 40% |
| Natural Resources | iron ore, gypsum, copper, phosphate, diamonds, gold, oil, fish |
Latest available information as sourced from:
African Markets
Trading Economics
Economy Watch
The World Fact Book
Company Profile
There is no data available at the moment
Sector Research
There is no data available at the moment
Sector Research
There is no data available at the moment
Top Mauritania Reports
The Mining Sector in West Africa
R 20 000.00(ZAR) estimated $ 1070.90 (USD)*

The Mining Sector in West Africa
2023
The Mining Sector in West Africa
R 1 900.00(ZAR) estimated $ 101.74 (USD)*

The Mining Sector in West Africa
2020
The Gas Industry in West Africa
R 1 900.00(ZAR) estimated $ 101.74 (USD)*

The Gas Industry in West Africa
2020