Mauritania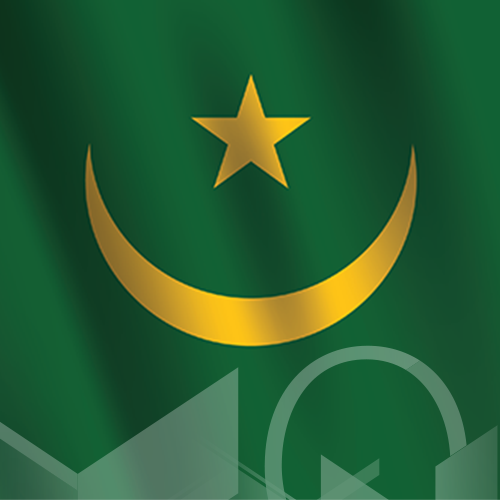 Country Economic Snapshot
2020-03-31
The Islamic Republic of Mauritania is a small northwest African country bordered in the west by the Atlantic Ocean and by Senegal in the southwest. It was ruled by a military junta after a coup in 2005, but had democratic elections in 2007 and is now a democracy under president Mohamed Ould Ghazouani.

It has a population of just over 5 million and a GDP of US$5.4bn which grew by an estimated 3.5% in 2018 driven by construction, agriculture, fishing, and land use, as well as iron ore, gold and copper mining. Extractives represent on average 25% of GDP, and exports of iron, which make up 40% of export revenue, are mainly to China, South Korea and Spain. Iron and gold production are likely to increase and the Tijirit gold mine projects, and the Ahmeyim and Guembeul offshore gas fields continue to offer favourable longer-term prospects for the country's extractive industries.

Mauritania remains heavily dependent on international aid and is currently trying to renegotiate its debt with the Kuwaiti sovereign fund. In December 2017 the country obtained a three-year loan from the International Monetary Fund (IMF) to support the government programme aimed at strengthening its economic recovery. The extended credit facility worth US$163.9m was aimed at benefitting the manufacturing and construction industries. Increased fish production was also expected in the wake of the four-year Protocol to the Fisheries Partnership Agreement signed with the EU in 2015 and renewed in 2016.
Info
| | |
| --- | --- |
| Capital | Nouakchott |
| Currency (Name, Abbreviation, Symbol) | Mauritanian ouguiya , MRO , UM |
| Area | 1,030,700 sq km |
| Type of Government | military junta |
| Languages | Arabic (official and national), Pulaar, Soninke, Wolof (all national languages), French, Hassaniya |
| Natural Resources | iron ore, gypsum, copper, phosphate, diamonds, gold, oil, fish |
| Type of Industry | fish processing, oil production, mining (iron ore, gold, and copper) note: gypsum deposits have never been exploited |
| Stock Exchange | NONE |
| Stock Exchange Location | - |
| Stock Exchange Founded | - |
| Tax Rate: Corporate | 25% |
| Tax Rate: Individual | 40% |
| Natural Resources | iron ore, gypsum, copper, phosphate, diamonds, gold, oil, fish |
Latest available information as sourced from:
African Markets
Trading Economics
Economy Watch
The World Fact Book
Company Profile
There is no data available at the moment
Sector Research
There is no data available at the moment
Sector Research
There is no data available at the moment
Top Mauritania Reports
Mining in West Africa
R 6 500.00(ZAR) estimated $ 401.05 (USD)*

Mining in West Africa
2020
The Gas Industry in West Africa
R 6 500.00(ZAR) estimated $ 401.05 (USD)*

The Gas Industry in West Africa
2020
Mining in West Africa
R 1 900.00(ZAR) estimated $ 117.23 (USD)*

Mining in West Africa
2019