Mozambique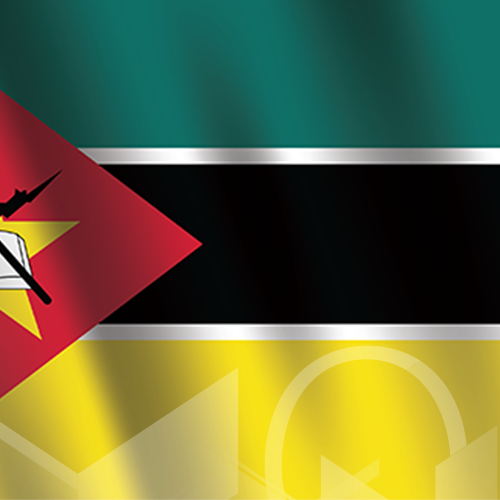 Country Economic Snapshot
2023-06-21
Mozambique has a land mass of 799,380km² and the third longest coastline on the Indian Ocean, covering a total distance of 2,700km. It has a population of 32.08 million (2021) and a GDP of US$15.78bn (2021).

Mozambique;s economic recovery is continuing, with growth reaching 4.1% in 2022, despite global economic headwinds marked by rising fuel and food prices.

The medium-term economic outlook is positive, with growth expected to accelerate to 6% over 2023-2025, driven by continued recovery in services, increased liquefied natural gas production, and high commodity prices. However, downside risks linked to climate shocks, security risks, and food and fuel price pressures could lower medium-term GDP growth to 4.5%.

Mozambique is heavily involved in exploration for natural gas. In May 2013, 200 million barrels of commercially viable oil were confirmed at Rovuma Area 2, opening the prospects for oil production. Since 2010, substantial natural gas reserves have been discovered offshore in the Rovuma basin by overseas exploration companies, and mega projects are under development. In 2011, Italy's Eni discovered 425 billion cubic metres (bcm) (15 trillion cubic feet (tcf)) of natural gas. Further discoveries include Mamba (75tcf in 2012), Coral Reservoir (15.65tcf in 2012) and Agulha (7tcf 2013). Area 1 and Area 4 blocks are considered to be two of the most important offshore gas developments on the African continent. Construction spearheaded by TotalEnergies in Area 1 will see the development of an LNG plant in Afungi, with production originally expected to begin in 2024. But intensifying attacks by Islamic insurgents near the gas site have posed serious challenges to the production timelines, and in April 2021 construction was suspended indefinitely. In Area 4, a joint venture by ExxonMobil (40%), Eni (40%) and China National Petroleum Corporation CNPC (20%), is constructing an LNG plant in the Rovuma basin that will produce 152 million tonnes (Mt) of gas per year. The plant was scheduled to commence production in 2022, but due to the pandemic and security issues in the region for most of 2021, production was rescheduled to start in 2025. Also in Area 4 is the Mamba Complex consisting of three fields (Mamba North, Mamba Northeast and Mamba South), which is being developed by Mozambique Rovuma Venture (with a 70% stake), Portugal's Galp Energia subsidiary Galp Mozambique (10%), South Korea's Korea Gas Corporation (10%) and state-owned ENH (10%). The development consists of 21 subsea wells which are expected to produce 100 million cubic feet (mcf) per day, with production expected in 2024.

Mozambique does not produce any crude oil or have any refining capacity, and it relies on imports to satisfy all its oil product demand. State-owned company Petromoc and its subsidiary Importadora Mosambicana de Petroleos (Imopetro) handle all fuel imports.

The most important sector of Mozambican economy is services, which accounts for 49% of total GDP, with major contributors being wholesale and retail trade, repair of motor vehicles (12%), education (8%) and transport (7%). Industry constitutes 27% and mining and quarrying 11% as the country has large mineral deposits (marble, bentonite, coal, gold, bauxite, granite and gemstones), with aluminum being the most important exported product. Manufacturing accounts for 10% and construction 3%. Agriculture, hunting, forestry and fishing includes prawns, cotton, cashew nuts, sugar, citrus, copra, coconuts, and timber being the most important crops.

The government's actions in the manufacturing sector are being guided by the Ministry of Industry and Commerce's Industrial Policy and Strategy for 2016-2025. The clothing sector is one of several key sectors that the government has identified for support. Clothing and textiles have been identified among a number of local products that can be prioritised by government for procurement.


Sources: Who Owns Whom sector reports, CIA Factbook, African Development Bank, World Bank, Trading Economics, African Statistical Yearbook and IMF.
Info
| | |
| --- | --- |
| Capital | Maputo |
| Currency (Name, Abbreviation, Symbol) | Metical , MZM , MT |
| Area | 799,380 sq km |
| Type of Government | presidential republic |
| Languages | Emakhuwa 25.3%, Portuguese (official) 10.7%, Xichangana 10.3%, Cisena 7.5%, Elomwe 7%, Echuwabo 5.1%, other Mozambican languages 30.1%, other 4% (1997 census) |
| Natural Resources | coal, titanium, natural gas, hydropower, tantalum, graphite |
| Type of Industry | aluminum, petroleum products, chemicals (fertilizer, soap, paints), textiles, cement, glass, asbestos, tobacco, food, beverages |
| Stock Exchange | Bolsa de Valores de Moambique |
| Stock Exchange Location | Maputo |
| Stock Exchange Founded | 1999 |
| Tax Rate: Corporate | 32% |
| Tax Rate: Individual | 32% |
| Natural Resources | coal, titanium, natural gas, hydropower, tantalum, graphite |
Latest available information as sourced from:
African Markets
Trading Economics
Economy Watch
The World Fact Book
Company Profile
There is no data available at the moment
Sector Research
| CompanyName | Stock Exchange | Listed Date | Ticker Code | Country | Status |
| --- | --- | --- | --- | --- | --- |
| 2Business S.A. | Bolsa de Valores de Mozambique | 2019-12-20 | 2Business | Mozambique | Active |
| Arco Investimentos S.A. | Bolsa de Valores de Mozambique | 2018-12-00 | ARCO | Mozambique | Active |
| Arko Companhia de Seguros S.A. | Bolsa de Valores de Mozambique | 2019-10-00 | ARKO | Mozambique | Active |
| Cervejas de Mocambique S.A. | Bolsa de Valores de Mozambique | | CDM | Mozambique | Active |
| Companhia Mozambicana de Hidrocarbonetos S.A. | Bolsa de Valores de Mozambique | 2008-09-18 | CMH | Mozambique | Active |
| Empresa Mozambicana de Seguros S.A. | Bolsa de Valores de Mozambique | 2013-10-28 | EMOSE | Mozambique | Active |
| Hidroelectrica de Cahora Bassa S.A. | Bolsa de Valores de Mozambique | 2019-03-17 | HCB | Mozambique | Active |
| PayTech S.A. | Bolsa de Valores de Mozambique | 2020-06-00 | PAYTECH | Mozambique | Active |
| Rede Viaria de Mocambique S.A. | Bolsa de Valores de Mozambique | 2020-00-00 | REVIMO | Mozambique | Active |
| Touch Publicidade S.A. | Bolsa de Valores de Mozambique | 2018-05-27 | TOUC | Mozambique | Active |
| Tropigalia S.A. | Bolsa de Valores de Mozambique | 2022-12-28 | Tropigalia | Mozambique | Active |
| Zero Investimentos S.A. | Bolsa de Valores de Mozambique | 2017-00-00 | ZERO | Mozambique | Active |
Top Mozambique Reports
Lithium Mining in Africa
R 20 000.00(ZAR) estimated $ 1068.03 (USD)*

Lithium Mining in Africa
2023
The Petroleum Industry in Mozambique
R 9 500.00(ZAR) estimated $ 507.31 (USD)*

The Petroleum Industry in Mozambique
2022
The Generation of Electricity in Southern Africa
R 9 500.00(ZAR) estimated $ 507.31 (USD)*

The Generation of Electricity in Southern Africa
2022