Namibia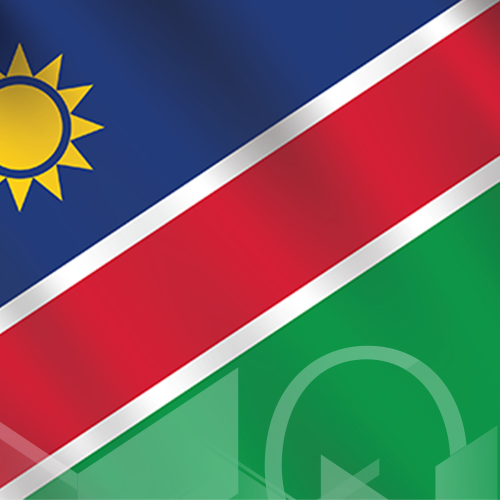 Country Economic Snapshot
2023-10-20
Namibia is a geographically large country with a land mass of 823,290km2, a 1,500km-long coastline on the South Atlantic, a population of 2.6 million people and a GDP of US$12.7bn. It shares borders with Angola, Botswana, South Africa and Zambia. Namibia is rich in mineral resources, including diamonds and uranium.

In the late 19th century, the region was colonised by Germany as South West Africa, and resistance to German rule was followed by the genocide of Herero and Namaqua people between 1904 and 1907, for which Germany formally apologised in 2004.

Namibia is a desert country and the driest country in sub-Saharan Africa. It is rich in wildlife and in northern Namibia, German scientists discovered a fresh-water aquifer 300 metres below the surface containing roughly 5 billion cubic metres of potable water, which estimates suggest could supply the north of the country for 400 years at current rates of consumption.

In the last two years, oil exploration has uncovered oil and gas reserves of approximately 5 billion barrels in the Kavango and Orange Basins in northern Namibia, compared with the 7 billion barrels of reserves in Angola's Cabinda region. The drilling and seismic data interpretations indicate a rift basin similar to that of the major oil-producing basins in the North Sea, and further discoveries are expected. Explorers in Namibia include Canada's Recon Africa, Dutch oil company Shell, Qatar Energy and Norway's BW Energy.

Namibia produces copper, diamonds, dimension stone, gold, iron ore, lead, limestone, lithium, manganese, salt, semi-precious stones, silver, tantalum, tin, uranium and zinc, and contains unexploited deposits of cobalt, fluorspar, graphite, nickel, phosphate, rare earth elements and vanadium.

Mining is the dominant economic activity particularly of diamonds and uranium, and contributes about 25% of export earnings, making GDP dependent on world commodity prices. Manufacturing and services, especially banking and tourism, are also important sectors as is wildlife conservation, which supports tourism and contributes to rural employment. Agriculture makes a small contribution to GDP, as it is mostly subsistence livestock raising, but it is an important livelihood activity for about half the population.

Real GDP growth rose to 4.6% in 2022 from 3.5% in 2021, supported by the lifting of COVID-19-related restrictions in July 2022 and the continued recovery in primary and secondary industries. Inflation averaged 6.1% in 2022, up from 3.6% in 2021, driven by elevated global commodity prices linked to the pandemic and Russia's invasion of Ukraine. The Bank of Namibia progressively increased its interest rate to 7.25% in April 2023 from 6.75% in November 2022. Real GDP is projected to grow 3.5% in 2023 and 3.0% in 2024 based on continued economic recovery, particularly in diamond processing and export, and increased consumption in wholesale and retail trade and tourism.


Sources: Who Owns Whom sector reports, CIA Factbook, African Development Bank, World Bank, Trading Economics, African Statistical Yearbook and IMF.
Info
| | |
| --- | --- |
| Capital | Windhoek |
| Currency (Name, Abbreviation, Symbol) | Namibian dollar , NAD , N$ |
| Area | 824,292 sq km |
| Type of Government | presidential republic |
| Languages | English (official) 7%, Afrikaans (common language of most of the population and about 60% of the white population), German 32%, indigenous languages (includes Oshivambo, Herero, Nama) 1% |
| Natural Resources | diamonds, copper, uranium, gold, silver, lead, tin, lithium, cadmium, tungsten, zinc, salt, hydropower, fish note: suspected deposits of oil, coal, and iron ore |
| Type of Industry | meatpacking, fish processing, dairy products, pasta and beverages; mining (diamonds, lead, zinc, tin, silver, tungsten, uranium, copper) |
| Stock Exchange | Namibia Stock Exchange |
| Stock Exchange Location | Windhoek |
| Stock Exchange Founded | 1992 |
| Tax Rate: Corporate | 32% |
| Tax Rate: Individual | 37% |
| Natural Resources | diamonds, copper, uranium, gold, silver, lead, tin, lithium, cadmium, tungsten, zinc, salt, hydropower, fish note: suspected deposits of oil, coal, and iron ore |
Latest available information as sourced from:
African Markets
Trading Economics
Economy Watch
The World Fact Book
Company Profile
There is no data available at the moment
Sector Research
| CompanyName | Stock Exchange | Listed Date | Ticker Code | Country | Status |
| --- | --- | --- | --- | --- | --- |
| Alpha Namibia Industries Renewable Power Ltd | Namibia Stock Exchange | 2019-07-11 | ANA | Namibia | Active |
| B2Gold Corporation | Namibia Stock Exchange | 2012-00-00 | B2G | Namibia | Active |
| Bannerman Energy Ltd | Namibia Stock Exchange | 2008-04-00 | BAN | Namibia | Active |
| Capricorn Group Ltd | Namibia Stock Exchange | 2013-06-20 | | Namibia | Active |
| FirstRand Namibia Ltd | Namibia Stock Exchange | | FNB | Namibia | Active |
| Letshego Holdings (Namibia) Ltd | Namibia Stock Exchange | 2017-09-28 | LHN | Namibia | Active |
| MCUBE Investments One Ltd | Namibia Stock Exchange | 2020-07-31 | MQA | Namibia | Active |
| Mobile Telecommunications Ltd | Namibia Stock Exchange | 2021-11-19 | MOC | Namibia | Active |
| Namibia Asset Management Ltd | Namibia Stock Exchange | 1998-07-00 | NAM | Namibia | Active |
| Namibia Breweries Ltd | Namibia Stock Exchange | 1996-05-00 | NBL | Namibia | Active |
| Nictus Holdings Ltd | Namibia Stock Exchange | 2013-00-00 | NHL | Namibia | Active |
| Omajowa Properties Ltd | Namibia Stock Exchange | 2020-07-31 | OMJ | Namibia | Active |
| Oryx Properties Ltd | Namibia Stock Exchange | | ORY | Namibia | Active |
| Paratus Namibia Holdings Ltd | Namibia Stock Exchange | 2017-10-06 | PNH | Namibia | Active |
| SBN Holdings Ltd | Namibia Stock Exchange | 2019-11-15 | SBN | Namibia | Active |
| Stimulus Investments Ltd | Namibia Stock Exchange | | SILP | Namibia | Active |
Top Namibia Reports
Lithium Mining in Africa
R 20 000.00(ZAR) estimated $ 1072.96 (USD)*

Lithium Mining in Africa
2023
The Mining Sector in Namibia
R 20 000.00(ZAR) estimated $ 1072.96 (USD)*

The Mining Sector in Namibia
2023
The Generation of Electricity in Southern Africa
R 9 500.00(ZAR) estimated $ 509.66 (USD)*

The Generation of Electricity in Southern Africa
2022