Niger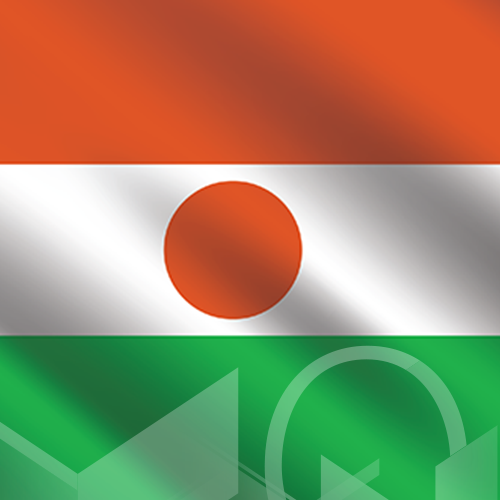 Country Economic Snapshot
2023-11-08
The Republic of the Niger is a landlocked country in West Africa with a land mass of 1,2 million km² and is bordered by Libya to the northeast, Chad to the east, Nigeria to the south, Benin and Burkina Faso to the southwest, Mali to the west, and Algeria to the northwest.

It has a population of 27.5m people and a GDP of US$17.9bn, with a poorly diversified economy. Agriculture accounts for 40% of GDP and more than 10 million people, or 41.8% of the population, were living in extreme poverty in 2021.

Niger is grappling with an influx of refugees fleeing conflicts in Nigeria and Mali. As of 31 August 2022, the United Nations High Commissioner for Refugees had identified 294,467 refugees and almost 350,000 displaced people in the country. More than 70% of the population works in subsistence agriculture which is affected by volatile weather conditions.

In July 2023, Niger's President Mohammed Bazoum was ousted in a military coup led by general Abdourahamane Tiani.

Coal, gold, silver, and uranium are produced by companies, while artisanal and small-scale miners extract coal, gold, phosphate rock, semi-precious stones, and tin.

In September 2022, Canadian company GoviEx Uranium published the results of a feasibility study for the Madaouela uranium project in Niger. The US$343m mine will produce an average of 2.7 million pounds of uranium oxide per annum over its 19-year life. Orano Mining, wholly owned subsidiary of French company Orano, operates the Societe des Mines de l'Air (Somair) uranium mine in Niger, in which it has a 63.4% stake and state-owned Societe de Patrimoine des Mines du Niger (Sopamin) 36.6%. In 2022, the mine was the seventh-largest uranium mine globally, produced 2,020t of uranium and had a life of 10 years. Orano Mining is also constructing an 8MW solar photovoltaic plant at its Somair uranium mine in Niger, with commissioning scheduled for Q4 2024.

Societe Miniere de Dasa, in which the government has a 20% stake, is a subsidiary of Canadian company Global Atomic Corporation is developing the Dasa uranium mine in Niger, with first production expected in Q1 2025. The US$208m mine will produce an average of 1,451.5t of uranium per year for 12 years.

Niger launched the Niger-Benin export pipeline project in September 2019, and signed a transportation convention with China National Petroleum Corporation for building and operating the pipeline. Due to new discoveries of oil reserves, the government approved the National Petroleum Policy in 2019, the objective of which is that the oil sector will be the engine of Niger's economy by 2025.

Real GDP grew by 7.2% in 2022 and is projected to grow 7.0% in 2023 and 11.8% in 2024.


Sources: Who Owns Whom sector reports, CIA Factbook, African Development Bank, World Bank, Trading Economics, African Statistical Yearbook and IMF.
Info
| | |
| --- | --- |
| Capital | Niamey |
| Currency (Name, Abbreviation, Symbol) | West African CFA franc , XOF , BCEAO |
| Area | 1.267 million sq km |
| Type of Government | presidential republic |
| Languages | French (official), Hausa, Djerma |
| Natural Resources | uranium, coal, iron ore, tin, phosphates, gold, molybdenum, gypsum, salt, petroleum |
| Type of Industry | uranium mining, cement, brick, soap, textiles, food processing, chemicals, slaughterhouses |
| Stock Exchange | Bourse Rgionale des Valeurs Mobilires |
| Stock Exchange Location | Abidjan, Cote d'Ivoire |
| Stock Exchange Founded | 1996 |
| Tax Rate: Corporate | |
| Tax Rate: Individual | |
| Natural Resources | uranium, coal, iron ore, tin, phosphates, gold, molybdenum, gypsum, salt, petroleum |
Latest available information as sourced from:
African Markets
Trading Economics
Economy Watch
The World Fact Book
Company Profile
There is no data available at the moment
Sector Research
There is no data available at the moment
Sector Research
There is no data available at the moment
Top Niger Reports
Wholesale and Retail of Food in Nigeria
R 20 000.00(ZAR) estimated $ 1055.64 (USD)*

Wholesale and Retail of Food in Nigeria
2023
Lithium Mining in Africa
R 20 000.00(ZAR) estimated $ 1055.64 (USD)*

Lithium Mining in Africa
2023
The Mining Sector in West Africa
R 20 000.00(ZAR) estimated $ 1055.64 (USD)*

The Mining Sector in West Africa
2023