Nigeria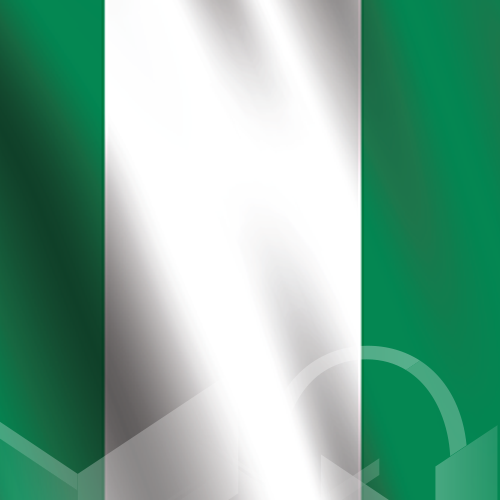 Country Economic Snapshot
2023-11-08
Covering an area of 923,768km², Nigeria shares borders with Chad and Cameroon in the east, Benin in the west and Niger in the north. To the south lies the Atlantic Ocean and the Gulf of Guinea, and its coastline spans 853km. The Niger and Benue Rivers converge and empty into the oil-rich Niger Delta, which is one of the largest river deltas in the world. Nigeria comprises a federal capital territory and 36 states, which are subdivided into districts, each with its own local government.

It has a population of 213.4 million, the largest in Africa, and a GDP of US$440.8bn making it also the largest economy in Africa. Services make up the biggest share of GDP at 43.8%, followed by industry and construction (31%) (of which manufacturing makes up 15%) and agriculture (23%).

The majority of Nigerians do not have access to affordable housing and basic services such as sanitation, clean water and electricity. Prior to the pandemic, 40% of the population lived below the poverty line, and it is estimated that seven million Nigerians fell into poverty in 2020.

While Nigeria remains one of the biggest oil producers in Africa, contributing 7.33% to GDP and 80% of export revenue, crude oil production has declined in recent years due to underinvestment, sabotage, and oil theft which is estimated to account for about 10% to 20% of the country's oil production.

The country has six refineries, including four owned by the Nigerian National Petroleum Corporation (NNPC), the Dangote Refinery (in which NNPC has a 20% share) and a small one owned by Niger Delta Petroleum Resources (NDPR). The four NNPC-owned refineries are under maintenance and not operating, while the NDPR's 1,000b/d refinery is operating. After numerous delays, the 650,000b/d Dangote Refinery was commissioned in May 2023, and will become the largest on the continent when it becomes fully operational, which is expected to be by 2025.

The sector is dominated by international oil companies that include Royal Dutch Shell, Total Energies from France, BP from the UK, and Oryx Energies from Switzerland. Nigeria contains unexploited deposits of copper, diamonds, ilmenite, lithium, manganese, nickel, phosphate rock, rutile, salt, silver, tungsten and uranium, while barite, clay, coal, columbite-tantalite, gold, gypsum, iron ore, kaolin, lead, limestone, tin, zinc and zircon are produced. The priority minerals listed by the Ministry of Mines and Steel Development for focused development are barite, bitumen, coal, gold, iron ore, lead/zinc and limestone.

Nigeria has a 195 million subscribers in the telecoms sector which is dominated by four big mobile operators – MTN, Airtel, Globacom and 9Mobile, and the sector contributes 12.66% to GDP.




Sources: Who Owns Whom sector reports, CIA Factbook, African Development Bank, World Bank, Trading Economics, African Statistical Yearbook and IMF.
Info
| | |
| --- | --- |
| Capital | Abuja |
| Currency (Name, Abbreviation, Symbol) | Nigerian naira , NGN , ₦ |
| Area | 923,768 sq km |
| Type of Government | federal republic |
| Languages | English (official), Hausa, Yoruba, Igbo (Ibo), Fulani, over 500 additional indigenous languages |
| Natural Resources | natural gas, petroleum, tin, iron ore, coal, limestone, niobium, lead, zinc, arable land |
| Type of Industry | crude oil, coal, tin, columbite; rubber products, wood; hides and skins, textiles, cement and other construction materials, food products, footwear, chemicals, fertilizer, printing, ceramics, steel |
| Stock Exchange | Nigerian Stock Exchange |
| Stock Exchange Location | Lagos / Abuja |
| Stock Exchange Founded | 1960 /1998 |
| Tax Rate: Corporate | 30% |
| Tax Rate: Individual | 24% |
| Natural Resources | natural gas, petroleum, tin, iron ore, coal, limestone, niobium, lead, zinc, arable land |
Latest available information as sourced from:
African Markets
Trading Economics
Economy Watch
The World Fact Book
Company Profile
There is no data available at the moment
Sector Research
| CompanyName | Stock Exchange | Listed Date | Ticker Code | Country | Status |
| --- | --- | --- | --- | --- | --- |
| Abbey Mortgage Bank PLC | Nigerian Stock Exchange | 2008-10-21 | ABBEYBDS | Nigeria | Active |
| ABC Transport PLC | Nigerian Stock Exchange | 2006-12-20 | ABCTRANS | Nigeria | Active |
| Academy Press PLC | Nigerian Stock Exchange | 1995-06-15 | ACADEMY | Nigeria | Active |
| Access Bank PLC | NASD OTC Securities Exchange | 2022-03-28 | ACCESS | Nigeria | Active |
| Access Holdings PLC | Nigerian Stock Exchange | 2022-03-28 | ACCESSCORP | Nigeria | Active |
| Africa Prudential PLC | Nigerian Stock Exchange | 2013-01-11 | AFRINSURE | Nigeria | Active |
| African Alliance Insurance Company PLC | Nigerian Stock Exchange | 2009-09-17 | AFRINSURE | Nigeria | Active |
| Afriland Properties Plc | NASD OTC Securities Exchange | 2014-09-04 | AFRILAND | Nigeria | Active |
| Afromedia PLC | Nigerian Stock Exchange | 2009-05-18 | AFROMEDIA | Nigeria | Active |
| AG Mortgage Bank PLC | NASD OTC Securities Exchange | 2016-06-17 | AGMBANK | Nigeria | Active |
| AIICO Insurance PLC | Nigerian Stock Exchange | 1990-12-03 | AIICO | Nigeria | Active |
| Air Liquide Nigeria PLC | NASD OTC Securities Exchange | 2016-09-05 | AIRLIQ | Nigeria | Active |
| Airtel Africa PLC | Nigerian Stock Exchange | 2019-07-09 | AIRTELAFRI | Nigeria | Active |
| Aluminium Extrusion Industries PLC | Nigerian Stock Exchange | 1986-10-04 | ALEX | Nigeria | Active |
| Aradel Holdings Plc | NASD OTC Securities Exchange | 2013-08-01 | SDNDEP | Nigeria | Active |
| Arbico PLC | Nigerian Stock Exchange | | ARBICO | Nigeria | Active |
| Ardova PLC | Nigerian Stock Exchange | | ARDOVA | Nigeria | Active |
| ASO Savings & Loans PLC | Nigerian Stock Exchange | 2008-04-25 | ASOSAVINGS | Nigeria | Suspended |
| Austin Laz & Company PLC | Nigerian Stock Exchange | | AUSTINLAZ | Nigeria | Active |
| AXA Mansard Insurance PLC | Nigerian Stock Exchange | 2009-11-19 | MANSARD | Nigeria | Active |
| Berger Paints Nigeria PLC | Nigerian Stock Exchange | 1974-12-14 | BERGER | Nigeria | Active |
| Beta Glass PLC | Nigerian Stock Exchange | 1986-07-02 | BETAGLAS | Nigeria | Active |
| Briclinks Africa PLC | Nigerian Stock Exchange | 2021-02-05 | BAPLC | Nigeria | Active |
| BUA Cement PLC | Nigerian Stock Exchange | 2020-01-09 | BUACEMENT | Nigeria | Active |
| BUA Foods PLC | Nigerian Stock Exchange | 2022-01-05 | BUAFOODS | Nigeria | Active |
| C&I Leasing PLC | Nigerian Stock Exchange | 1997-12-00 | CILEASIN | Nigeria | Active |
| Cadbury Nigeria PLC | Nigerian Stock Exchange | | CADNIG | Nigeria | Active |
| Capital Hotels PLC | Nigerian Stock Exchange | 2008-08-14 | CAPHOTEL | Nigeria | Active |
| Capital Oil PLC | Nigerian Stock Exchange | 1990-05-01 | CAPOIL | Nigeria | Suspended |
| Caverton Offshore Support Group PLC | Nigerian Stock Exchange | 2014-05-20 | CAVERTON | Nigeria | Active |
| Champion Breweries PLC | Nigerian Stock Exchange | 1983-09-01 | CHAMPION | Nigeria | Active |
| Chams Holding Company PLC | Nigerian Stock Exchange | 2008-09-23 | CHAM | Nigeria | Active |
| Chellarams PLC | Nigerian Stock Exchange | 1977-04-01 | CHELLARAM | Nigeria | Active |
| Chemical and Allied Products PLC | Nigerian Stock Exchange | | CAP | Nigeria | Active |
| CITITRUST Holdings PLC | NASD OTC Securities Exchange | 2022-03-26 | CITITRUST | Nigeria | Active |
| Conoil PLC | Nigerian Stock Exchange | | NATOIL | Nigeria | Active |
| Consolidated Hallmark Insurance PLC | Nigerian Stock Exchange | | HAMS | Nigeria | Active |
| Cornerstone Insurance PLC | Nigerian Stock Exchange | 1997-08-13 | CORNER | Nigeria | Active |
| Coronation Insurance PLC | Nigerian Stock Exchange | | WAPIC | Nigeria | Active |
| Courteville Business Solutions PLC | Nigerian Stock Exchange | 2009-04-01 | COURTVILLE | Nigeria | Active |
| Custodian Investment PLC | Nigerian Stock Exchange | 2007-06-12 | CUSTODYINS | Nigeria | Active |
| Cutix PLC | Nigerian Stock Exchange | 1987-12-08 | CUTIX | Nigeria | Active |
| CWG PLC | Nigerian Stock Exchange | 2013-11-15 | CWG | Nigeria | Active |
| Daar Communications PLC | Nigerian Stock Exchange | 2007-04-27 | DAARCOMM | Nigeria | Active |
| Dangote Cement PLC | Nigerian Stock Exchange | 2010-10-26 | DANGCEM | Nigeria | Active |
| Dangote Sugar Refinery PLC | Nigerian Stock Exchange | 2007-03-08 | DANGSUGAR | Nigeria | Active |
| DEAP Capital Management & Trust PLC | Nigerian Stock Exchange | 2007-12-17 | DEAPCAP | Nigeria | Active |
| DN Tyre and Rubber PLC | Nigerian Stock Exchange | | DUNLOP | Nigeria | Active |
| Dufil Prima Foods PLC | NASD OTC Securities Exchange | 2015-01-20 | DUFIL | Nigeria | Active |
| Ekocorp PLC | Nigerian Stock Exchange | 1994-03-24 | EKOCORP | Nigeria | Active |
| Ellah Lakes PLC | Nigerian Stock Exchange | 1993-01-14 | ELLAHLAKES | Nigeria | Active |
| Eterna PLC | Nigerian Stock Exchange | 1998-03-08 | ETERNAOI | Nigeria | Active |
| eTranzact International PLC | Nigerian Stock Exchange | 2009-08-07 | ETRANZACT | Nigeria | Active |
| Eunisell Interlinked PLC | Nigerian Stock Exchange | | INTERLINK | Nigeria | Active |
| Fan Milk PLC | NASD OTC Securities Exchange | 2016-02-25 | FANMILK | Nigeria | Active |
| FBN Holdings PLC | Nigerian Stock Exchange | 2012-11-26 | FBNH | Nigeria | Active |
| FCMB Group PLC | Nigerian Stock Exchange | 2013-06-13 | FCMB | Nigeria | Active |
| Fidelity Bank PLC | Nigerian Stock Exchange | | FIDEL | Nigeria | Active |
| Fidson Healthcare PLC | Nigerian Stock Exchange | | FIDS | Nigeria | Active |
| FirstTrust Mortgage Bank PLC | NASD OTC Securities Exchange | 2014-08-07 | FSTTRUSTMB | Nigeria | Active |
| Flour Mills Nigeria PLC | Nigerian Stock Exchange | 1979-08-14 | FMN | Nigeria | Active |
| Food Concepts PLC | NASD OTC Securities Exchange | 2013-07-15 | FOODCPT | Nigeria | Active |
| FrieslandCampina WAMCO Nigeria PLC | NASD OTC Securities Exchange | 2013-07-25 | FCWAMCO | Nigeria | Active |
| FTN Cocoa Processors PLC | Nigerian Stock Exchange | 2009-07-24 | FTNCOCOA | Nigeria | Suspended |
| Geregu Power PLC | Nigerian Stock Exchange | 2022-10-05 | GEREGU | Nigeria | Active |
| GlaxoSmithKline Consumer Nigeria PLC | Nigerian Stock Exchange | 1977-00-00 | GLAXOSMITH | Nigeria | Active |
| Golden Capital PLC | NASD OTC Securities Exchange | 2014-03-18 | GOLDEN | Nigeria | Active |
| Golden Guinea Breweries PLC | Nigerian Stock Exchange | | GOLDBREW | Nigeria | Suspended |
| Goldlink Insurance PLC | Nigerian Stock Exchange | | GOLDINSURE | Nigeria | Suspended |
| Great Nigeria Insurance PLC | NASD OTC Securities Exchange | 2019-08-27 | GNI | Nigeria | Active |
| Greif Nigeria PLC | Nigerian Stock Exchange | | VANLEER | Nigeria | Active |
| Guaranty Trust Holding Company PLC | Nigerian Stock Exchange | 2021-06-24 | GTCO | Nigeria | Active |
| Guinea Insurance PLC | Nigerian Stock Exchange | | GUINEAINS | Nigeria | Active |
| Guinness Nigeria PLC | Nigerian Stock Exchange | 1965-01-02 | GUBREW | Nigeria | Active |
| Honeywell Flour Mills PLC | Nigerian Stock Exchange | 2009-10-20 | HONYFLOUR | Nigeria | Active |
| Ikeja Hotel PLC | Nigerian Stock Exchange | 1983-00-00 | CAPH | Nigeria | Active |
| Industrial and Medical Gases Nigeria PLC | Nigerian Stock Exchange | | BOCGAS | Nigeria | Active |
| Infinity Trust Mortgage Bank PLC | Nigerian Stock Exchange | 2013-12-11 | INFINITY | Nigeria | Active |
| Infrastructure Bank PLC (The) | NASD OTC Securities Exchange | 2021-06-18 | SDINFRABANK | Nigeria | Active |
| Initiates PLC (The) | Nigerian Stock Exchange | 2016-10-25 | INITSPLC | Nigeria | Active |
| International Breweries PLC | Nigerian Stock Exchange | 1995-04-01 | INTBREW | Nigeria | Active |
| International Energy Insurance Company PLC | Nigerian Stock Exchange | 2007-07-13 | IEI | Nigeria | Active |
| IPWA PLC | NASD OTC Securities Exchange | 2023-08-16 | IPWAPLC | Nigeria | Active |
| JAIZ Bank PLC | Nigerian Stock Exchange | 2017-01-09 | JAIZBANK | Nigeria | Active |
| Japaul Gold and Ventures PLC | Nigerian Stock Exchange | 2005-08-15 | JAPAULOIL | Nigeria | Active |
| John Holt PLC | Nigerian Stock Exchange | 1974-05-17 | JOHNHOLT | Nigeria | Active |
| Juli PLC | Nigerian Stock Exchange | 1986-11-07 | JULI | Nigeria | Suspended |
| Julius Berger Nigeria PLC | Nigerian Stock Exchange | | BERGER | Nigeria | Active |
| Lafarge Africa PLC | Nigerian Stock Exchange | 1979-02-16 | WAPCO | Nigeria | Active |
| Lagos Building Investment Company PLC | NASD OTC Securities Exchange | 2023-09-13 | LBICPLC | Nigeria | Active |
| Lasaco Assurance PLC | Nigerian Stock Exchange | 1991-06-14 | LASACO | Nigeria | Active |
| Learn Africa PLC | Nigerian Stock Exchange | 1996-07-23 | LEARNAFRCA | Nigeria | Active |
| Linkage Assurance PLC | Nigerian Stock Exchange | 2003-11-18 | LINKASSURE | Nigeria | Active |
| Livestock Feeds PLC | Nigerian Stock Exchange | 1978-04-01 | LIVESTOCK | Nigeria | Active |
| LivingTrust Mortgage Bank PLC | Nigerian Stock Exchange | 2014-11-04 | OMOMORBNK | Nigeria | Active |
| May and Baker Nigeria PLC | Nigerian Stock Exchange | 1994-11-10 | MAYBAKER | Nigeria | Active |
| McNichols Consolidated PLC | Nigerian Stock Exchange | 2009-12-18 | MCNICHOLS | Nigeria | Active |
| Mecure Industries PLC | Nigerian Stock Exchange | 2023-11-07 | MECURE | Nigeria | Active |
| Med-View Airline PLC | Nigerian Stock Exchange | 2017-01-31 | MEDVIEWAIR | Nigeria | Suspended |
| Meyer PLC | Nigerian Stock Exchange | 1979-00-00 | DNMEYER | Nigeria | Active |
| MIXTA Real Estate PLC | NASD OTC Securities Exchange | 2015-05-11 | MIXREAL | Nigeria | Active |
| Morison Industries PLC | Nigerian Stock Exchange | | MORISON | Nigeria | Active |
| MRS Oil Nigeria PLC | Nigerian Stock Exchange | 1978-08-12 | MRS | Nigeria | Active |
| MTN Nigeria Communications PLC | Nigerian Stock Exchange | 2019-05-16 | MTNN | Nigeria | Active |
| Multi-Trex Integrated Foods PLC | Nigerian Stock Exchange | 2010-11-01 | MULTITREX | Nigeria | Suspended |
| Multiverse Mining and Exploration PLC | Nigerian Stock Exchange | 2008-05-28 | MULTIVERSE | Nigeria | Active |
| Mutual Benefits Assurance PLC | Nigerian Stock Exchange | 2002-05-28 | MBENEFIT | Nigeria | Active |
| NASCON Allied Industries PLC | Nigerian Stock Exchange | 1992-10-20 | NASCON | Nigeria | Active |
| NCR (Nigeria) PLC | Nigerian Stock Exchange | 1979-05-30 | NCR | Nigeria | Active |
| Neimeth International Pharmaceuticals PLC | Nigerian Stock Exchange | 1979-09-21 | NEIMETH | Nigeria | Active |
| NEM Insurance PLC | Nigerian Stock Exchange | 1990-09-05 | NEM | Nigeria | Active |
| Nestle Nigeria PLC | Nigerian Stock Exchange | 1979-04-20 | NESTNG | Nigeria | Active |
| Niger Insurance PLC | Nigerian Stock Exchange | 1993-09-01 | NGINS | Nigeria | Active |
| Nigeria Energy Sector Fund PLC | Nigerian Stock Exchange | 1999-06-18 | NESF | Nigeria | Active |
| Nigeria Mortgage Refinance Company PLC | NASD OTC Securities Exchange | 2015-11-25 | NMRCPLC | Nigeria | Active |
| Nigerian Aviation Handling Company PLC | Nigerian Stock Exchange | 2006-11-27 | NAHCO | Nigeria | Active |
| Nigerian Breweries PLC | Nigerian Stock Exchange | 1973-00-00 | NB | Nigeria | Active |
| Nigerian Enamelware PLC | Nigerian Stock Exchange | | ENAMELWA | Nigeria | Active |
| Nigerian Exchange Group PLC | Nigerian Stock Exchange | 2021-10-15 | NGXGROUP | Nigeria | Active |
| Northern Nigeria Flour Mills PLC | Nigerian Stock Exchange | 1971-00-00 | NNFM | Nigeria | Active |
| Notore Chemical Industries PLC | Nigerian Stock Exchange | 2018-08-02 | NOTORE | Nigeria | Active |
| NPF Microfinance Bank PLC | Nigerian Stock Exchange | 2010-12-01 | NPFMCRFBK | Nigeria | Active |
| Okomu Oil Palm Company PLC | Nigerian Stock Exchange | 1991-03-11 | OKOMUOIL | Nigeria | Active |
| Omatek Ventures PLC | Nigerian Stock Exchange | 2008-06-18 | OMATEK | Nigeria | Suspended |
| Pharma-Deko PLC | Nigerian Stock Exchange | | PHARMDEKO | Nigeria | Active |
| Premier Paints PLC | Nigerian Stock Exchange | | PREMPAINTS | Nigeria | Active |
| Presco PLC | Nigerian Stock Exchange | | PRESCO | Nigeria | Active |
| Prestige Assurance PLC | Nigerian Stock Exchange | 1990-12-03 | PRESTIGE | Nigeria | Active |
| Purple Real Estate Income PLC | NASD OTC Securities Exchange | 2023-03-23 | PURPLERE | Nigeria | Active |
| PZ Cussons Nigeria PLC | Nigerian Stock Exchange | | PZINDU | Nigeria | Active |
| R.T. Briscoe (Nigeria) PLC | Nigerian Stock Exchange | 1974-03-15 | RTBRISCOE | Nigeria | Active |
| Rak Unity Petroleum Company PLC | Nigerian Stock Exchange | | RAKUNITY | Nigeria | Suspended |
| Red Star Express PLC | Nigerian Stock Exchange | 2007-11-14 | REDSTAREX | Nigeria | Active |
| Regency Alliance Insurance Company PLC | Nigerian Stock Exchange | 2008-05-27 | REGALINS | Nigeria | Active |
| Resort Savings & Loans PLC | Nigerian Stock Exchange | 2009-11-23 | RESORTSAL | Nigeria | Active |
| Resourcery PLC | NASD OTC Securities Exchange | 2013-11-25 | RSOURCE | Nigeria | Active |
| Ronchess Global Resources PLC | Nigerian Stock Exchange | 2021-12-17 | RONCHESS | Nigeria | Active |
| Royal Exchange PLC | Nigerian Stock Exchange | 1990-12-03 | ROYALEX | Nigeria | Active |
| SCOA Nigeria PLC | Nigerian Stock Exchange | | SCOA | Nigeria | Active |
| Secure Electronic Technology PLC | Nigerian Stock Exchange | 2011-12-14 | NSLTECH | Nigeria | Active |
| Seplat Energy PLC | Nigerian Stock Exchange | 2014-04-14 | SEPLAT | Nigeria | Active |
| SFS Real Estate Investment Trust Fund | Nigerian Stock Exchange | 2008-02-26 | SKYESHELT | Nigeria | Active |
| Skyway Aviation Handling Company PLC | Nigerian Stock Exchange | 2019-04-26 | SKYAVN | Nigeria | Active |
| Smart Products Nigeria PLC | Nigerian Stock Exchange | 1978-12-00 | SMURFIT | Nigeria | Active |
| Sovereign Trust Insurance PLC | Nigerian Stock Exchange | 2006-11-29 | SOVRENINS | Nigeria | Active |
| STACO Insurance PLC | Nigerian Stock Exchange | 2007-06-25 | STACO | Nigeria | Suspended |
| Stanbic IBTC Holdings PLC | Nigerian Stock Exchange | | IBTC | Nigeria | Active |
| Standard Alliance Insurance PLC | Nigerian Stock Exchange | | STDINSURE | Nigeria | Active |
| Sterling Financial Holdings Company PLC | Nigerian Stock Exchange | 2023-04-06 | STERLINGNG | Nigeria | Active |
| SUNU Assurances Nigeria PLC | Nigerian Stock Exchange | 2007-07-18 | EQUITYASUR | Nigeria | Active |
| Tantalizers PLC | Nigerian Stock Exchange | 2008-06-23 | TANTALIZER | Nigeria | Active |
| Thomas Wyatt Nigeria PLC | Nigerian Stock Exchange | | THOMASWY | Nigeria | Active |
| TotalEnergies Marketing Nigeria PLC | Nigerian Stock Exchange | | TOTAL | Nigeria | Active |
| Tourist Company of Nigeria PLC (The) | Nigerian Stock Exchange | 1994-04-20 | TNCN | Nigeria | Active |
| Trans-Nationwide Express PLC | Nigerian Stock Exchange | 1993-09-14 | TRANEX | Nigeria | Active |
| Transcorp Hotels PLC | Nigerian Stock Exchange | 2015-01-15 | TRANSCOHOT | Nigeria | Active |
| Transnational Corporation of Nigeria PLC | Nigerian Stock Exchange | 2006-12-00 | TRANSCORP | Nigeria | Active |
| Tripple Gee & Company PLC | Nigerian Stock Exchange | 2013-04-02 | TRIPPLEG | Nigeria | Active |
| UAC of Nigeria PLC | Nigerian Stock Exchange | | UACN | Nigeria | Active |
| UBN Property Company PLC | NASD OTC Securities Exchange | 2018-01-25 | UBNPROP | Nigeria | Active |
| UH Real Estate Investment Trust | Nigerian Stock Exchange | 2010-07-02 | UHOMREIT | Nigeria | Active |
| Unilever Nigeria PLC | Nigerian Stock Exchange | | UNILEV | Nigeria | Active |
| Union Bank of Nigeria PLC | Nigerian Stock Exchange | | UBN | Nigeria | Active |
| Union Dicon Salt PLC | Nigerian Stock Exchange | 1993-09-23 | UNIONDICON | Nigeria | Active |
| Union Homes Savings and Loans PLC | Nigerian Stock Exchange | | UNHOMES | Nigeria | Active |
| United Bank for Africa PLC | Nigerian Stock Exchange | 1970-00-00 | UBA | Nigeria | Active |
| United Capital PLC | Nigerian Stock Exchange | 2013-01-11 | UCAP | Nigeria | Active |
| Unity Bank PLC | Nigerian Stock Exchange | 2005-12-22 | UNITYBNK | Nigeria | Active |
| Universal Insurance PLC | Nigerian Stock Exchange | 2008-02-11 | UNIVINSURE | Nigeria | Active |
| University Press PLC | Nigerian Stock Exchange | 1978-08-14 | UPPLC | Nigeria | Active |
| UPDC PLC | Nigerian Stock Exchange | 1997-10-06 | UPDC | Nigeria | Active |
| UPDC Real Estate Investment Trust | Nigerian Stock Exchange | 2013-00-00 | UPDC | Nigeria | Active |
| Veritas Kapital Assurance PLC | Nigerian Stock Exchange | 2009-12-17 | UNITYKAP | Nigeria | Active |
| VFD Group PLC | Nigerian Stock Exchange | 2023-10-06 | VFDGROUP | Nigeria | Active |
| Vitafoam Nigeria PLC | Nigerian Stock Exchange | | VITAFOAM | Nigeria | Active |
| Wema Bank PLC | Nigerian Stock Exchange | 1991-02-00 | WEMABANK | Nigeria | Active |
| Zenith Bank PLC | Nigerian Stock Exchange | 2004-10-21 | ZEN | Nigeria | Active |
Top Nigeria Reports
Wholesale and Retail of Food in Nigeria
R 20 000.00(ZAR) estimated $ 1057.67 (USD)*

Wholesale and Retail of Food in Nigeria
2023
Lithium Mining in Africa
R 20 000.00(ZAR) estimated $ 1057.67 (USD)*

Lithium Mining in Africa
2023
The Mining Sector in West Africa
R 20 000.00(ZAR) estimated $ 1057.67 (USD)*

The Mining Sector in West Africa
2023