Rwanda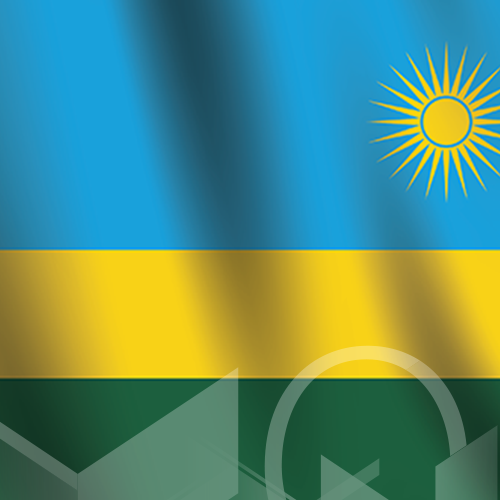 Country Economic Snapshot
2023-10-23
Rwanda, officially the Republic of Rwanda, is a 26,338km² landlocked country in the Great Rift Valley of central Africa, where the African Great Lakes region and southeast Africa converge. Located a few degrees south of the equator, Rwanda is bordered by Uganda, Tanzania, Burundi, and the Democratic Republic of the Congo.

It has a population of 13.8 million and a GDP of US$14.3bn, which grew at an average of 8% since 2001, peaking at 10.9% in 2021 before declining to 8.2% in 2022 due to climate shocks on domestic food production; high energy, food, and fertiliser prices; and weak external demand on exports. Inflation rose from 0.8% in 2021 to 17.7% in 2022, reflecting higher costs for imported goods. Real GDP growth is projected to reach 7.6% in 2023 and 8.0% in 2024 due to continued slow recovery in domestic agricultural production and recovery in exports and conference tourism. Poverty rates have halved over the last two decades, and Rwanda is one of the very few African countries that was able to achieve the United Nations' Millennium Development Goals.

Since the 1994 genocide, in which over 1 million people were killed, the country has been ruled by the Rwanda Patriotic Front under the controversial President Paul Kagame.

Rwanda has unexploited deposits of diamonds, rare earth elements, cobalt, iron ore and lithium, while tantalum and niobium minerals, tin, tungsten, gold and gemstones are produced. Privately-owned companies, artisanal mining cooperatives, and individual artisanal miners produce tin, tantalum and niobium minerals and tungsten, while gemstones produced by artisanal miners include amethyst, sapphire and tourmaline. Rwanda is the continent's largest tungsten producer, third-largest tantalum and niobium minerals producer and third-largest tin producer.

Rwanda aspires to middle income country status by 2035 and high-income country status by 2050 through a series of seven-year National Strategies for Transformation, underpinned by sectoral strategies focused on meeting the UN's Sustainable Development Goals.


Sources: Who Owns Whom sector reports, CIA Factbook, African Development Bank, World Bank, Trading Economics, African Statistical Yearbook and IMF.
Info
| | |
| --- | --- |
| Capital | Kigali |
| Currency (Name, Abbreviation, Symbol) | Rwandan franc , RWF , RF |
| Area | 26,338 sq km |
| Type of Government | republic; presidential, multiparty system |
| Languages | Kinyarwanda (official), French (official), English (official), Kiswahili (Swahili, used in commercial centers) |
| Natural Resources | gold, cassiterite (tin ore), wolframite (tungsten ore), methane, hydropower, arable land |
| Type of Industry | cement, agricultural products, small-scale beverages, soap, furniture, shoes, plastic goods, textiles, cigarettes |
| Stock Exchange | Rwanda Over The Counter Exchange |
| Stock Exchange Location | Kigali |
| Stock Exchange Founded | 2008 |
| Tax Rate: Corporate | 30% |
| Tax Rate: Individual | 30% |
| Natural Resources | gold, cassiterite (tin ore), wolframite (tungsten ore), methane, hydropower, arable land |
Latest available information as sourced from:
African Markets
Trading Economics
Economy Watch
The World Fact Book
Company Profile
There is no data available at the moment
Sector Research
There is no data available at the moment
Sector Research
There is no data available at the moment
BK Group PLC
Rwanda Stock Exchange
2011-08-00
BOK
Rwanda
Active
Bralirwa PLC
Rwanda Stock Exchange
BLR
Rwanda
Active
CIMERWA PLC
Rwanda Stock Exchange
2020-08-03
CMR
Rwanda
Active
I&M Bank (Rwanda) PLC
Rwanda Stock Exchange
2020-10-30
IMR
Rwanda
Active
MTN Rwandacell PLC
Rwanda Stock Exchange
2021-05-04
Rwanda
Active
Top Rwanda Reports
Lithium Mining in Africa
R 20 000.00(ZAR) estimated $ 1068.03 (USD)*

Lithium Mining in Africa
2023
The Mining Sector in East Africa
R 1 900.00(ZAR) estimated $ 101.46 (USD)*

The Mining Sector in East Africa
2020
The Mining Sector in East Africa
R 1 900.00(ZAR) estimated $ 101.46 (USD)*

The Mining Sector in East Africa
2018