Senegal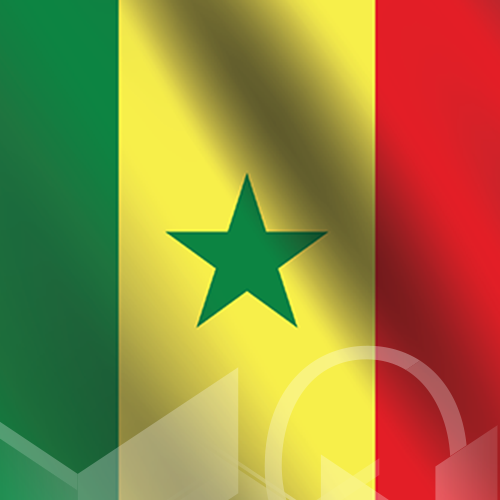 Country Economic Snapshot
2023-11-08
Senegal, officially the Republic of Senegal, is a country in West Africa with a land mass of 196,839km² and 531km of Atlantic Ocean coastline. Senegal is bordered by Mauritania to the north, Mali to the east, Guinea to the southeast and Guinea-Bissau to the southwest. It has a population of 16.9 million and a GDP of US$27.6bn.

Senegal contains unexploited deposits of barite, chromite, coal, copper, iron ore, lead, lithium, nickel, tantalum/niobium, tin, and uranium, while gold, manganese, phosphate rock, silver, titanium minerals are mined, and it is the world's fifth-largest zircon producer. The discovery of large gas resources, estimated at around 15tcf, has the potential to be transformational for Senegal's economy, although it is likely this gas will be exported rather than used locally.

British company Endeavour Mining operates the Hounde and Mana gold mines in Burkina Faso, in which the government has a 10% stake, the Ity gold mine in Côte d'Ivoire, in which the government has a 10% interest and state-owned company SODEMI 5%, and the British company Endeavour Mining operates the Sabodala-Massawa gold mine in Senegal, in which the government has a 10% stake. It is building a US$55m 37MW solar photovoltaic plant at the mine that will be used together with the existing 36MW heavy fuel oil plant and a new 16MW battery system. This will reduce electricity costs and greenhouse gas emissions and will be commissioned in Q1 2025.

Moroccan company Managem operates the Tri-K gold mine in Guinea, in which state-owned company Societe Guineenne du Patrimoine Minier holds a 15% stake. Gold production at the mine started in June 2021, with annual production of 4.0t planned from its 46.7t reserves. Moroccan company Managem is developing the Boto gold mine in Senegal, in which the government holds a 10% stake. It is expected to produce an average of 4.0t per year for 11 years.
Australia's Woodside Energy is developing the Sangomar deepwater oil field 100km off the coast of Dakar in Senegal. BP and its partners, Kosmos Energy, Société Mauritanienne Des Hydrocarbures et de Patrimoine Minier and Senegal's state-owned Petrosen discovered gas offshore on the maritime border of Senegal and Mauritania. In December 2019, BP announced the discovery of high quality gas reservoirs in all nine zones of the three wells that were drilled.
After Senegal's GDP slowed to 4.7% in 2022, growth to rebound to over 5.3% in 2023 due in part to the emerging oil and gas industry. This makes Senegal one of the strongest growing economies in sub-Saharan Africa. The country is facing some challenges, however, including spillovers from the war in Ukraine, tighter financing conditions, and increased political instability in the region. A widening fiscal deficit and increasing government debt are two major concerns.

Inflation hit a multi-decade high of 9.7% in 2022, driven largely by the surge in food prices, which account for almost half of the country's CPI basket. Inflation has since eased to 5.3% in August 2023 and is projected to fall to 5% by year-end, but it could potentially increase again if commodity prices remain high.

The International Monetary Fund supports Senegal's pursuit of its reform agenda, which is centered around three main pillars of reducing debt vulnerabilities by embarking on a credible fiscal consolidation path through further revenue mobilisation and the phasing out of energy subsidies, strengthening public sector governance and anti-money laundering and combating the financing of terrorism, and fostering a more inclusive and private sector-led growth.

The capital, Dakar, holds about 25% of the population and almost 80% of services and corporate headquarters. A further 35% of the population lives in the so-called peanut belt in the centre of the country. The majority of farmers are subsistence farmers and the primary food crops are millet, rice, corn and sorghum. Senegal's key export industries include phosphate mining, fertiliser production and commercial fishing.


Sources: Who Owns Whom sector reports, CIA Factbook, African Development Bank, World Bank, Trading Economics, African Statistical Yearbook and IMF.
Info
| | |
| --- | --- |
| Capital | Dakar |
| Currency (Name, Abbreviation, Symbol) | West African CFA franc , XOF , BCEAO |
| Area | 196,722 sq km |
| Type of Government | presidential republic |
| Languages | French (official), Wolof, Pulaar, Jola, Mandinka |
| Natural Resources | fish, phosphates, iron ore |
| Type of Industry | agricultural and fish processing, phosphate mining, fertilizer production, petroleum refining; iron ore, zircon, and gold mining, construction materials, ship construction and repair |
| Stock Exchange | Bourse Rgionale des Valeurs Mobilires |
| Stock Exchange Location | Abidjan, Cote d'Ivoire |
| Stock Exchange Founded | 1996 |
| Tax Rate: Corporate | 30% |
| Tax Rate: Individual | 40% |
| Natural Resources | fish, phosphates, iron ore |
Latest available information as sourced from:
African Markets
Trading Economics
Economy Watch
The World Fact Book
Company Profile
There is no data available at the moment
Sector Research
| CompanyName | Stock Exchange | Listed Date | Ticker Code | Country | Status |
| --- | --- | --- | --- | --- | --- |
Top Senegal Reports
The Mining Sector in West Africa
R 20 000.00(ZAR) estimated $ 1057.67 (USD)*

The Mining Sector in West Africa
2023
The Mining Sector in West Africa
R 1 900.00(ZAR) estimated $ 100.48 (USD)*

The Mining Sector in West Africa
2020
The Gas Industry in West Africa
R 1 900.00(ZAR) estimated $ 100.48 (USD)*

The Gas Industry in West Africa
2020