Sierra Leone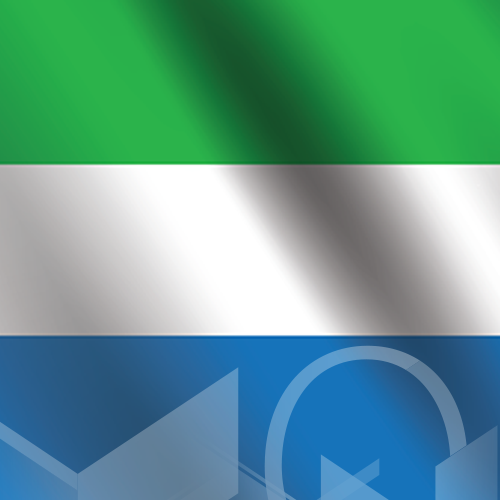 Country Economic Snapshot
2023-10-23
Sierra Leone has a land mass of 71,740km² and is bordered on the north and east by Guinea, on the south by Liberia, and on the west by 402km of Atlantic coastline.

The country has a special significance in the history of the transatlantic slave trade. Its capital, Freetown, was founded in 1787 as a home for repatriated former slaves from London and the Americas. Sitting on a coastal peninsula, the city overlooks the Sierra Leone harbour, the world's third largest natural harbour.

It has a population of 8.4 million people and a GDP of US$4.0bn, driven by mining, agriculture, manufacturing, construction and tourism.

Sierra Leone produces bauxite, diamonds, gold, iron ore, titanium minerals and zircon. Australian company Newfield Resources in July 2019 approved the development of its diamond mine, Tongo, at a cost of US$29.4m, which is expected to have a life of eight years and peak production of 260,000cts per annum.

Marampa Mines, a subsidiary of British company Gerald Group, operates the Marampa iron ore mine, in which the government has a 10% stake. Mining operations restarted in September 2021 when the Gerald Group and the government reached an agreement in May 2021 for the company to pay the government US$20m and give it a 10% stake to resolve a royalty payment dispute between them. In May 2022, the mine's production capacity was increased from 2Mt per year to 3.25Mt. It has a life of 30 years.

Real GDP growth declined to 2.8% in 2022 from 4.1% in 2021 due to the impact of Russia's invasion of Ukraine, and is projected to increase to 3.1% in 2023 and 4.8% in 2024, driven by the mining sector and the continued recovery of agriculture, manufacturing, construction, and tourism.


Sources: Who Owns Whom sector reports, CIA Factbook, African Development Bank, World Bank, Trading Economics, African Statistical Yearbook and IMF.
Info
| | |
| --- | --- |
| Capital | Freetown |
| Currency (Name, Abbreviation, Symbol) | Sierra Leonean leone , SLL , Le |
| Area | 71,740 sq km |
| Type of Government | constitutional democracy |
| Languages | English (official, regular use limited to literate minority), Mende (principal vernacular in the south), Temne (principal vernacular in the north), Krio (English-based Creole, spoken by the descendants of freed Jamaican slaves who were settled in the Freetown area, a lingua franca and a first language for 10% of the population but understood by 95%) |
| Natural Resources | diamonds, titanium ore, bauxite, iron ore, gold, chromite |
| Type of Industry | diamond mining; small-scale manufacturing (beverages, textiles, cigarettes, footwear); petroleum refining, small commercial ship repair |
| Stock Exchange | Sierra Leone Stock Exchange |
| Stock Exchange Location | Freetown |
| Stock Exchange Founded | 2007 |
| Tax Rate: Corporate | 30% |
| Tax Rate: Individual | 35% |
| Natural Resources | diamonds, titanium ore, bauxite, iron ore, gold, chromite |
Latest available information as sourced from:
African Markets
Trading Economics
Economy Watch
The World Fact Book
Company Profile
There is no data available at the moment
Sector Research
There is no data available at the moment
Sector Research
There is no data available at the moment
Top Sierra Leone Reports
The Mining Sector in West Africa
R 20 000.00(ZAR) estimated $ 1068.03 (USD)*

The Mining Sector in West Africa
2023
The Mining Sector in West Africa
R 1 900.00(ZAR) estimated $ 101.46 (USD)*

The Mining Sector in West Africa
2020
The Gas Industry in West Africa
R 1 900.00(ZAR) estimated $ 101.46 (USD)*

The Gas Industry in West Africa
2020