Uganda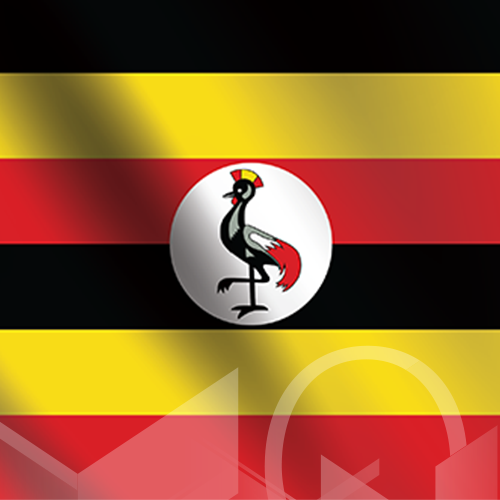 Country Economic Snapshot
2023-02-23
Uganda is a landlocked state in Eastern Africa on Lake Victoria with a land mass of 241,038km² west of Kenya and east of the Democratic Republic of the Congo (DRC). It has a population of 45.85 million, a GDP of US$40.5bn and its currency is the Ugandan shilling.

Economic activity was hit by COVID-19 lockdowns in 2020 and 2021. Growth recovered from a contraction of 1.5% in 2020 to 6.0% in 2021 which is expected to continue, with GDP projected at 4.6% and 6.2% in 2022 and 2023. Agriculture was the least affected sector, industry was supported by strong expansion in mining and construction and manufacturing remained sluggish.

Uganda contains unexploited deposits of bismuth, chromite, cobalt, copper, graphite, lead, lithium, magnesite, nickel, rare earth elements and zinc, while iron ore, phosphate rock, tantalum and niobium minerals, tin (Africa's fifth largest producer), tungsten (Africa's fourth largest producer), gold and gemstones are also produced.

Uganda drafted a mining bill in 2019 to replace the Mining Act of 2003. According to the bill, the government will own a free carried interest in mining companies, value addition will be mandatory, and competitive bidding rounds will be introduced to ensure mining licences are not awarded to speculators or companies with insufficient capital. In February 2019, the Uganda Revenue Authority started implementing a ban on the export of unprocessed mineral ores and, as a result, KI3R Minerals International closed its tungsten mine in Uganda in February 2020.

Uganda has a generous refugee policy and has had an influx of foreigners mainly from the DRC and South Sudan who enjoy access to social services and land, and can move and work freely. However, the continued influx is straining host communities and service delivery.

Since the late 1980s, the state's macroeconomic policies have consistently focused on containing inflation and ensuring exchange rate stability. President Yoweri Museveni's government has made industrial sector development the centre of the state's socio-economic development plan. The industrial sector accounts for 18% of GDP and is largely dependent on imported inputs like oil and equipment.


Sources: Who Owns Whom sector reports, CIA Factbook, African Development Bank, World Bank, Trading Economics, African Statistical Yearbook and IMF.
Info
| | |
| --- | --- |
| Capital | Kampala |
| Currency (Name, Abbreviation, Symbol) | Ugandan shilling , UGX , USh |
| Area | 241,038 sq km |
| Type of Government | presidential republic |
| Languages | English (official national language, taught in grade schools, used in courts of law and by most newspapers and some radio broadcasts), Ganda or Luganda (most widely used of the Niger-Congo languages, preferred for native language publications in the capital and may be taught in school), other Niger-Congo languages, Nilo-Saharan languages, Swahili, Arabic |
| Natural Resources | copper, cobalt, hydropower, limestone, salt, arable land, gold |
| Type of Industry | sugar, brewing, tobacco, cotton textiles; cement, steel production |
| Stock Exchange | Uganda Securities Exchange |
| Stock Exchange Location | Kampala |
| Stock Exchange Founded | 1997 |
| Tax Rate: Corporate | 30% |
| Tax Rate: Individual | 40% |
| Natural Resources | copper, cobalt, hydropower, limestone, salt, arable land, gold |
Latest available information as sourced from:
African Markets
Trading Economics
Economy Watch
The World Fact Book
Company Profile
There is no data available at the moment
Sector Research
There is no data available at the moment
Sector Research
There is no data available at the moment
Airtel Uganda PLC
Uganda Securities Exchange
2023-11-07
Uganda
Active
Bank of Baroda Uganda Ltd
Uganda Securities Exchange
BOBU
Uganda
Active
British American Tobacco Uganda Ltd
Uganda Securities Exchange
BATU
Uganda
Active
Cipla Quality Chemical Industries Ltd
Uganda Securities Exchange
2018-07-17
CiplaQCIL
Uganda
Active
Development Finance Company of Uganda Ltd
Uganda Securities Exchange
2004-10-14
DFCU
Uganda
Active
MTN Uganda Ltd
Uganda Securities Exchange
2021-12-06
MTN
Uganda
Active
New Vision Printing and Publishing Company Ltd
Uganda Securities Exchange
2004-11-00
NVL
Uganda
Active
NIC Holdings Ltd
Uganda Securities Exchange
NICO
Uganda
Active
Stanbic Uganda Holdings Ltd
Uganda Securities Exchange
2007-01-25
SBUL
Uganda
Active
Uganda Clays Ltd
Uganda Securities Exchange
UGCL
Uganda
Active
Umeme Ltd
Uganda Securities Exchange
2012-00-00
UMEME
Uganda
Active
Top Uganda Reports
The Mining Sector in East Africa
R 1 900.00(ZAR) estimated $ 100.29 (USD)*

The Mining Sector in East Africa
2020
The Mining Sector in East Africa
R 1 900.00(ZAR) estimated $ 100.29 (USD)*

The Mining Sector in East Africa
2018
The Printing Industry in East Africa
R 1 900.00(ZAR) estimated $ 100.29 (USD)*

The Printing Industry in East Africa
2018