Zimbabwe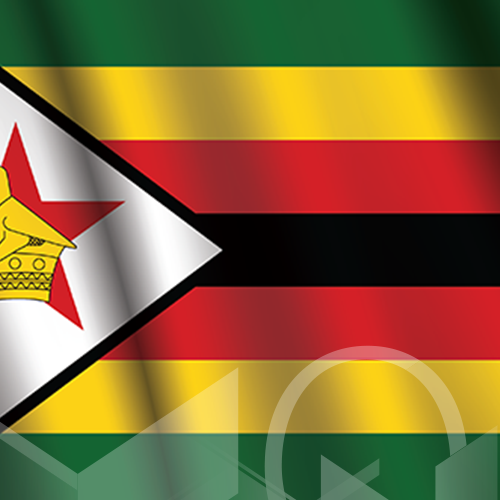 Country Economic Snapshot
2023-01-11
Zimbabwe is situated in Southern Africa, bordering Mozambique, South Africa, Botswana and Zambia to the east, south, west and north, respectively. The country is landlocked with a total area of approximately 390,757 square kilometres. It has a population of about 15 million and a GDP of UD$26.2bn. Agriculture is the backbone of Zimbabwe's economy and is dependent on rainfall and susceptible to weather or climate variations that include droughts and floods. The agriculture sector is made up of agro-estates, a large-scale commercial sector, a medium-scale commercial farming sector and a smallholder farming sector. It is dominated by more than 1.3 million smallholder farmers, most of which are using traditional farming methods that lead to low production.

Tobacco is the largest foreign currency earner in the agricultural sector, with small- and medium-scale farmers accounting for between 60% and 70% of tobacco production. Flue cured, burley and oriental tobacco are produced, mostly under contract farming schemes for cigarette manufacturers. Sugar is the second-largest and is grown under irrigation by corporate estates and small- to medium-scale farmers. Around 80% of the country's sugar cane is produced by Triangle Sugar Estate and Hippo Valley Estate, which also own

Zimbabwe's two sugar mills. Seed cotton is produced by more than 300,000 smallholder farmers under rain-fed conditions and is an important cash crop.

Zimbabwe's second-largest sector is mining which includes gold, platinum group metals, chrome, coal, diamonds, and lithium. Tourism is the third-largest sector and has the potential to play a significant role in the country's economic recovery. Zimbabwe has several national parks and natural attractions such as Hwange, Mana Pools, and Gonarezhou National Parks, Victoria Falls, Lake Kariba, and the Great Zimbabwe National Monument.

Economic activity slowed in 2022, constrained by worsening agricultural conditions and price instability. Real GDP growth is projected to slow to 3.4% in 2022 from 5.8% in 2021. Mining, trade, and tourism took advantage of high commodity prices and the relaxation of COVID-19 restrictions.

Historically Zimbabwe has had runaway inflation which is estimated to have averaged 213% in 2022 and expected to remain in triple digits in 2023. Real GDP growth is expected to be 3.6% in 2023 and 2024, supported by a better agricultural season, slowing inflation, and the relaxation of pandemic requirements.





Sources: Who Owns Whom sector reports, CIA Factbook, African Development Bank, World Bank, Trading Economics, African Statistical Yearbook and IMF.
Info
| | |
| --- | --- |
| Capital | Harare |
| Currency (Name, Abbreviation, Symbol) | Zimbabwe Dollar , ZWD , Z$ |
| Area | 390,757 sq km |
| Type of Government | parliamentary democracy |
| Languages | English (official), Shona, Sindebele (the language of the Ndebele, sometimes called Ndebele), numerous but minor tribal dialects |
| Natural Resources | coal, chromium ore, asbestos, gold, nickel, copper, iron ore, vanadium, lithium, tin, platinum group metals |
| Type of Industry | mining (coal, gold, platinum, copper, nickel, tin, diamonds, clay, numerous metallic and nonmetallic ores), steel; wood products, cement, chemicals, fertilizer, clothing and footwear, foodstuffs, beverages |
| Stock Exchange | Zimbabwe Stock Exchange. Financial Securities Exchange (Pvt) Ltd |
| Stock Exchange Location | Harare |
| Stock Exchange Founded | 1993 |
| Tax Rate: Corporate | 25% |
| Tax Rate: Individual | 50% |
| Natural Resources | coal, chromium ore, asbestos, gold, nickel, copper, iron ore, vanadium, lithium, tin, platinum group metals |
Latest available information as sourced from:
African Markets
Trading Economics
Economy Watch
The World Fact Book
Company Profile
There is no data available at the moment
Sector Research
| CompanyName | Stock Exchange | Listed Date | Ticker Code | Country | Status |
| --- | --- | --- | --- | --- | --- |
| African Distillers Ltd | Zimbabwe Stock Exchange | | AFDIS | Zimbabwe | Active |
| African Sun Ltd | Zimbabwe Stock Exchange | 2008-05-07 | AFRSUN | Zimbabwe | Active |
| Amalgamated Regional Trading Holdings Ltd (ART) | Zimbabwe Stock Exchange | | ARTZDR | Zimbabwe | Active |
| Ariston Holdings Ltd | Zimbabwe Stock Exchange | | ARIS | Zimbabwe | Active |
| Axia Corporation Ltd | Zimbabwe Stock Exchange | 2016-06-00 | AXIA | Zimbabwe | Active |
| Bindura Nickel Corporation Ltd | Victoria Falls Stock Exchange | 2021-00-00 | BNC | Zimbabwe | Active |
| Border Timbers Ltd | Zimbabwe Stock Exchange | | BRDR | Zimbabwe | Suspended |
| BridgeFort Capital Ltd | Zimbabwe Stock Exchange | 2002-00-00 | MMDZ | Zimbabwe | Active |
| British American Tobacco Zimbabwe (Holdings) Ltd | Zimbabwe Stock Exchange | | BAT | Zimbabwe | Active |
| Caledonia Mining Corporation Plc | Victoria Falls Stock Exchange | 2021-12-01 | CMCL | Zimbabwe | Active |
| CBZ Holdings Ltd | Zimbabwe Stock Exchange | 1998-06-29 | CBZ | Zimbabwe | Active |
| CFI Holdings Ltd | Zimbabwe Stock Exchange | 1997-03-17 | CFI | Zimbabwe | Suspended |
| Cottco Holdings Ltd | Zimbabwe Stock Exchange | 2008-09-01 | COTT | Zimbabwe | Suspended |
| Dairibord Holdings Ltd | Zimbabwe Stock Exchange | | DAIRB | Zimbabwe | Active |
| Delta Corporation Ltd | Zimbabwe Stock Exchange | | DLTA | Zimbabwe | Active |
| EcoCash Holdings Zimbabwe Ltd | Zimbabwe Stock Exchange | 2018-12-18 | CSZL | Zimbabwe | Active |
| Econet Wireless Zimbabwe Ltd | Zimbabwe Stock Exchange | 1998-00-00 | EWZL | Zimbabwe | Active |
| Edgars Stores Ltd | Zimbabwe Stock Exchange | 1974-00-00 | EDGR | Zimbabwe | Active |
| FBC Holdings Ltd | Zimbabwe Stock Exchange | | FBC | Zimbabwe | Active |
| Fidelity Life Assurance of Zimbabwe Ltd | Zimbabwe Stock Exchange | | FMHL | Zimbabwe | Active |
| First Capital Bank Zimbabwe Ltd | Zimbabwe Stock Exchange | 1991-00-00 | BBZ | Zimbabwe | Active |
| First Mutual Holdings Ltd | Zimbabwe Stock Exchange | | FMHL | Zimbabwe | Active |
| First Mutual Properties Ltd | Zimbabwe Stock Exchange | | PEAR | Zimbabwe | Active |
| GB Holdings Ltd | Zimbabwe Stock Exchange | | GBH | Zimbabwe | Active |
| Getbucks Microfinance Bank Ltd | Zimbabwe Stock Exchange | 2016-01-18 | GBZW | Zimbabwe | Active |
| Hippo Valley Estates Ltd | Zimbabwe Stock Exchange | 1964-01-00 | HIPO | Zimbabwe | Active |
| Hwange Colliery Company Ltd | Zimbabwe Stock Exchange | | HWA | Zimbabwe | Suspended |
| Innscor Africa Ltd | Victoria Falls Stock Exchange | 2023-02-24 | INN | Zimbabwe | Active |
| Karo Mining Holdings PLC | Victoria Falls Stock Exchange | 2022-12-14 | KMH | Zimbabwe | Active |
| Khayah Cement Ltd | Zimbabwe Stock Exchange | | LACZ | Zimbabwe | Active |
| Mashonaland Holdings Ltd | Zimbabwe Stock Exchange | | MASH | Zimbabwe | Active |
| Masimba Holdings Ltd | Zimbabwe Stock Exchange | | MSHL | Zimbabwe | Active |
| Meikles Ltd | Zimbabwe Stock Exchange | | MIK | Zimbabwe | Active |
| Nampak Zimbabwe Ltd | Zimbabwe Stock Exchange | 1952-09-00 | NPKZ | Zimbabwe | Active |
| National Foods Holdings Ltd | Victoria Falls Stock Exchange | 2022-12-23 | NTFD.VX | Zimbabwe | Active |
| National Tyre Services Ltd | Zimbabwe Stock Exchange | | NTS | Zimbabwe | Active |
| NMBZ Holdings Ltd | Zimbabwe Stock Exchange | | NMB | Zimbabwe | Active |
| OK Zimbabwe Ltd | Zimbabwe Stock Exchange | | OKZ | Zimbabwe | Active |
| Old Mutual Zimbabwe Ltd | Financial Securities Exchange (Pvt) Ltd | 2016-12-02 | OMZIL | Zimbabwe | Active |
| Padenga Holdings Ltd | Victoria Falls Stock Exchange | 2021-07-09 | PHL | Zimbabwe | Active |
| Proplastics Ltd | Zimbabwe Stock Exchange | 2015-06-08 | PROL | Zimbabwe | Active |
| Rainbow Tourism Group Ltd | Zimbabwe Stock Exchange | 1999-00-00 | RTG | Zimbabwe | Active |
| RioZim Ltd | Zimbabwe Stock Exchange | | RIOZ | Zimbabwe | Active |
| Seed Co Ltd | Zimbabwe Stock Exchange | 1996-07-00 | SEED | Zimbabwe | Active |
| Simbisa Brands Ltd | Victoria Falls Stock Exchange | 2022-12-02 | SIM | Zimbabwe | Active |
| Starafrica Corporation Ltd | Zimbabwe Stock Exchange | 1947-00-00 | SACL | Zimbabwe | Active |
| Tanganda Tea Company Ltd | Zimbabwe Stock Exchange | 2021-12-02 | TANGANDA | Zimbabwe | Active |
| Truworths Ltd (Zimbabwe) | Zimbabwe Stock Exchange | 1981-04-13 | TRUW | Zimbabwe | Active |
| TSL Ltd | Zimbabwe Stock Exchange | | TSL | Zimbabwe | Active |
| Turnall Holdings Ltd | Zimbabwe Stock Exchange | | TURN | Zimbabwe | Active |
| Unifreight Africa Ltd | Zimbabwe Stock Exchange | | UNIF | Zimbabwe | Active |
| WestProp Holdings Ltd | Victoria Falls Stock Exchange | 2023-04-28 | WESTP | Zimbabwe | Active |
| Willdale Ltd | Zimbabwe Stock Exchange | 2022-02-03 | WILD | Zimbabwe | Active |
| ZB Financial Holdings Ltd | Zimbabwe Stock Exchange | 1967-00-00 | ZBFH | Zimbabwe | Active |
| Zeco Holdings Ltd | Zimbabwe Stock Exchange | 2008-00-00 | ZECO | Zimbabwe | Active |
| Zimbabwe Newspapers (1980) Ltd | Zimbabwe Stock Exchange | | ZIMP | Zimbabwe | Active |
| Zimplow Holdings Ltd | Zimbabwe Stock Exchange | | ZIMW | Zimbabwe | Active |
| Zimre Holdings Ltd | Zimbabwe Stock Exchange | | ZIMR | Zimbabwe | Active |
| Zimre Property Investments Ltd | Zimbabwe Stock Exchange | | ZPI | Zimbabwe | Active |
Top Zimbabwe Reports
The Agri-business Sector in Zimbabwe
R 20 000.00(ZAR) estimated $ 1057.67 (USD)*

The Agri-business Sector in Zimbabwe
2023
Lithium Mining in Africa
R 20 000.00(ZAR) estimated $ 1057.67 (USD)*

Lithium Mining in Africa
2023
The Generation of Electricity in Southern Africa
R 9 500.00(ZAR) estimated $ 502.40 (USD)*

The Generation of Electricity in Southern Africa
2022