Electricity Generation in Africa
African Gross Domestic Product Comparisons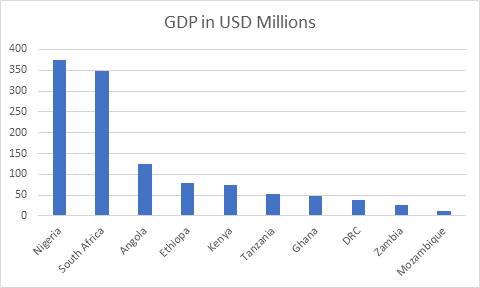 Nigerian GDP recently overtook South Africa's largely due to the contribution from its booming information and communication sector, which contributes more to the Nigerian economy than the manufacturing sector.
Ethiopia has doubled its GDP over the last five years and has announced a US$7bn investment in new power generation infrastructure projects.
If you look at the comparison of installed generation capacity, a different picture emerges.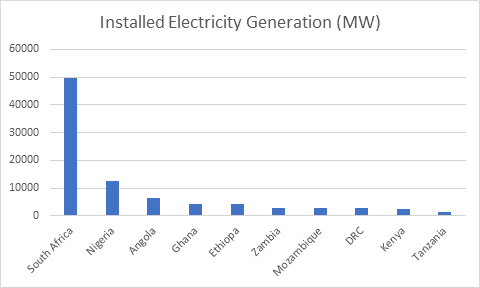 The Energy Mix
South Africa produces more electricity than all sub-Saharan African countries combined due to its industrialised economy, where manufacturing contributes one third of GDP. More than 85% of South Africans have access to electricity compared with less than half in Nigeria.
Eskom, the state-owned power utility, generates approximately two-thirds of the electricity produced in Africa and about 90% of South Africa's current requirements. Generation has been primarily coal-fired, due to abundant supplies of low-quality coal in Mpumalanga and Limpopo, but Independent Power Producers now supply for just over 10% of South Africa's consumption.
According to the Who Owns Whom report on the Generation of Electricity in South Africa, the Department of Energy's Integrated Resource Plan expects an additional 13,700 MW from wind and solar, 8,100 MW from gas and 2,500 MW from hydro (imported from the DRC) by 2030. South Africa has one of the highest levels of solar radiation in the world and has been ranked one of the best locations for solar production with an annual 24-hour global solar radiation average of 220 watts per square meter (W/m²) compared with about 150 W/m² for parts of the United States and about 100 W/m² for Europe and the United Kingdom. Government also intends to fast-track the exploration and exploitation of shale gas in the Karoo Basin and Mineral Resources minister Gwede Mantashe told parliament that the development of shale gas as a resource was necessary to transform South Africa's energy economy.
According to the Who Owns Whom report on Coal Mining in South Africa, reserves should last another 120 years at current production, which was 251Mt in 2016. Botswana also has substantial coal reserves while Mozambique, Nigeria and Tanzania are rich in natural gas, and the existence of these reserves will influence the energy mix into the future.
Contact us to access WOW's quality research on African industries and business
Contact Us
Related Articles