Nappies and other disposable goods – Are there economic opportunities in this waste generating industry?
Global leaders came out of the UN Climate Change Conference COP26, with a number of goals to decrease carbon emissions, but waste management and recycling, jointly referred to as waste reduction, seemed to have gotten less of an emphasis. This is a glaring omission as it is known that waste reduction offers significant potential for decreasing Green House Gas emissions (GHG). Nappies and other disposable goods feature prominently in waste generation which has a negative impact on the planet.
How do we then maintain the economic benefits of this important sector that encompasses nappies and PPE products such as face masks, whose trade increased tremendously at the height of the pandemic. A number of economic activities relating to the sector came into sharp focus in South Africa, calling into question the capable state notion and whether the government is merely paying lip service to the importance of local manufacturing and its continued narrative of intending to bolster the sector.
With the supply chain disruptions caused by the COVID-19 Pandemic, it became even clearer that local manufacturing must be prioritised for economic growth and for much needed jobs. Yet we had the South African Revenue Service removing VAT from imported goods such as Protective Clothing, which were considered essential goods, but keeping the VAT in place for local manufacturers for similar goods.
The market for nappies and other disposable paper-based products sector is quite sizable and is growing steadily. The consequent waste cycle of these products has to be carefully managed in terms of their impact on environmental sustainability. According to the latest WOW report, the global nappy industry's revenue was US$69.5bn in 2020 compared to US$69bn in 2019, and the market is expected to grow at a CAGR of 7.7% from 2021 to 2026. This growth is driven by a number of factors such as the growing/aging adult population, and the increased prevalence of incontinence across the globe as well as rise in demand for biodegradable diapers made of eco-friendly materials, as countries are starting to pay attention to the negative impact of the waste associated with nappies and menstrual products.
The WOW report also states that approximately 1.1 million tons of disposable nappy waste is produced annually in South Africa, and according to studies, one disposable nappy takes about 500 years to decompose, creating a major landfill issue. This is a cause for concern; it is already becoming a problem given that in some part of the country, refuse services are not available, particularly the informal and rural areas.
Managing the negative impact on the environment as we explore opportunities is critical. It is encouraging to see innovative solutions in the recycling space already at play in countries such as the UK with the introduction of nappy recycling services. The providers claim to have adopted a "zero waste to landfill" approach for disposable nappies by extracting the cellulose fibre for use in a wide variety of commercial purposes, including the production of fibre boards and acoustic panelling, with the plastics sent to secondary re-processors for recycling.
Established big companies such as Pampers have already launched a Hybrid nappy that is part reusable and part disposable. The soft, reusable cloth diaper covers disposable inserts that are made with a plant-based liner, enriched with shea-butter. The new technology is meant to lock wetness away from skin for up to 12 hours.
It seems the hybrid solution is a smart way of mitigating the risk of high costs of raw material whilst saving the environment and increasing competitive advantages.
The WOW report expounds that nappy manufacturing costs are linked to polymer pricing, which is directly linked to the cost of crude oil. According to Goldman Sachs, high oil prices are expected to continue in the years to come as demand rebounds and supply remains tight. Since most nappy raw materials are imported, the volatile rand dollar exchange rate affects the cost of the finished product.
South Africa also produces and exports polymers, a major component of high absorptive nappies and imports the finished product. Similar to the mining sector, such raw materials can be beneficiated in the country and exported as finished products by attracting private equity entities to investment in local production capacity. Private labels can offer similar quality, and relieve tight household finances. The resurgence of reusable cloth nappies offers an environmentally-friendly alternative. Doing our bit by changing nappies the good old fashioned way might be worth pursuing
Contact us to access WOW's quality research on African industries and business
Contact Us
Related Articles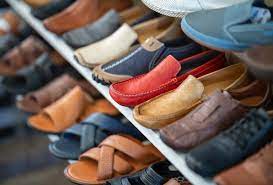 BlogCountries South AfricaTextiles, Clothing & Footwear
The Footwear Industry in South Africa – March 2022
With climate change and sustainability gaining momentum in boardroom strategic discussions, companies that design and manufacture footwear intentionally seek alternative environmentally friendly materials to replace leather and plastic in their...