The Future of the Sugar Industry
The WOW report on the Manufacture of Sugar in South Africa provides commentary on how societal attitude to the commodity has evolved over the years. One can draw a parallel with cigarette smoking, which was once considered fashionable and evolved to being designated as harmful and addictive. Campaigns to stop smoking have become successful in almost every country over time. This was further supported by the imposition of large sin taxes on the sale of tobacco products.
Are sugar taxes justified in the South African context?
Although not to the same degree of harshness, sugar has recently attracted a similar label of being harmful, and the government has followed other countries to take the opportunity to charge levies on products that contain a certain amount of sugar, mainly soft drinks, at 2.1 cents per gram of sugar content that exceeds 4g per 100ml.
Undeniably, excessive use of sugar is unhealthy, and obesity with its consequential health risks is attributed to it. Another important reality is that lifestyles have changed over time, with a much larger proportion of jobs being entirely sedentary. This shift, as well as generally reduced physical activity, the intake of other fatty foods and excessive sugar consumption are responsible for obesity and non-communicable diseases such as diabetes. Sweetener substitutes have now been revealed by the WHO as possibly carcinogenic. In moderation, sugar plays an important role in nutrition. Dr Kristina Rother, a National Institutes of Health paediatrician and expert on sweeteners and their addictiveness says: "Glucose [sugar] is the number one food for the brain, and it is an important source of fuel for the body".
The impact of sugar taxes and opportunities for the sugar industry
South Africa is one of the major manufacturers of sugar in Africa and the industry is a significant employer in geographical areas with some of the highest unemployment rates. Lobbying for the wellbeing of the industry is therefore justified on many levels and ethical grounds, including if one considers the economic and societal benefits offered by renewable energies, in which the industry can play a role.
Annual sugar consumption in South Africa is below 30kg per capita, compared to the US which is between 68kg and 77kg, yet diabetes prevalence in the US is 11.3% and in South Africa it is 13.1%. To get some perspective, South Africa is the most obese nation in sub-Saharan Africa and, alongside the US, among the most obese nations in the world, according to Lancet.
Associations between sugar and poor health have created a challenging environment for the sugar industry. It is no wonder that the forecast growth of sugar consumption in South Africa and worldwide is pedestrian and largely based on population growth.
While sugar is a key aspect of diabetes, it cannot be considered the sole source of increasing diabetes. The number one cause is identified as obesity and calorie intake not spent on physical exercise.
What are the current strategies and government support for the sugar industry?
Government support for the sugar industry has gained momentum due to its significance for the country's agro and agro-industrial sectors.
Different strategies are being considered to restructure the industry from manufacturing to trading and exports. According to the South African Farmers Development Association, the Department of Agriculture, Land Reform, and Rural Development has approved R8m for a feasibility study in Makhathini Flats, Jozini, in KwaZulu-Natal, to explore an opportunity to set up an integrated sugar mill and bio-refinery facility. It is aimed at maximising the value of the sugarcane that is produced by small-scale sugarcane farmers.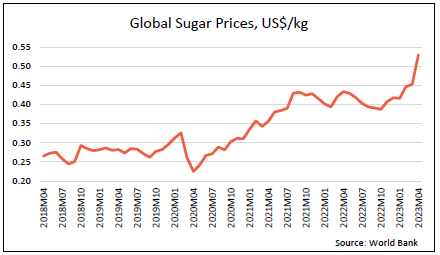 The current environment is favourable given the world price evolution of sugar as illustrated in the above graph.
As with other commodities, price fluctuations are to be expected. The exceptionally low harvest in India, where sugar exports in quarter 1 2023 are down to 4Mt from 11Mt for same period in 2022, was among the causes of the current high price, indicating that government's efforts to transform the sector should be kept high on the agenda instead of increasing taxes.
Research and development's contribution to the sugar industry's survival
South Africa's sugar industry has remained competitive due to its industrial base in terms of milling capacity, and infrastructural support in terms of transport and logistics, against countries with better climatological conditions such as Zambia and Mozambique.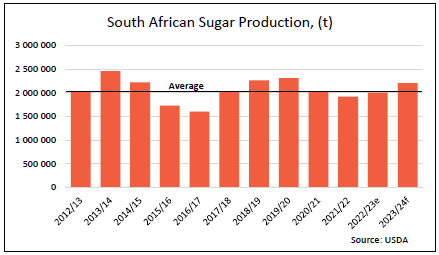 Research and development have played a pivotal role in driving progress, innovation and sustainability in the South African sugar industry, resulting in increased productivity, improved crop management and enhanced sugar quality.
The forecast is, however, less promising, with several mills closing and some large companies in business rescue.
According to the WOW report, the Sugar Milling Research Institute obtained funding from the Department of Science and Innovation Sector Innovation Fund and the sugarcane processing industry for a project to develop and implement relevant solutions, for example by providing insights on how to reduce sugar losses and improve recoveries and factory profitability.
While government is working towards some solutions for the sector, time is of the essence. There is a need to move swiftly to provide the support needed for this important industry, including preserving the beneficiary membership of AGOA. This is achievable if government is prepared to change policy to economically benefit the country.
Contact us to access WOW's quality research on African industries and business
Contact Us
Related Articles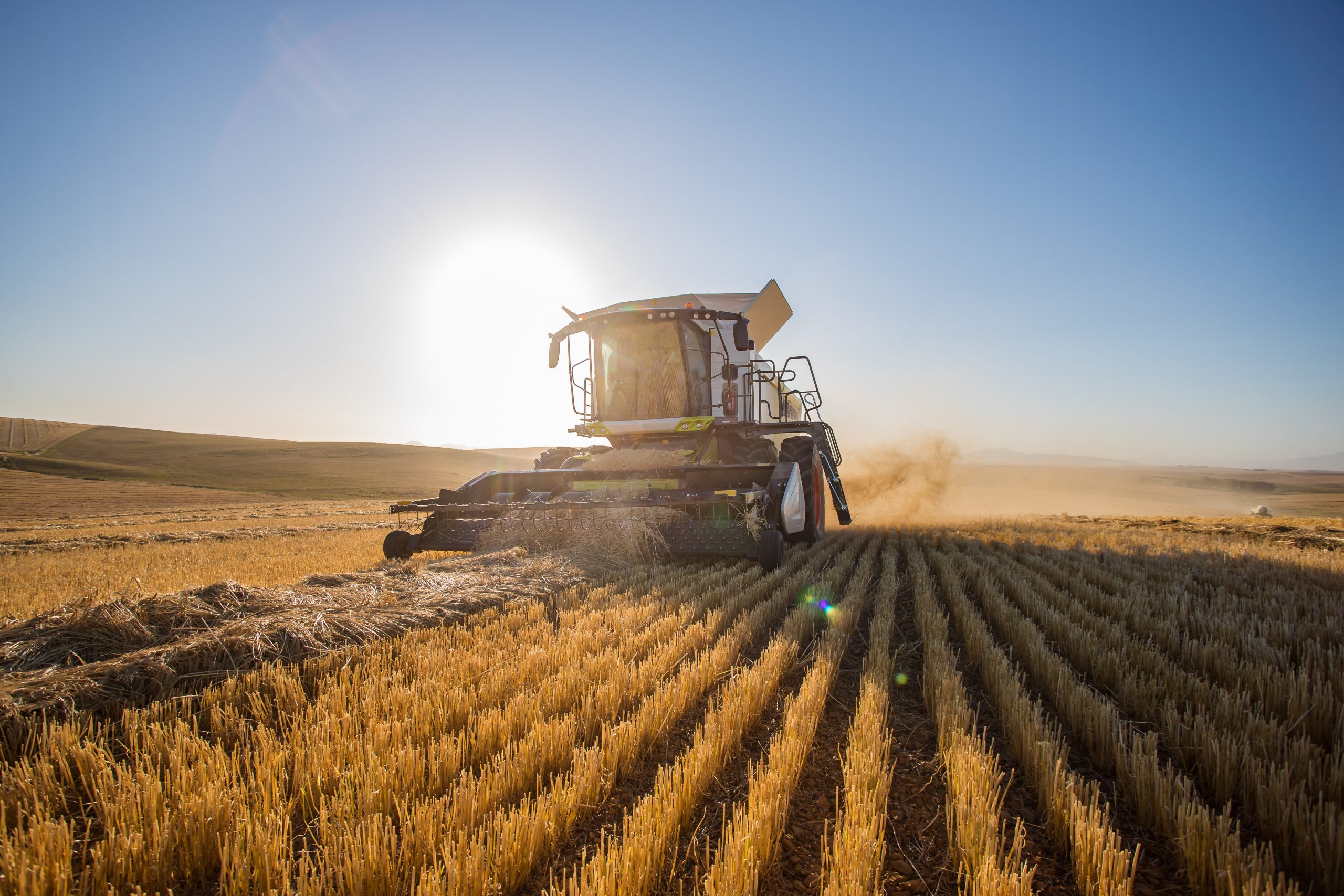 BlogCountries Agriculture & AgribusinessManufacturingSouth Africa
Exploring Agricultural Machinery in South Africa
Contents [hide] The Manufacture and Wholesale of Agricultural and Forestry Machinery as described in the report published in June, is a subset of the wider agricultural and agro-industrial sector. There...