The Manufacture of Cement, Lime and related Materials in South Africa – April 2022
Cementing the future needs a strong pair of hands
The Manufacture of Cement, Lime and related Materials in South Africa report – April 2022 contains a lot of easy to grasp and enlightening graphs, which can be found here. As the saying goes, a picture is worth a thousand words. The way and the sequence in which the graphs are presented in the report offer a good perspective on what is ailing in the industry and what the major causes are. We will paraphrase some of them in reviewing the industry more strongly in an economy-wide context.
The richest man in Africa, Mr Aliko Dangote from Nigeria, made his fortune in the cement industry, during the good years I suppose. When looking at the statistics and consultancy reports it is fair to say that it was a while ago when the industry was performing well. Over the last 10 years or so, the cement industry has not been particularly attractive as a growing market nor as an investor paradise. South Africa has equally if not more so borne the impact of a stagnant market in cement consumption.
Worldwide cement production grew from 1995 to 2014 from 1.39 billion tons to 4.18 billion tons. Volumes decreased thereafter and consumption only in 2020 reached the previous peak at 4.2 billion tons, with a provisional 2021 at 4.4 billion tons.
In South Africa, during the years 2010-2020, almost all cement producers went into debt restructuring. They presumably took on debt in anticipation of growth in quantity demand that had been around 7.5% per annum in the previous decade, but the regression that followed put paid to their hopes. Sales stagnated and growth equalled 0% from 2014 to 2020 whilst increases in costs were such that income became insufficient to service the debt load. Banks converted debt into lower yielding equity to preserve capital, which they saw as better than bankruptcy.
The South African government has shown some ambivalence. It has, as they do for other industries introduced, some measures to assist the sector, by for instance compelling government procurement of cement to come exclusively from local manufacturing equating to an absolute import restriction for that segment. A review of 2020 anti-dumping measures is expected by mid-2022. However, that should not take 2 years to establish the evidence and implement measures in an industry that's not very attractive for exports. As WoW puts it: "Cement and lime are relatively low value, high weight products that are expensive to transport."
In the meantime, the carbon tax has been implemented and will cost the largest SA cement manufacturer (PPC) alone R 90 million and does not address the unfair competition created in respect of dumping from countries like Pakistan, a country where no such tax is applied. Other countries like Australia scrapped the carbon tax because they did not find it to address the climate changes issues adequately and because of the negative impact on the industry.
Also, limestone quarrying, a key input to cement whilst it carries low value as compared to other commodities, falls under the Department of Minerals and as a result must contend with the 2020 Regulations amendments which carry onerous conditions for this industry. The industry has made it clear that compliance requirements have added substantially to their costs.
One cannot dig deeper into the statistics as the Competition Commission in 2009 prohibited the quarterly collection, dissemination and publication of all data related to cement except aggregated sales volumes. That is not in line with the spirit of transparency and equitable regulation required for modern economies to function and stay abreast of developments.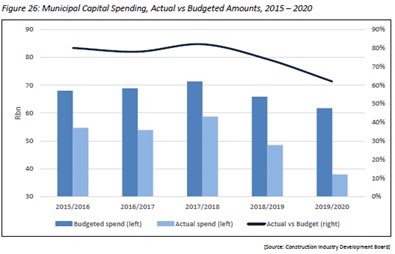 The real underlying cause of the inertia in the South African cement industry is the weak economic growth and the reduction in government capital expenditure. The graph from the WoW report illustrates the point eloquently, indicating the steady decline in municipal capital spending since 2015.
The 2021 statistics showed an improvement in capacity utilisation, but with the 3rd largest cement manufacturer having mothballed some plants, favouring a capacity utilisation factor, one must interpret this information with some caution. The same company is according to a recent Deloitte's report considering disinvesting its South African operations altogether.
The South African policy plans should focus on activities that stimulate economic growth by significantly enlarging the share of capital investment rather than spending a lot of time and energy on remedial measures which often produce marginal and counterproductive results that lead to a shrinking market.
Finally, SMMEs have a critical role to play in creating employment and stimulating economic activity through less onerous regulation and incentives for mitigating CO2 emission risks which carry high capital costs.
Contact us to access WOW's quality research on African industries and business
Contact Us
Related Articles