Kenya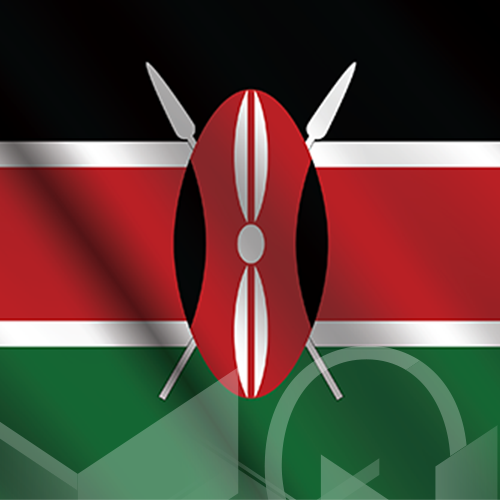 Country Economic Snapshot
2023-02-08
Kenya, on the East African coast of the Indian Ocean, has a land mass of 580,370 km² and a total coastline of 536km. It has a population of 53 million and GDP of US$110.3bn, which grew by 6.7% in 2021 after a 0.3% contraction in 2020.

Growth was driven by services and private consumption, both benefiting from supportive policies and eased COVID-19 restrictions. Inflation climbed to 6.1% in 2021 from 5.3% in 2020, reflecting increased input costs.

The fiscal deficit nudged down to 7.9% of GDP in 2021 from 8% in 2020 due to improved revenue and reversed tax cuts as the economy recovered. Public debt surged to 68% of GDP at end-June 2021 from 63% in 2020, driven by the primary deficit. Kenya is assessed as being at high risk of debt distress with the current account deficit widening to 5.2% of GDP in 2021 on the back of an increased trade deficit.

The recently concluded general elections have set the stage for Kenya's next development chapter. The country has made significant political and economic reforms that have contributed to sustained economic growth, social development, and political stability gains over the past decade. However, its key development challenges still include poverty, inequality, youth unemployment, transparency and accountability, climate change, continued weak private sector investment, and the vulnerability of the economy to internal and external shocks.

The Parliamentary Budget Office calculates that Kenya's debt-to-GDP ratio will reach 70% by June 2023. It fears that any ratio above 64% will lead to "economic losses" and require GDP growth of 10% by 2030 to allow for financial consolidation.

The government's Least Cost Power Development Plan 2017-2037 outlines current and planned energy sources and fuels for power generation in Kenya. It also provides an overview of renewable energy sources including biomass and cogeneration and biogas. The plan aims to increase installed energy capacity from 1,515MW to 10,621MW by 2031.
Incentives to attract foreign investment include a 10-year tax holiday for investors that establish businesses in Kenya, and international companies are permitted to repatriate all of their profits.

Sources: Who Owns Whom sector reports, CIA Factbook, African Development Bank, World Bank, Trading Economics, African Statistical Yearbook and IMF.
Info
| | |
| --- | --- |
| Capital | Nairobi |
| Currency (Name, Abbreviation, Symbol) | Kenyan shilling , KES , KSh |
| Area | 580,367 sq km |
| Type of Government | presidential republic |
| Languages | English (official), Kiswahili (official), numerous indigenous languages |
| Natural Resources | limestone, soda ash, salt, gemstones, fluorspar, zinc, diatomite, gypsum, wildlife, hydropower |
| Type of Industry | small-scale consumer goods (plastic, furniture, batteries, textiles, clothing, soap, cigarettes, flour), agricultural products, horticulture, oil refining; aluminum, steel, lead; cement, commercial ship repair, tourism |
| Stock Exchange | Nairobi Stock Exchange |
| Stock Exchange Location | Nairobi |
| Stock Exchange Founded | 1954 |
| Tax Rate: Corporate | 30% |
| Tax Rate: Individual | 30% |
| Natural Resources | limestone, soda ash, salt, gemstones, fluorspar, zinc, diatomite, gypsum, wildlife, hydropower |
Latest available information as sourced from:
African Markets
Trading Economics
Economy Watch
The World Fact Book
Company Profile
There is no data available at the moment
Sector Research
| CompanyName | Stock Exchange | Listed Date | Ticker Code | Country | Status |
| --- | --- | --- | --- | --- | --- |
| Absa Bank Kenya PLC | Nairobi Stock Exchange | 1986-00-00 | ABK | Kenya | Active |
| Bamburi Cement PLC | Nairobi Stock Exchange | | BBK | Kenya | Active |
| BOC Kenya PLC | Nairobi Stock Exchange | | BOC | Kenya | Active |
| Britam Holdings PLC | Nairobi Stock Exchange | | BRIT | Kenya | Active |
| British American Tobacco Kenya PLC | Nairobi Stock Exchange | | BAT | Kenya | Active |
| Car & General (Kenya) PLC | Nairobi Stock Exchange | | LT | Kenya | Active |
| Carbacid Investments PLC | Nairobi Stock Exchange | | CARB | Kenya | Active |
| Centum Investment Company PLC | Nairobi Stock Exchange | | ICDF | Kenya | Active |
| CIC Insurance Group PLC | Nairobi Stock Exchange | | CIC | Kenya | Active |
| Co-operative Bank of Kenya Ltd (The) | Nairobi Stock Exchange | 2008-12-22 | COOP | Kenya | Active |
| Crown Paints Kenya PLC | Nairobi Stock Exchange | 1992-00-00 | CRWN | Kenya | Active |
| Deacons (East Africa) PLC | Nairobi Stock Exchange | 2016-08-02 | DCEA | Kenya | Suspended |
| Diamond Trust Bank Kenya Ltd | Nairobi Stock Exchange | | DTK | Kenya | Active |
| Eaagads Ltd | Nairobi Stock Exchange | | EGAD | Kenya | Active |
| East African Breweries PLC | Nairobi Stock Exchange | | EABL | Kenya | Active |
| East African Cables PLC | Nairobi Stock Exchange | 1973-00-00 | CABL | Kenya | Active |
| East African Portland Cement PLC | Nairobi Stock Exchange | | PORT | Kenya | Active |
| Equity Group Holdings PLC | Nairobi Stock Exchange | 2006-00-00 | EQTY | Kenya | Active |
| Eveready East Africa PLC | Nairobi Stock Exchange | | EVRD | Kenya | Active |
| Express Kenya PLC | Nairobi Stock Exchange | | XPRS | Kenya | Active |
| Flame Tree Group Holdings Ltd | Nairobi Stock Exchange | 2014-11-06 | FTG | Kenya | Active |
| HF Group PLC | Nairobi Stock Exchange | | HFCK | Kenya | Active |
| Home Afrika Ltd | Nairobi Stock Exchange | 2013-07-15 | HAFR | Kenya | Active |
| Homeboyz Entertainment PLC | Nairobi Stock Exchange | 2020-12-20 | HEL | Kenya | Active |
| I&M Group PLC | Nairobi Stock Exchange | 1950-00-00 | I&M | Kenya | Active |
| ILAM Fahari I-REIT | Nairobi Stock Exchange | 2015-11-26 | Stanlib I-REIT | Kenya | Active |
| Jubilee Holdings Ltd | Nairobi Stock Exchange | 1973-00-00 | JHL | Kenya | Active |
| Kakuzi PLC | Nairobi Stock Exchange | | KUKZ | Kenya | Active |
| Kapchorua Tea Kenya PLC | Nairobi Stock Exchange | | KAPC | Kenya | Active |
| KCB Group PLC | Nairobi Stock Exchange | | KCB | Kenya | Active |
| Kenya Airways PLC | Nairobi Stock Exchange | | KQ | Kenya | Suspended |
| Kenya Electricity Generating Company PLC | Nairobi Stock Exchange | 2006-05-17 | KEGC | Kenya | Active |
| Kenya Mortgage Refinance Company PLC | Nairobi Stock Exchange | 2022-03-14 | KMRC | Kenya | Active |
| Kenya Orchards PLC | Nairobi Stock Exchange | | ORCH | Kenya | Active |
| Kenya Power and Lighting Company PLC | Nairobi Stock Exchange | | KPLC | Kenya | Active |
| Kenya Reinsurance Corporation Ltd | Nairobi Stock Exchange | | KNRE | Kenya | Active |
| Kurwitu Ventures Ltd | Nairobi Stock Exchange | 2014-11-13 | KUR | Kenya | Active |
| Liberty Kenya Holdings PLC | Nairobi Stock Exchange | 2011-04-21 | LKHL | Kenya | Active |
| Limuru Tea PLC | Nairobi Stock Exchange | | LIMT | Kenya | Active |
| Longhorn Publishers PLC | Nairobi Stock Exchange | 2012-05-20 | LKL | Kenya | Active |
| Mumias Sugar Company Ltd | Nairobi Stock Exchange | 2001-00-00 | MSCL | Kenya | Suspended |
| Nairobi Business Ventures PLC | Nairobi Stock Exchange | 2016-06-03 | NBV | Kenya | Active |
| Nairobi Securities Exchange PLC | Nairobi Stock Exchange | 2014-09-09 | NSE | Kenya | Active |
| Nation Media Group PLC | Nairobi Stock Exchange | 1976-00-00 | NMG | Kenya | Active |
| NCBA Group PLC | Nairobi Stock Exchange | 2019-10-26 | NCBA | Kenya | Active |
| Olympia Capital Holdings Ltd | Nairobi Stock Exchange | | OCH | Kenya | Active |
| REA Vipingo Plantations Ltd | Nairobi Stock Exchange | 1996-00-00 | REA | Kenya | Active |
| Safaricom PLC | Nairobi Stock Exchange | 2002-05-16 | SCOM | Kenya | Active |
| Sameer Africa PLC | Nairobi Stock Exchange | 1995-07-01 | FIRE | Kenya | Active |
| Sanlam Kenya PLC | Nairobi Stock Exchange | 1963-00-00 | PAIC | Kenya | Active |
| Sasini PLC | Nairobi Stock Exchange | | SASN | Kenya | Active |
| Stanbic Holdings PLC | Nairobi Stock Exchange | | CFC | Kenya | Active |
| Standard Chartered Bank Kenya Ltd | Nairobi Stock Exchange | | SCBK | Kenya | Active |
| Standard Group PLC | Nairobi Stock Exchange | | SGL | Kenya | Active |
| TotalEnergies Marketing Kenya PLC | Nairobi Stock Exchange | 1988-00-00 | TOTL | Kenya | Active |
| TPS Eastern Africa PLC | Nairobi Stock Exchange | 1997-00-00 | TPSE | Kenya | Active |
| TransCentury PLC | Nairobi Stock Exchange | 2009-00-00 | TCL | Kenya | Active |
| Unga Group PLC | Nairobi Stock Exchange | | UNGA | Kenya | Active |
| Williamson Tea Kenya PLC | Nairobi Stock Exchange | | WTK | Kenya | Active |
| WPP Scangroup PLC | Nairobi Stock Exchange | 1996-00-00 | SCAN | Kenya | Active |
Top Kenya Reports
The Tourism Industry in Kenya
R 20 000.00(ZAR) estimated $ 1055.64 (USD)*

The Tourism Industry in Kenya
2023
The Manufacture and Importation of Pesticides, Other Agrochemical Products and Seeds in Kenya
R 9 500.00(ZAR) estimated $ 501.43 (USD)*

The Manufacture and Importation of Pesticides, Other Agrochemical Products and Seeds in Kenya
2022
The Telecommunications Industry in Kenya
R 9 500.00(ZAR) estimated $ 501.43 (USD)*

The Telecommunications Industry in Kenya
2022