Opportunities in the South African Liquor Industry
Introduction
For many years, the liquor industry in South Africa was dominated by South African Breweries, later to become SABMiller, which was bought by AB InBev in 2016. SAB's Castle Lager "stood the test of time" beyond the various mergers and buyouts.
This industry is subject to strict regulations and licensing requirements, aimed at promoting responsible drinking, preventing underage drinking, regulating the sale and distribution of alcohol, and promoting competition. Sophistication and brand consciousness enabled a number of local craft producers and independent producers to become active in the market, which is a growing trend in the South African liquor industry.
Ownership and competition in the liquor industry in South Africa
When South Africa opened up to the world after its democratic elections in 1994, some listed South African companies partnered with multinationals and moved their profit centres abroad such as Gencor which is now part of BHP. Some moved their primary listings to other stock exchanges, while others were bought out by internationals. Undeniably, some valuable assets in terms of profits are now realised outside of South African shores, while the operations that produce the value remain in the country.
The WOW report on The Liquor Industry in South Africa indicates that after Heineken's takeover of Distell, more than three-quarters of total liquor revenue is now foreign-owned, with the three big players – SAB, Heineken, and Diageo – collectively having 85% of the local legal liquor market by value.
The latest Heineken takeover was approved with various conditions aimed at attracting investment in South African productive assets and maintaining employment levels. The conditions essentially speak to B-BBEE scorecard elements such as ownership, skills development and enterprise and supplier development. The establishment of an innovation, research, and development hub in South Africa is particularly good news as it falls in the high value add and innovation investment category.
This is likely a consequence of the lessons learned, with a clear focus on long-term offsets through localisation of economic activity of brewing beer and maintaining competitiveness through a research and development hub.
The only less-concentrated subsector is South Africa's wine industry. While there are several large wine estates, the country's wines are produced by a wide range of companies. The wine industry is also one of the main sources of exports. South African wines can compete with the best in the world in terms of quality, price competitiveness, logistical capabilities and continued research and development. The craft beer and gin distillery market can take a leaf out of this book.
The importance of innovation branding in the liquor industry
The wine industry is very much a local industry with excellent export potential. Given the price differential with imported wines, partly due to the value of the rand, they are not really encroaching on the local market. Each yearly harvest has its own set of characteristics. Differentiation is maintained through a brand value established over a long period of time and via taste ratings from reputable wine tasters, even though in reality, the ability to distinguish between similar wines is often disputed.
Beers are much more about volumes and are in a cheaper category of alcoholic beverages. The brands that existed in South Africa before the SAB takeover are still brewed in South Africa. The ownership structure now shows a high concentration with AB InBev and Heineken controlling most of the beer market. According to the WOW report, there are a growing number of local craft beer manufacturers in South Africa, but these products represent only a very small percentage of total consumption. It is hard to imagine that there are over 220 craft beer manufacturers and over 700 beer brands available at local liquor stores.
Innovation and branding have been in the spotlight with low and to non-alcoholic beers gaining market share in total beer consumption. Research into taste popularity is key in developing these beer variations. Ready-to-drink (RTD) beverages such as canned cocktails and pre-mixed drinks, are a growing trend due to their convenience and on-the-go options for social occasions.
Besides innovation, branding in this market is of utmost importance, often only fully understood when something goes wrong. AB InBev made a mistake with its March 2023 advertising of Bud Light beer by associating it with transgender influencer Dylan Mulvaney, which resulted in boycotts and a loss of 24.6% volume by May 2023 compared to the same period in the previous year, causing a loss in value of US$15.7bn.
The spirits distilling market is dominated by imported brands, whisky, gin, brandy, hard seltzer and RTDs. We see more innovation in this market, with carbonated lightly alcoholised drinks becoming popular. RTD consumption almost doubled to 14.1 litres per person per annum between 2000 and 2021. Of the more traditional spirits, gin is popular and one of the cheapest spirits, resulting in it showing the highest growth rate, with whisky, for instance, having shown no growth since 2017.
The economics of the liquor industry and sin tax on alcohol in South Africa
Statista forecast in January 2023 that liquor sales would grow globally at a compound annual growth rate (CAGR) of 8.5% between 2023 and 2027, yet in South Africa according to the WOW report, industry experts expect local sales growth to slow.
This might be explained by the financial constraints South African consumers have experienced for the last couple of years, and some downscaling behaviour is taking place just as it has in other non-related sectors. Consumers are trading down, evident in a trend of taking out reduced medical aid coverage and downgrading DSTV packages, as a result of rising interest rates and a stagnant economy.
Lately, the liquor industry is joining that crowd.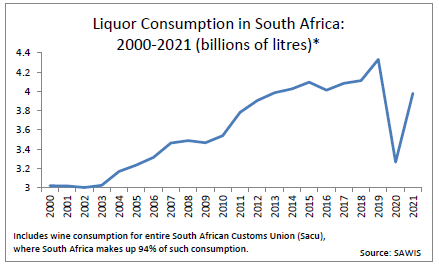 This is confirmed by Picardi Rebel MD Darron Swersky who said that liquor sales have been declining since January 2023, adding that even SAB is complaining about the decline in sales.
The cost of a very poorly-performing economy and inefficiencies translating into high cost-push inflation is resulting in the industry facing the equivalent of the Laffer curve, a concept that illustrates how, when taxes continue to rise, there will be a point where the increases will have a negative impact on economic activity and consumer behaviour, and start to outweigh additional revenues generated by taxes collected.
Government needs to keep this phenomenon in check as it continues to increase sin taxes to increase tax revenue, and put the economy back on a growth path instead of short-term budget-balancing measures.
Contact us to access WOW's quality research on African industries and business
Contact Us
Related Articles