Namibian Stock Exchange Dwarfs Nigeria's
We have recently included the market capitalisation of the 19 African stock exchanges under the Exchanges menu and it is interesting that while the Nigerian economy is 37 times larger than Namibia's the Windhoek exchange has twice the market cap of that of Lagos.
The country menu will shortly include African country peer analysis under the 'Africa Inc' brand. The Moroccan numbers are interesting coming in third in exchange market cap and fifth on GDP as its economy is largely agricultural based although government industrial policies have attracted Peugeot/Citroen and Renault to invest in manufacturing plants there.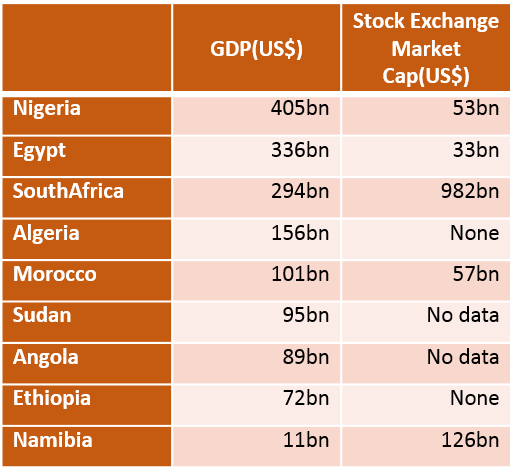 Egypt has pushed South Africa into third place and Ethiopa has crept into eight place on GDP with its double digit growth after the last decade but it remains one Africa's poorest countries with a GDP per capita of R9,100 compared with South Africa's R68,500 per head.
The country economic snapshots under the Countries menu are now complete for 29 African countries and are updated annually.
Contact us to access WOW's quality research on African industries and business
Contact Us
Related Articles