The Banking Sector in Zimbabwe
The report on the Zimbabwean banking industry covers the Reserve Bank of Zimbabwe and deposit-taking institutions such as commercial banks, co-operatives, microfinance institutions (MFIs) and building societies. In 2016 the financial services sector contributed about 7% to GDP and total banking sector assets grew by 9.6% from US$10.26bn in September 2017 to US$11.25bn at the end of 2017. Of the current 19 licensed banks, 14 are commercial banks, four are building societies and there is one merchant bank that has been in provisional judicial management since 2015. In the sector 189 licensed MFIs are active; 184 are credit-only and money-lending MFIs while five are deposit-taking MFIs.
Download and share our infographic on The Banking Sector in Zimbabwe or find the full report here: The Banking Sector in Zimbabwe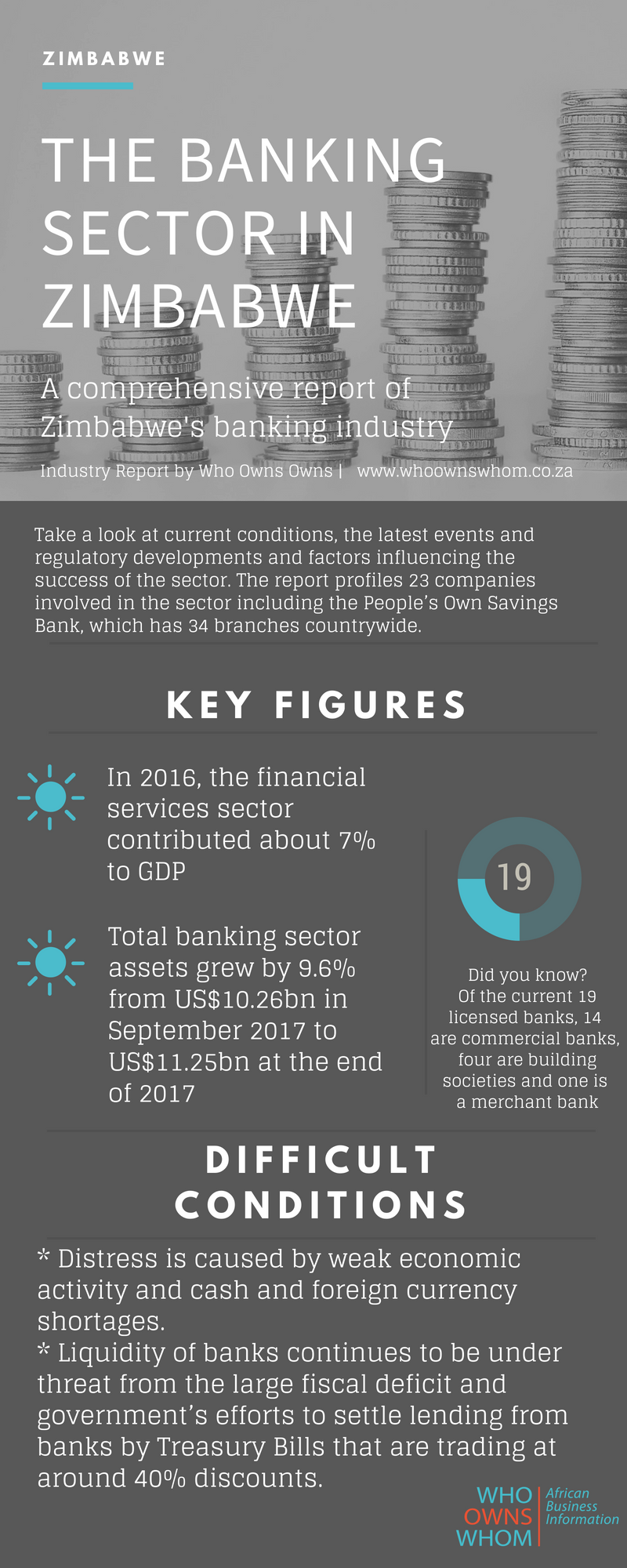 Difficult Conditions
The current distress in the Zimbabwean banking sector is caused by an operating environment characterised by weak economic activity and cash and foreign currency shortages. Fiscal imbalances combined with the large volume of domestic borrowing in 2015/16 weakened the financial sector. The fiscal cash deficit was largely financed from domestic financial markets as external arrears prevented Zimbabwe from gaining access to international capital markets. Cash shortages followed, financing for imports dried up, and the current account deficit narrowed dramatically. The liquidity of banks is still under threat from the large fiscal deficit and government's efforts to settle lending from banks by Treasury Bills that are being traded at discounts of around 40%.
Report Coverage
The detailed report on the Zimbabwean banking sector describes current conditions, the latest events and regulatory developments and factors influencing the success of the sector. The report profiles 23 companies involved in the sector including the People's Own Savings Bank, which has 34 branches countrywide. It also has 296 third-party retail networks contracted as agents, who are authorised to offer selected products and services such as bill payments, cash deposits, internal transfers and balance enquiries on behalf of the bank. Also profiled is Barclays Bank of Zimbabwe which used to be part of Barclays Bank Plc until it was sold to Malawi's FMB Capital Holding in 2017.
Contact us to access WOW's quality research on African industries and business
Contact Us
Related Articles